DREAMLAND FANS

The latest fan is
Heather Jones

The whole gang:

Aili Alechnowicz
Alana Miller
Babs Johnson
Billy Franklinstine
Blondie Nation
Brooke Garr
Chakatreatment
Chie Kato
Chris Hilbert
Chris Wilembrecht
Curt Marcucci
Daniel Diamond
David Robert Crews
David Gouny
David Heulun Jones
David McNeil
David Robert Crews
Davide Scovazzo
Della Deluxe!
Devileen
Duncan Craig
Erik Weber
Eugene Schroeder
Eve Severe
Gretchen and Kevin
Grizelda
Guy Mazzaglia
Heather Jones
Hex and Dze
Hioni
Jackie Divine
Jacopo Coccia
Jim Hollenbaugh
Joanna Satana
Jeff Smith
Jerry Kochendoerfer
Jimmy Pio
Josh West
Julie Taylor
Kaleb Bronson
Karie Sprockethole
Kevin Johnson
LULU
Lurleen
Lynda L. Hinkle
Marko Sosic
Massimiliano d'Italia
Maxwell Drake
Michael Simmons
Mink Dagger
Mister OohLaLa
Orchidbau
Polyester
Polly [Esther] Styrene
Poshgrrrl
Rinaldo
Robert Geise
Sebastian
Shaboobie Boobarella
Simply Divine
Sky Rockford
Tom Korzeniowski
Trevor Robinson
Uvula Dangles
Vanamal Lucifer
Yakov Levi
Yong Kim
Zero Renton Prefect

How do I become
a Dreamland Fan?
She's got lots of problems. Female Trouble!

Always being a big girl my whole life I always enjoyed movies such as Hairspray..Cry baby...ect..but when I was 20 and moved to Baltimore and into a row house with a legit B-town gay who introduced me to the even darker side with movies such as Pink Flamingos..Female Trouble and Desperate Living. Needless to say I was hooked and 11ish years later my addiction just gets worse.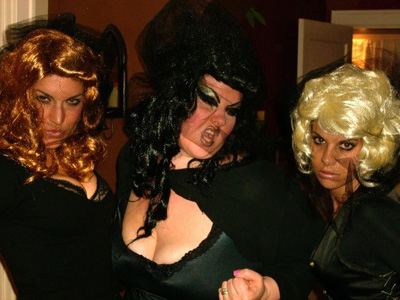 I throw cake and 2 liter parties while watching Polyester....I was Dawn Davenport for halloween with my accomplices Chicklett and Consetta. (yes I get my friends involved too)

My christmas card this year...another scene from female trouble when Dawn does not get her Cha Cha heels and her mom gets it!! The insanity goes on. I just love Mister Waters...he goes to all the dark places in my head that I like to be. (Christmas pictures Copyright Andrew Pierson Photography)