DREAMLAND FANS

The latest fan is
Heather Jones

The whole gang:

Aili Alechnowicz
Alana Miller
Babs Johnson
Billy Franklinstine
Blondie Nation
Brooke Garr
Chakatreatment
Chie Kato
Chris Hilbert
Chris Wilembrecht
Curt Marcucci
Daniel Diamond
David Robert Crews
David Gouny
David Heulun Jones
David McNeil
David Robert Crews
Davide Scovazzo
Della Deluxe!
Devileen
Duncan Craig
Erik Weber
Eugene Schroeder
Eve Severe
Gretchen and Kevin
Grizelda
Guy Mazzaglia
Heather Jones
Hex and Dze
Hioni
Jackie Divine
Jacopo Coccia
Jim Hollenbaugh
Joanna Satana
Jeff Smith
Jerry Kochendoerfer
Jimmy Pio
Josh West
Julie Taylor
Kaleb Bronson
Karie Sprockethole
Kevin Johnson
LULU
Lurleen
Lynda L. Hinkle
Marko Sosic
Massimiliano d'Italia
Maxwell Drake
Michael Simmons
Mink Dagger
Mister OohLaLa
Orchidbau
Polyester
Polly [Esther] Styrene
Poshgrrrl
Rinaldo
Robert Geise
Sebastian
Shaboobie Boobarella
Simply Divine
Sky Rockford
Tom Korzeniowski
Trevor Robinson
Uvula Dangles
Vanamal Lucifer
Yakov Levi
Yong Kim
Zero Renton Prefect

How do I become
a Dreamland Fan?
Rinaldo's Golden Queers

I am a visual artist / painter / photographer and have been a big fan of John Waters' films from the very beginning.

I praticed my English in San Francisco's Castro Cinema watching Multiple Maniacs, Pink Flamingos and Female Trouble - I did actually bathe in Divine´s sweat!

I did a series "GOLDEN QUEERS" with all my favorite queer artists in history - including John Waters and Divine - and another one "GOLDEN COCKS" in which I used original movie posters and altered them - amongst them Cecil B. Demented.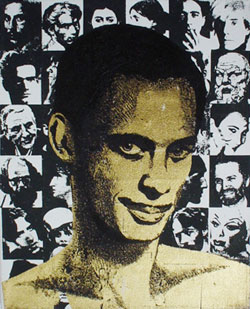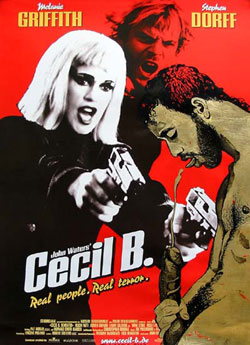 I really hope John enjoys my take on "Cecil B" and doesn´t mind my using his poster. I thought it would appeal to his sense of humour!

Please also check my website for further info: www.rinaldohopf.com

Best regards from Berlin!