From Pink to Pecker by Lawrence Ferber
HX Magazine Oct. 2 1998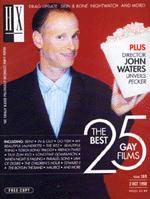 "I have my crank here - my coffee - so I feel like a crank addict after a day of this!" he bellows with a smile. Openly gay for ages, Waters is, begrudgingly, one of queer cinema's legends. "I never promoted myself as a gay film director," he says. "Usually, they never had the nerve to ask me! Like my parents, they thought I was worse than gay! But gay is not enough," he insists in reference to queer movies. "That's been my motto. It should be a bumper sticker. So what if it's gay? A lot of them are terrible, like sitcoms! I think the most alarming, great sexual movie is the very heterosexual movie. You know how people say, 'Why do they always say it's a gay movie? They wouldn't say this is a hetero movie.' Well, they would about Your Friends and Neighbors - a great heterosexual classic. For real, I mean that!"
Protests aside, Waters cites Andy Warhol's My Hustler, Kenneth Anger's Scorpio Rising, Christopher Munch's The Hours and Times, Rainer Werner Fassbinder's Fox and His Friends and "maybe Second Serve with Vanessa Redgrave about the tennis player that got the sex change," among his favorite queer flicks. But John, aren't you forgetting The Boys in the Band? "I think it's certainly a classic," he says, "but it's very much like a black person watching a minstrel show. I knew plenty of bitter, angry queens like that in the old days. Bitter - it's the biggest beauty flaw you can ever have!"
Unlike the events and people depicted [in Pecker], Waters contends that his own life is comparitively conventional. "I guess people think I have a pink '50's Cadillac and live in leopard fur, which I don't at all! I don't eat dog shit, either!" However, Waters confesses to at least eating with superschlonged porn star Jeff Stryker. "Walking up the street with Jeff," he recalls, "I felt like Jerry Lewis out with Jayne Mansfield - bumbling and people staring at you. A lot of people want me to do for Jeff what I did for Traci Lords - the first person to put her in a supposedly 'legitimate' movie - but Jeff does not want me to do that. Jeff wants me to come make a porno movie! If I ever do a porn movie, it's how I'll retire!"