PAPER MAGAZINE
The Cinematic Unabomber
By MARY VIVIAN PEARCE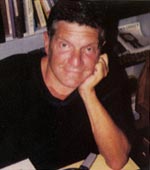 Van Smith is a dead ringer for the Unabomber, Ted Kaczynski. "I sometimes get stopped on the street," Smith says. "Even my own mother thinks I look like him."

Smith, like his Unabomber doppelgänger, is a terrorist - only he attacks the fashion world. To many John Waters fans, however, Van Smith isn't a villain but a hero whose greatest achievement was the creation of Divine's outrageous - and now famous - look more than 30 years ago, a look feared and hated by most mainstream drag queens of that time. Decades before drag was trendy, Smith's look for Divine mocked drag queens, who wanted to look like Miss America. Waters recently reminded me that it was Smith's idea to shave Divine's hairline back to the top of his head, just to allow more room for eye makeup. "Smith's look for Divine was like Jayne Mansfield meets Clarabell," he said.



Smith called me last October to schedule my costume fitting for CECIL B. DEMENTED. I've been in every one of Waters' movie - I was one fo the regular actors for Dreamland, his independent production compnay, which made all of his movies up to and including DESPERATE LIVING (1977). In CECIL, Susan Lowe - another Dreamland diva, who played Mole in DESPERATE LIVING - and I portray matronly suburban G-rated moviegoers. We throw candy at the kidnapped movie star (Melanie Griffith) and her X-rated outlaw film crew, while making insulting remarks about the credentials of the director (Stephen Dorff).

At the fitting, Smith was shocked when I told him that I didn't know my dress size. His voice soared to a honey-coated falsetto: "Susan didn't know her size either." I'm like, "Magnolia Mouth, calm down." the film crew characters in CECIL remind Smith of working on the Dreamland movies. "I like the irreverence, the breaking taboos, the stuff that the mainstream doesn't want to tackle," he says. "In a lot of ways, it was like working with Divine."

Thirty years ago, Smith met Waters at the Marlboro Apartments in Baltimore. "Everyone lived there," Smith says, referring to the Dreamlanders and all his other old friends, including set designer Vincent Peranio and me. "We all smoked pot and tripped on LSD." We were all studying at the Maryland Institute College of Art, which was well within staggering distance of the Marlboro.

Like Smith, Peranio has been working and socializing with Waters for over 30 years. The three men have been friends and collaborators for so long that they no longer use complete sentences: Waters says they just use "keywords." Peranio calls it "a kind of shorthand we really got to know in Provincetown." In the late 60's, many of the Dreamlanders spent time in Provincetown, Massachusetts, much to the chagrin of the locals. The movie troupe from Baltimore shoplifted, skipped on rent, staged fake accidents in order to sue for damages and generally terrorized the town so much that they became known, as Waters notes in SHOCK VALUE, as the "Hillbilly Rip-offs." Peranio says that despite their long association, Smith "still amazes and inspires me."

Waters shares those fuzzy feelings: "Van Smith is the only costume designer with whom I've ever worked. He's hard-core Dreamland royalty, a fashion terrorist who understands what my characters would wear before and after I write them. His costumes have been a huge part of any success my films have had. I can't imagine making a movie without him."