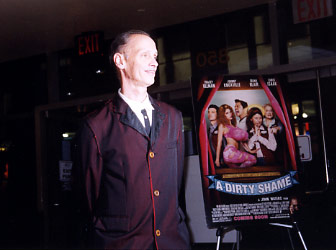 John Waters blinded by paparazzi

A Dirty Shame New York Premiere Party

September 21, 2004

New Yorkers were treated to an advance screening of A Dirty Shame this week, and tons of folks turned out to congratulate John on his new film.

Seen on the red carpet at Union Square Cinema:
John Waters, Johnny Knoxville, Selma Blair, Claire Danes, Patricia Hearst, Fran Lebowitz, Boy George, Isaac Mizrahi and lots of other lucky guests of Fine Line Cinema and Paper Magazine.

Plenty of characters from the film also were in attendance including Wes Johnson (Fat Fuck Frank), Dave Dunham (Mama Bear), Suzanne Shepherd (Big Ethel), James Ransone (Dingy Dave), Jackie Hoffman (Dora) and Susan Allenback (Betty Doggett).
| | |
| --- | --- |
| Selma Blair on the red carpet | Selma and Claire Danes |
After the screening, everyone made their way across 14th Street to the west side for an after party sponsored by PAPER at NA, formerly Nell's. DJ Miss Guy took control of the music, and the crowd was stunned by a performance from downtown darlings, the Dazzle Dancers.

Dazzles get hot...

... and take it all off.
Of course, no New York party is complete without being crashed by Lady Bunny!

Lady Bunny, Tasty Tim and Paul Alexander

Bunny and John have a chat
And I had the profound pleasure of meeting Mama Bear (Dave Dunham) and Fat Fuck Frank (Wes Johnson) pictured at left with Mackie Dugan of The Trinity.

Also seen:
Dirty Shame Producer Ted Hope, badass photographer Terry Richardson, Lypsinka creator John Epperson, Henny Garfunkel, Casey Spooner, American Splendor writers/ directors Bob Pulcini and Shari Springer Berman, Hedwig writer/ director/ star John Cameron Mitchell, members of the As Four 4 fashion collective, and the Paper Magazine crew including Kim Hastreiter, David Hershkovits, Mickey Boardman, Dennis Dermody and Patrick McDonald.
| | |
| --- | --- |
| Terry Richardson | Susan Allenback and friend |

> CLICK HERE to read about the WORLD PREMIERE in BALTIMORE

OR RETURN TO THE NEWS

All photos on this page by Jeff Jackson.

DreamlandNews © 2004 Jeff Jackson. Got news? Email me! Can you spare a buck? Help me!