---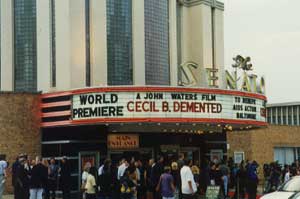 John Waters' new film, CECIL B. DEMENTED, had its official World Premiere in his hometown of Baltimore, Maryland on Wednesday, August 2, 2000.
The screening took place at The Senator Theater, which is featured prominently in the film itself.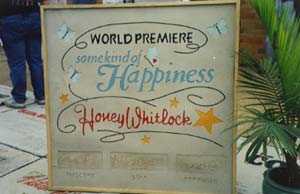 In CBD, glamourous Hollywood actress Honey Whitlock (played by Melanie Griffith) is detained in Baltimore for the Senator Theater premiere of her new romantic feature, SOME KIND OF HAPPINESS.

Outside the Senator is a "walk of fame" which celebrates past premieres at the legendary Baltimore theater. And they had very cleverly made a fake sidewalk panel for 'HAPPINESS'.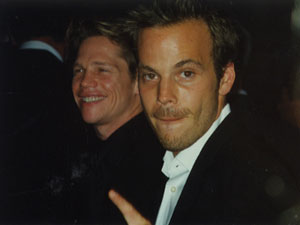 The stars of the movie arrived one by one for photo-ops outside the Senator. At left is lead actor Stephen Dorff who plays Cecil, and Jack Noseworthy who turns in a hilarious performance as the heterosexual hairdresser.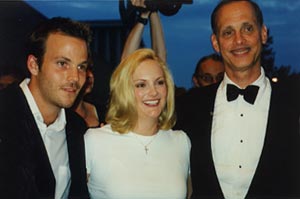 At right is Dorff, Patricia Hearst and John Waters. The film echoes Hearst's kidnapping by the Sybionese Liberation Army.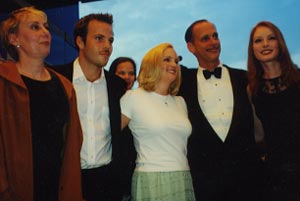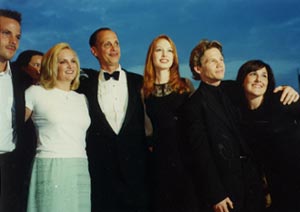 At left is Mink Stole, Stephen Dorff, Patricia Hearst, John and Alicia Witt.

At right is Stephen, Patricia, John, Alicia, Jack Noseworthy and Ricki Lake.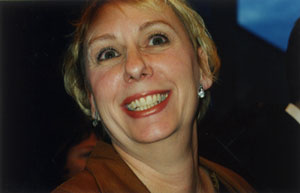 Mink seemed thrilled to be there and happily posed for photos.

The entire cast sat in the theater with the general public who's ticket price went to benefit AIDS Action Baltimore.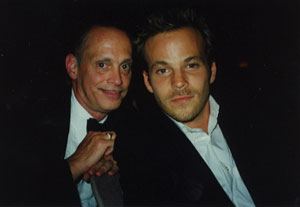 After the show, I snapped this close-up of John and Stephen as they chatted in their seats.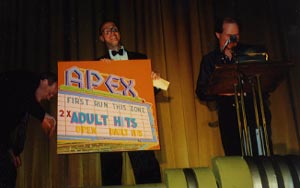 Before the movie began, two representatives of the Maryland Film Board presented John with a painting by a local artist of the APEX theater, an old porn theater downtown. He seemed delighted and then gave a speech of his own, thanking many people involved in the movie, the Senator theater and AIDS Action.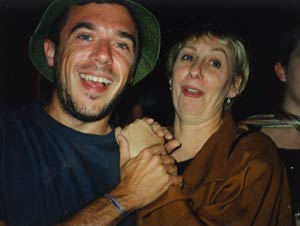 Later on at the party, I asked only one of the stars to pose for a picture with me - MINK! She put her hands on my shoulder and posed like a pro.
Click here for MORE on the CBD Premiere from JIM HOLLENBAUGH!