Best of 2001
By John Waters

ARTFORUM, December 2001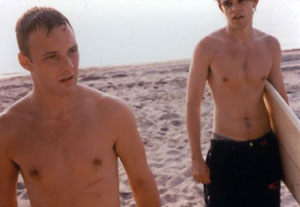 1. Bully (Larry Clark)
My favorite movie of the year: a dirty true-crime sexploitation picture that dares to be art. Larry Clark invents the "crotch-cam" shot and inspires the most outraged New York Times review of the season.

2. Faithless (Liv Ullmann)
Liv Ullmann channels Ingmar Bergman. See it on acid.

3. L.I.E. (Michael Cuesta)
A feel-good child molester with a hard-on of gold befriends a confused Long Island teen and his Gacy-bait sidekick.

4. Mulholland Drive (David Lynch)
Lipstick lesbians never had this much celluloid fun.

5. Jay and Silent Bob Strike Back (Kevin Smith)
GLAAD was wrong on this one. Jason Mewes can tell me a blow-job joke any day of the week.

6. Our Lady of the Assassins (Barbet Schroeder)
The perfect boyfriend: He's young, cute, and kills whoever gets on your nerves.

7. Lumumba (Raoul Peck)
If the distributor of this stylishly realistic biopic about slain Congolese statesman Patrice Lumumba could afford to send out screening videotapes to Academy members, the film's star, Eriq Ebouaney, would be a shoo-in for an Oscar nomination.

8. Hedwig and the Angry Inch (John Cameron Mitchell)
Finally, a new kind of hip-punk-gay musical that makes all the old-fashioned show-tune queens run for the exits.

9. Chopper (Andrew Dominik)
Eric Bana, as the Australian psycho-murderer who wrote a best-selling autobiography, is as scarily likable as Faye Dunaway was in Mommie Dearest.

10. Fat Girl (Catherine Breillat)
Anaïs Reboux, dressed in puke green, is perfect as the sullen, overweight child-woman who years to be desired. She could play a young Divine.