Edith Bouvier Beale, 84, 'Little Edie,' Dies
By DOUGLAS MARTIN

New York Times, Jan 25, 2002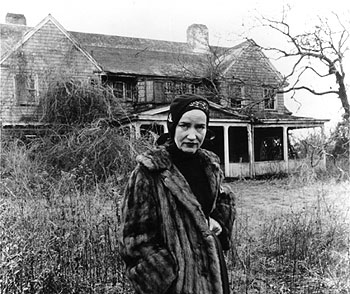 Edith Bouvier Beale, once a successful model and aspiring actress who later lived a gothic life in Grey Gardens, a dilapidated 28-room house in East Hampton, N.Y., with her mother and dozens of cats, raccoons and opossums, was found dead in her small apartment in Bal Harbour, Fla., on Jan. 14. She was 84.

Her nephew, Bouvier Beale, said the Dade County coroner attributed the death to a heart attack or stroke resulting from arteriosclerosis. Her cousin, John H. Davis, said she appeared to have been dead for five days.

The two Beale women, an aunt and a cousin of Jacqueline Bouvier Kennedy Onassis, became famous when their peculiar living situation was shown in the documentary film "Grey Gardens," made by Albert and David Maysles in 1975. The once-elegant grounds were a tangled jungle; 25 rooms were unused, and the fleas were so thick that the filmmakers wore flea collars around their ankles during the filming.

At one point in the film, Ms. Beale's mother, who had the same name (they were publicly known as Big Edie and Little Edie), laughs when a cat relieves itself behind a youthful portrait of her propped against a bedroom wall.

But the loving but embittered relationship between the two women is perhaps the most compelling theme of the film. In it, the daughter has returned to care for her mother, and repeatedly suggests that life has passed her by as a result. The mother's manner is forcefully controlling.

"You've had enough fun in your life," she tells her daughter, who never stops protesting that she wants to move to New York or Paris.

As young Edie empties a box of cat biscuits for the raccoons in the attic, she says, "I've been a subterranean prisoner here for 20 years."

The film drew both rave reviews and hard questions about the invasion of privacy inherent in the Maysleses' trademark technique of using a hand-held camera to capture lives uncomfortably close up. It also provoked comparisons to the memory plays of Tennessee Williams.

"It's very difficult to keep the line between the past and the present, awfully difficult," Little Edie laments in the film.

A startling side effect of the movie has been the continuing interest of the fashion world in the costumes she is shown wearing, including a contrived skirt held over her ample thighs by a pin. She said the skirt could double as a cape.

Italian Vogue and Harper's Bazaar have done photographic layouts of fashions inspired by the movie. Calvin Klein was a fan of the film, and Greta Garbo was said to have been.

Edith Bouvier Beale was born in Manhattan on Nov. 7, 1917. She was the eldest of the 10 grandchildren of John Vernou Bouvier Jr., who spent summers at the family estate in East Hampton, Lasata. Another of the grandchildren was Jacqueline Bouvier, the future first lady.

Mr. Davis, another grandchild and author of "Bouviers: Portrait of an American Family" (Farrar, Straus, 1969), said Edie was the family beauty, "surpassing even the dark charm of Jacqueline."

Her father was Phelan Beale, a Wall Street lawyer, who raised three children at Grey Gardens on Lily Pond Lane. Her two brothers are dead, and she left no immediate survivors.

The parents' marriage ended in divorce, and Mr. Beale's second wife inherited his estate. Edith, the mother, also incurred the wrath of her father, Major Bouvier, by showing up at the wedding of her son dressed like an opera star, just as the ceremony ended. Two days later, her father cut her out of his will.

She eventually received a $65,000 trust fund, and retained the house her husband gave her in 1923.
Ms. Beale lived a gilded life as a youth. In 1936, The New York Times reported on her debut, at which she wore a gown of white net appliquéd in silver and a wreath of gardenias in her hair.

Starting at 17, she began a successful career as a model. She felt that she was on the verge of a big break into films in 1952, when she was 35. She said she had offers from MGM and Paramount, and that her dance career was set to take off. She also said that wealthy men like Howard Hughes and J. Paul Getty had asked her to marry them.

"She had a very, very fertile imagination," Mr. Davis cautioned.

Whether on the verge of success or not, she was called home to Grey Gardens by her mother, who said she was ill and needed her.

Over the years, things deteriorated. On Oct. 22, 1971, inspectors from the Suffolk County Health Department raided the house and discovered that it violated every known building regulation. In the dining room, they found a five-foot mountain of empty cans; in the upstairs bedrooms, they saw human waste.

The story became a national scandal. Health Department officials said they would evict the women unless the house was cleaned. Mrs. Onassis came to the rescue, paying for a cleanup that included 40 gallons of germicide.

Lee Radziwill, sister of Mrs. Onassis, introduced the Maysleses to her relatives as part of a project she had proposed to film the early years of her and her sister's lives. Though that idea was abandoned, the filmmakers returned to the Beales to suggest a film about them.

The elder Edith Beale died in 1977. Her daughter flirted briefly with a singing career and stayed in Grey Gardens for two years before selling it.

Ms. Beale spent more and more of her time in Florida, where she swam every day. She lived off her small savings.

She had not owned a cat in five years.