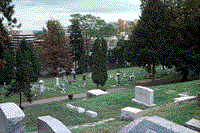 Well, as the fates would have it, the choir member I spoke to knew where Divine was buried, since his late parents were also laid to rest in that same quaint cemetery, Prospect Hill. It is found right in the middle of Towson, the busy county seat for Baltimore County. I decided, however, to call the cemetery's caretaker, Mr. James Fisher, to get exact directions to the site before I left my house in Baltimore City on Monday morning, Oct. 12. Mr. Fisher readily complied with my request. He acted as if he routinely gets inquiries regarding the location of Divine's grave.

As far as cemeteries go, Prospect Hill is on the small size, no more than ten acres of land, I'd say. It fronts on York Road, just above bustling Joppa Road. On its east side, Dulaney Valley Road, the sprawling Towson Town mall can be found. The grave for Divine is located on the lower level of the Prospect Hill cemetery, near a tiny parking area, conspicuous by a timbered curve. Just a few feet away can be found his grave marker, along with some others of the Milstead family clan.
His grave stone reads, in big caps, Harris Glenn Milstead, underneath of that it says, Divine, followed on the next lines by the date of his birth, Oct. 19, 1945, and then the date of his death, March 7, 1988; and below all of that is found the inscription, Our Loving Son.