Dreamland News
December 99
The last Dreamland update of the Millenium! Sorry - just had to throw that in there.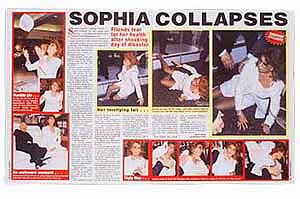 Speaking of the Millenium, the New York Times Magazine has compiled an online time capsule. In one section called Images, John Waters was asked to select an article. The above pages from The National Enquirer is his pick. Here's what he has to say for himself...
"My image is The National Enquirer's ridiculously mean and hilariously funny photo spread (July 27, 1999) of Sophia Loren accidentally tripping and falling off the stage at Harrods department store in London. Never has America's love-hate relationship with celebrity and fame been so deftly and succinctly captured."
He also was asked to select a book for the Words section of the time capsule. Guess what he picked? "Peyton Place, by Grace Metalious (1956). Indian summer is like a woman. The first dirty book the baby-boom generation ever read; the "shocker" they never got over." Visit the Times Capsule online.

Be sure to check out the latest featured Fan, Jim Hollenbaugh who visited the set of Waters' new movie - and then became an extra! Go on - read My Day on the Set of Cecil B. Demented, featuring Jim's exclusive photos.

November 99
We'll start this month with some sad news. On Monday, October 18, Christine Mason died of cancer at age 49. Part of the original Dreamland crew, Christine was the stylist responsible for so many of those beloved beehives, fierce flips and ratty messes. Click here for her obituary from the Baltimore Sun.
Richard Mann reports that John Waters spoke at the Austin Gay & Lesbian International Film Festival on September 3. One of the questions asked of mr. waters was if any more of his films are planned for release on DVD. His response was "all of them." He didn't elaborate on any specific titles or dates. The restored version of "Female Trouble" was also shown three times during the festival.
Christopher Barton discovered that JW has a role in Woody Allen's next movie. "Sweet and Lowdown" is about the life of a 20's and 30's jazz musician starring Sean Penn. The Internet Movie Database lists John's character simply as Mr. Haynes.
And finally this month, I'm happy to report that Dreamland favorites, Mink Stole, Patty Hearst and Ricki Lake have been added to the cast of Cecil B. Demented.
September 99

The Hollywood Reporter announced some news regarding Cecil B. Demented. Shooting supposedly begins on location in Baltimore this month, and so far the stars of the film are Melanie Griffith, Stephen Dorff and Alicia Witt. For those of you who haven't been reading Dreamland News over the last year, CBD tells the story of indie film director Cecil (Stephen Dorff) and his friends, collectively known as the Sprocket Holes. They kidnap a glamorous Hollywood actress (Melanie Griffith) and force her at gunpoint to star in their underground movie. Witt plays the director's girlfriend, Cherish, a porn actress who stars in the film the group is trying to make. In the end, Griffith's character, who goes by the name of Honey Whitlock, is transformed into a guerrilla filmmaking terrorist. Thanks to Wink Williams for the hot news.

August 99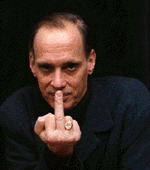 Well, there's no real news this month about JW. All I've been hearing are rumours regarding casting Cecil B. Demented. I don't print rumours. So if any of my readers can cite a reputable source, drop me a line. FYI: The picture above is taken from a new book called THE FINGER: A Comprehensive Guide to Flipping Off.

An oddity I've discovered: Elektra's newest contribution to the world of pop trash is known as Vitamin C. Her single "Smile" can be seen all over MTV, but we Dreamlanders know her as Amber von Tussle. Yes, Miss Colleen Fitzpatrick who starred in Hairspray as the wig wearing daughter of Debbie Harry is trying to make a splash in the pop market herself. Here's wishing her the best of luck.
And finally, it seems Jean Hill will grace the stage at Wigstock this year. For those who don't know, Wigstock is the annual drag festival held in New York City on Labor Day weekend. If it's anything like her last performance at Squeezebox, it's sure to be a moment you won't soon forget.
June 99
The BIG News from Cannes, according to the New York Daily News:
"Artisan Entertainment, with three pictures in official sections at Cannes this year, has acquired US rights to "Cecil B Demented," from director John Waters. The picture, which begins shooting this summer, is about a group of indie film makers who kidnap a star in order to make the ultimate Hollywood movie." Gracias a Noel for the news.
Wink Williams reports that the world premiere of the Director's Cut of Female Trouble at an evening with John Waters will be held June 19th in Provincetown MA. It's part of the first Provincetown film fest. Tickets are a rock bottom $15 and can be ordered by calling 1-800-648-0364.
The Anthology Film Archives in New York City is hosting "John Waters Selects" during the month of June. The films he has chosen to screen are Cyril Collard's SAVAGE NIGHTS, Alan Cavalier's THERESE, Juan Jose Campanella's THE BOY WHO CRIED BITCH, and Michael Tokin's THE RAPTURE. If you're in or around New York this month, visit Anthology on the web at www.arthouseinc.com/anthology.
John has been spotted in many places since my last update. As you can see in the photo above, he appeared in a New York Times Magazine fashion spread for Mother's day with (drumroll please...) his mother!
The caption reads:
"John Waters, who adores his mother's leg of lamb, used it as a murder weapon in "Serial Mom" because that's the kind of guy he is. The bad boy director is wearing a polyester (!) jacket $1,340, pants $460, shirt $190, and shoes from Comme des Garcons, 520 West 22nd Street. Tie, Paul Smith. Patricia Waters's jacket $830, and skirt $330 are from Calvin Klein, 654 Madison Avenue. Scarf from Georgina Von Etzdorf. Shoes by Warren Edwards.

The glamour shot above, from Entertainment Weekly, shows JW with Traci Lords at the Hollywood Independent Spirit Awards where he was a keynote speaker. He appeared at the Baltimore Film Festival to present the Liz Taylor classic, BOOM. And showed up at the New York premiere for Bruce La Bruce's new flick, SKIN FLICK.