Dreamland News
December 98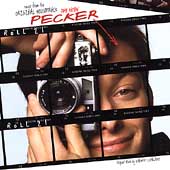 Dash down to your local record store (or visit CD Now or Amazon) and procure a copy of the Pecker Soundtrack. It's got all the hits, including the opening track - "Happy Go Lucky Me"; that strange little song playing when we first see Little Chrissy on the sidewalk - "Uh! Oh!" by the Nutty Squirrels; "Woo Hoo" by the Rock-A-Teens (heard during the end credits) and Stewart Copeland's original score. One of my personal faves is Stewart's disco number, "Straight Boys," featured during the Fudge Palace strip scenes. The CD booklet contains a great essay by John about the songs he picked for his latest cinematic delight.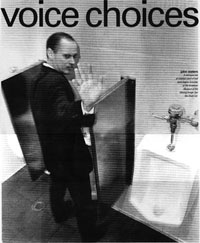 The above photo of JW was used in the Village Voice to promote a recent retrospective of his work at the American Museum of the Moving Image in Queens, New York City. They showed many of his films and even had a visit from the master himself for a bit of Q & A.
In addition, there was a recent exhibit at a trendy SoHo gallery of some "little movies" - some from Director's Cut but mostly new work. Featured were: "Puke in the Cinema" - various shots of people barfing in movies; the self-explanitory "Grace Kelly's Elbows"; "Sophia Loren Decapitated" - a gruesome series of pics of Sophia with her head literally ripped out of the paper; "Sonny Bono" - a 4-shot piece of Mr. Cher's hairline, ending with a shot of the White House!; "Pimples" - similar to the puke piece; a triptych from the soft-porn classic Two Moon Junction called "Stud"; a portrait of Cookie Muller; and for those in-the-know, "Charles Manson imitates Dorothy Malone's Collar".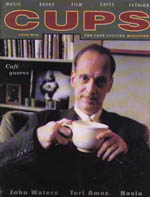 As I've mentioned, there are tons of publications featuring new Waters stories and interviews. Here for your pleasure are interview highlights from Next Magazine in New York City, Time Magazine, Cups magazine and NYC's HX. Also, my dad sent me an article out of the Bal'mor Sun about Chuck Shacochis, the photographer who shot the stills used as Pecker's photos. The lastest issue of Premiere has a cover story about the 100 most daring films of all time, which of course includes Pink Flamingos. JW also wrote a sidebar article for the same issue about Andy Warhol's Chelsea Girls. If anyone out there has a copy and would be kind enough to type it up, I'll put it up on the site for all to enjoy.
My local Baltimore source, Liam Hughes (a/k/a The Wildman of 22nd Street) has recently visited the gravesite of our dear departed Divine. I've incorporated his photos and essay into The Divine Pages this month, so please pay your respects. After all, this is the 10th anniversary of the death of Harris Glenn Milstead.
The always generous Mr. David has put a few articles up on his site including a piece by Paul Swift from Entertainment Weekly and an article on shrimping. Lick 'em up!
My eternal source of Waters info, Joe Blevins, has graciously made some audio files of Edith Massey's long lost studio recordings. You can download two of her tracks, "Big Girls Don't Cry" and "Punks, Get Off The Grass". Check 'em out and give props to Joe! And as an FYI, lots of folks have been saying - "hey, that link to buy Love Letter To Edie don't work!" And to all hunters and collectors out there, please visit www.nextgen-video.com/indexa.html. They got it, baby!
Also, check out the new Divine Screen Saver. Thanks to Joe, we can stare at her all day instead of flying toasters. [For PC's only]

October 98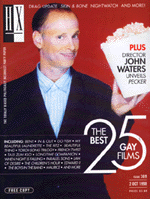 As you must know by now, Pecker is in theaters! And John is working the publicity circuit, doing interviews all over the place. As you can see from the photo above, he graced the cover of New York's gay party paper, HX, for a special issue on queer cinema. He's also been featured in The Village Voice, New York Press, Baltimore Gay Paper, the Baltimore Sun - plus TV interviews on Jay Leno, Conan O'Brian, The Daily Show and many other spots. Over the next couple months, I hope to upload a bunch of articles, interviews, etc - so stay tuned to Dreamland.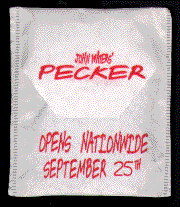 Pecker opened in New York on September 25th, and rather than go to see it on opening nite, I opted to go to the Pecker Party at Squeezebox. For those who don't know, Squeezebox is a rock-n-roll fag bar at Don Hills here in downtown Manhattan - Friday nights only. And John is a notorious patron. And he was there on the 25th, hanging out at the bar with friends. The host of Squeezebox, the incomparable Sherry Vine, gave out Pecker t-shirts between acts to guys willing to jump on stage and show their pecker to the audience. Later in the evening, before Sherry did her PJ Harvey cover, she asked if anyone knew what teabagging is - and I shot my arm in the air. She called me up on stage and I demonstrated teabagging on Sherry - but she stuck her tongue out which I think is technically not part of teabagging, but I was honored to be selected and let it slide. As you can see - my prize wasn't a t-shirt, but a tea bag - inscribed with John Waters' Pecker.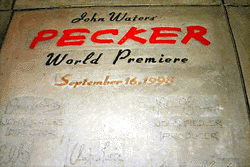 Photo courtesy of Liam Hughes
Some of my readers went to the premiere at Baltimore's Senator Theater. I'd like to present two of those folks, Alana Miller who recounts her evening in text - and Liam Hughes (a/k/a The Wild Man of 22nd Street) who gives us his account via photos. Endless thanks to them both - Enjoy!
Waters will be in Philadelphia for the closing cerimonies of the 1998 Reject Film Fest - a film fest where you have to prove you had been rejected by another, presumably more reputable film festival. For those of you in the Philly area, the festival runs from October 15-17. Thanks to Bill in Philly for the news, whose short film, "Ring, Ring, You're Dead" is showing.
Some new links for all you browsers out there. If you are interested in downloading the full PECKER trailer, go here! Or for the official Pecker page check out http://www.flf.com/pecker/.
Thanks to Matt Chojnacki, Joe Blevins and Mr. David for their help with the news this month.

September 98
It's here! Pecker debuts Friday, September 25th around the US, so check your local listings.
Liam Hughes, who has a cameo in Pecker, has informed me that the world premiere screening will be on September 16 at 8 PM, at the Senator Theater in Baltimore. Sponsored by AIDS Action Baltimore (AAB), a non-profit organization that provides services to people in the Baltimore area with HIV, tickets will be available to the general public after September 4th by calling Lynda Dee, in Baltimore, at 410-837-0944. Tickets cost $75 each and are "a charitable donation, tax deductibe to the extent allowed by law", according to the AIDS Action press release. Ticket holders will also be invited to a Gala Party at The Paradox, beginning at 10:30 P.M.
Like Emmy Collins last month, I asked Liam to write about his day on the set of Pecker as 'The Wild Man' - which you better read about right now!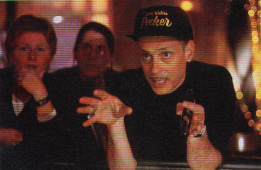 Premiere gay magazine, OUT has a great interview with John which you can check out here. Also, check September's Vanity Fair - there's a cute question and answer with Waters on the last page. And the Boston Phoenix recently featured John in their paper and on their website. Check it out...
And finally for this month sees the start of a new section of Dreamland. Check out Dreamland Fans and our first featured fan, Eve Severe!

August 98
Hello to all Dreamlanders. Sorry I've been busy this summer and unable to update you hungry, hungry hippos on your favorite director. But I'm back and just in time for some good stuff. Read on...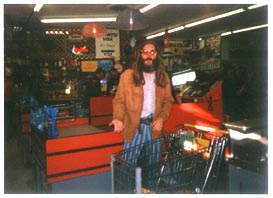 I recently had the pleasure of corresponding with Actor/Filmmaker/Miscreant, Emmy Collins who worked on John Waters' Pecker as 'The Hippie Vegetarian' in the opening supermarket scene. Click here for Emmy's personal reccolection of his day on the set, complete with snapshots! Emmy has directed, produced, written & acted in 4 films, they are: 'Cept Jim (1992), From Dogs Two Lepers (1994), Jack the Dipper (1997) and Headshot (scheduled for Fall 1998). He was also the Assistant Director and Associate Producer on John Michael McCarthy's 16mm feature film: The Sore Losers (1997). Look for him yelling at the cashier in Pecker this fall.
As many of you know, June is Gay Pride month, and as a special treat for us, the local New York City party paper Next featured an interview with Mr. Waters regarding his thoughts on Gay Pride. Enjoy!
For those of us who love audio clips, a new must-visit site is Cult Plug by O. Robertson. This is a page devoted to soundclips from favourite cult movies using realaudio and also has sound from some great trailers and complete movie intros. Of course, no cult film site would be complete without some Waters material. Check it out.
Another cool site which mondo-fan Joe Blevins hep'd me to is this John Waters Daily Trivia Question. Put your thinking caps on, because there's some tough ones.


And now for some sad news. Both Joe and Scott (Lawrence, that is) wrote to tell me they'd heard our favorite former fat-girl, Ricki Lake, would no longer be starring in Pecker! Rumour has it that the producers of her talk show would not allow her to star in another film. Which makes no sense to me, but then when would a TV producer make sense? Anyway, to make up for it, there is talk that infamous Lower East Side Drag-King, Mo B. Dick will have a walk-on part. Let's hope he keeps his pants on! Check out January's news for an intimate chat between John and Mo.
May 98:


The Internet Movie Database has updated their information regarding Pecker. Looks like the budget is $6 million and it is currently in post-production (which we already knew here at Dreamland). Seems the release date is scheduled for August 14th, although who knows how secure that date will be as production continues. The confirmed cast includes Edward Furlong as Pecker, Ricki Lake, Martha Plimpton, Christina Ricci, Lili Taylor, and the cutest boy in movies - Brendan Sexton III. You may remember him from the 90's junior-high-is-hell classic Welcome to the Dollhouse. Casting was by John's long-time collaborator Pat Moran and make-up by the infamous Van Smith. Vencent Peranio is back on board as the Production Designer which means we're in for some classic Waters style. And cinematography is by Robert M. Stevens.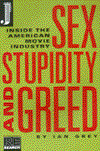 In other news, a recent book documenting the horror that is modern-day Hollywood features an interview with Mr. Waters. Titled "Sex Stupidity and Greed," this volume of essays and interviews written and compiled by Ian Grey is a great read for anyone sick of the current state of American Cinema. Published by Juno Books.
For those of us who have never had the chance to hear John lecture, dedicated fan Joe Blevins gives us his review of John Waters in Ypsilanti. Read it and weep!
Fellow waters fan KRUSTYGARA@AOL.COM has a bunch of Scratch and Sniff cards from Polyester that are supposedly "still in great odorfull condition." I make no claims on Ranci's behalf, but if anyone's interested you can drop a line from here.

March 98: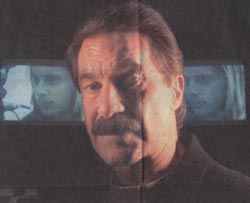 Great news! Steve Yeager's documentary Divine Trash has won the Sundance Film Festival's Filmmakers Trophy for best documentary, beating out such bores as Ken Burns and Barbara Kopple. According to the Baltimore Sun, it should premiere this April or May at Bal'mor's Senator Theater. Yeager is currently negotiating a distribution deal for the film. Documentaries aren't the most popular form of film these days, but after winning this award - it should do okay. In typical fashion, John was quoted as saying to Mr. Yeager, "you should hope I die, and then you'd have a very popular film."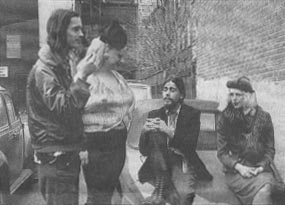 Apparently the documentary about filming Pink Flamingos was never completed until the 25th anniversary rolled around and Mr. Yeager decided it was now or never. The funny thing is, the final print wasn't ready until the day before the opening of the festival!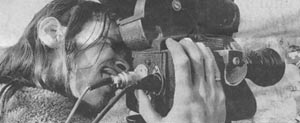 In Divine Trash, you can see biographical footage of John as a kid; interviews with him, his mother, original Dreamland castmembers like Divine, Mink, Mary, David and Edith; filmmakers like Jim Jarmusch who cite JW as an influence; and last - and definitely least - Mary Avara, head of the Maryland Censor Board during the 70's. Originally intended for Maryland Public Television when the original film was shot, Divine Trash ended up costing under $500,000. Look for it in a theater near you! Special thanks to Brenthogan who informed me of the big win BEFORE the Baltimore Sun. And of course, thanks to my dad, Charlie, for sending me the Sun article.
Also of note this month, John will be making an appearance at Eastern Michigan University, March 11, 1998. He'll be speaking at 7pm in Pease Auditorium; free and open to the public. For more information, contact 313/487-3045. Although the promoter who contacted me wasn't sure what he'll be talking about in particular - it's called "An Evening With John Waters," and it looks like the topic of shock value is something he discusses pretty regularly in his speeches. With any luck, I'll get a review from someone after the event to post for all you ravenous fans.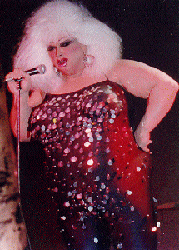 Some fans of the late Divine are trying to get an IRC channel going. This is something fans have been writing to me about for years. Check out http://kirkwood.home.ml.org/divine.html for more information.
Superfan Alana Miller tells me "Did you know that Borders books has a freebie magazine called Inside Borders with an interview with John Waters talking about Pecker?" Well, no I didn't - but now everyone knows, so go bug those bastards for your free copy. And get me one too while you're at it. I never go to Borders so it's possible that it's long gone. I should really do these updates more often. She also informed me that Mr. Waters was interviewed for A&E's Biography of Sonny Bono. Poor Sonny - we'll always remember you with that bomb in your hands. Thanks for the news, Alana!

January 1998:

Last December while wandering through A Different Light bookstore here in Manhattan, doing a little xmas shopping, I stumbled across quite a surprise. John Waters Directors Cut! If you've been reading Dreamland news, you've no doubt heard about this project. Now you can see all of his little movies in all their glory. Not to be missed.
And just in case you weren't reading Dreamland before the holidays, John's new movie, Pecker, is officially underway. Production began in October '97 in Hampden, Baltimore, a neighborhood the Baltimore SunSpot considers trendy! It stars little Eddie Furlong of "Terminator 2" fame. Other supposed cast members are Christina Ricci (The Ice Storm, The Adams Family), Lili Taylor (I Shot Andy Warhol), Martha Plimpton (Pulp Fiction) and Ricki Lake. Word from Alana Miller and the infamous Bob Adams (a/k/a Ernie in Female Trouble) is that filming has wrapped up here in New York, so hopefully we'll be seeing the results before year's end.
Aint It Cool News, an online magazine compiled by Harry Jay Knowles, recently reported that the documentary Divine Trash by Steve Yeager was in competition at Sundance this year. Let's hope it wins and gets released, at least on video. Thanks to Joe Blevins for the tip.
The arts-journal Grand Street has published another John Waters article in issue 63, this time an interview between himself and notorious drag king Mo B. Dick. It's so touching, you'll want to call your mother afterwards.
And finally, the always resourceful Erikvinyl has come through with another bit of weirdo Waters trivia. Did anyone out there realise that the goddess Mink Stole has a voice-only part in David Lynch's last film, Lost Highway? Go rent it and when you get to the scene when Bill Pullman gets arrested, you'll hear a woman's voice say "We the people find such-and-such guilty of murder..." - that's Mink! She is listed in the credits as Forwoman. New in 1998 is the official Mink Stole website. Check it out.