Dreamland News

December 2001:



Just in time for Christmas, Frances Milstead's book My Son Divine has hit the shelves. It features stories from Mrs Milstead and coverage of his career from co-authors Kevin Heffernan and Steve Yeager (director of Divine Trash). It's a large format paperback rich with photos throughout. In the middle is a special color photo section with tons of great shots of the late actor, including John's first time out in drag as Liz Taylor! Buy it for the filthiest person in your life. Or if you ARE the filthiest person in your life, buy it for yourself!

And if there's someone on your your xmas list who deserves a special present, don't send a turd! Send one of Waters DVD releases!

Cecil B. Demented
Hairspray / Pecker
Pink Flamingos / Female Trouble
Polyester / Desperate Living
Serial Mom
Also available: Steve Yeager's Divine Trash


November
Late Breaking News:
You might remember that the Gay Life Expo in New York was postponed in the wake of the 9/11. Well the wait is over! It's happening next weekend, November 17-18, at the Jacob Javits Center. The one and only legendary John Waters is still participating, on Saturday the 17th. He's doing a Q&A/A&T, and presiding over a screening of "Female Trouble," all starting at 7:30 PM. Tickets are $25.

Paula Tribull informed me that John Waters will be live with Tammy Faye on Thurs Nov 8, 2001 at the Castro Theatre in San Francisco. Tickets can be purchased from www.ticketweb.com. John will talk about his career and have a QnA session.

Jim Masino reports that in John's commentary for the Pink Flamingos DVD (during the deleted scenes at 1.35.20) when Divine is looking at her wanted poster he says:
"I always loved wanted posters, I still look at them in the post office. And in my post office which is in like a blue collar neighborhood they had Bin Laden recently, (laughing) like he would be beating all those wanted posters, like he's hiding out in Hamden wearing a turban. I couldn't believe it when I saw it."

Be sure to check out the latest in our Fans section - Tom Korzeniowski who had a cameo in Pecker, and the dazzling Polly Styrene!


October Update!
If you live in New York, you'll have two chances to meet John later this month. First is on Friday, October 26, Mr. Waters will sign copies of his films - and just about anything else at TLA Video
52-54 West 8th Street (between 5/6 Aves)
6:30-8:30 PM
212-228-8282

And on Halloween (10/31), the LGBT Community Center - in conjunction with the Andy Warhol foundation presents "Halloween at the Factory". A celebration of the man, his art, and the effect he had on social change, the Center will be transformed into a costume ball with dazzling displays of Warhol artwork along with the works of those artists who traveled in his social circle. Christopher Makos, Ultra Violet, Penny Arcade, Mary Woronov, Jane Holzer, Deb Miller and John Waters will all be lending their support for this night of reminiscing, installations and unveilings.


October 2001
What to write? After the September 11th attack on the U.S. (see my tribute) nothing seems the same.
Getting back to normal is the task at hand. So that's what I'm going to try and do.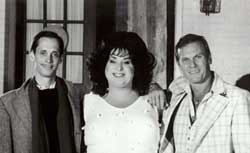 New Line released the Polyester/Desperate Living DVD set at the beginning of September. Extras for Desperate Living include commentary from John and star Liz Renay who discusses "penis size and the nice people she met at Terminal Island, where she was imprisoned for perjury." Waters describes the film as a "lesbian fairy tale about political corruption."

For Polyester, you get Waters' commentary including a story about proving to lawyers that eating an Odorama card wouldn't kill theatergoers the original cards could be distributed. In addition to the Odorama card included for Polyester, both discs offer theatrical trailers. Thanks to reel.com for their review.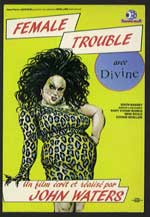 On Wednesday, Sept. 26th, John appeared at a screening of the complete Female Trouble in LA's beautiful Egyptian Theatre on Hollywood Boulevard. My friend Jon Alberts reports that in a Q&A after the film, Waters said nothing about a theatrical release, but did say that FT has now garnered an NC-17 rating. He talked about how most prints have bits clipped out - especially the scene where Divine swims across the river - for length. Apparently they found Danny Mills on the street 3 days before shooting and doesn't know where he is now. He also mentioned that he forgot how much screaming was in FT saying 'I should have included a bottle of Excedrin with this film... everybody is screaming all the time!' Waters said it was his favourite of all his old movies.

Waters also said he's trying to get the Polyester/Female Trouble soundtracks put out as one glamourous CD. He's discussed the development of his next film about sex-starved suburbanites. He also spoke about his parents and his early reviews where people thought he was psychotic.

Somebody asked if he'd ever make movies not set in his hometown to which he replied "why?" and proceeded to tell a story of being in Baltimore last week and seeing a fat lady was walking down the street with a short skirt, sporting an absolutely new belly button piercing... proud as punch... little did she seem to care it was bleeding all over! It seems he has a wealth of inspiration at home.

Jim reports that Traci Lords will be appearing at this October's Chiller Festival.

John was supposed to appear as a guest speaker at New York's Gay Life Expo in the Jacob Javits Center on the weekend of September 15th. The Javits Center became a collection center for goods and services for World Trade Center victims and the Expo has been postponed. The tourist economy has collapsed in New York after the attack, a turn of events which will certainly effect the future of Hairspray on Broadway as many shows are closing due to poor ticket sales.


September 2001
The latest Waters DVD collection has been delayed! Bart Stich reports that the new release date is 09/04. Thanks for the update. Not being a DVD collector myself, it won't directly effect my quality of life. But I understand the trauma of pushed back release dates. I mean, Mariah Carey's movie isn't coming out for another month now! What'll I DO???

Rumor has it that John has a cameo in the new Herschell Gordon Lewis film, BLOOD FEAST 2: BUFFET OF BLOOD! If you don't know about HGL, he is one of John's biggest influences of the splatter and gore genre.

If you get a chance, seek out the movie DOWNTOWN 81 - a pre-Guiliani New York fairy tale that got lost when it was made 20 years ago. It has cameos from Dreamlanders Deborah Harry and Cookie Mueller!


August
We could fill a swimming pool with tidbits this month. Take a deep breath and dive in the deep end!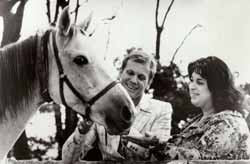 The best news for you DVD collectors is that the next doublepack will be released this month. Polyester and Desperate Living on August 21st. Scratch 'n' sniff along with Francine with new Odorama cards! Thanks to Chris for the heads up. Pre-order yours now through Amazon.

John Waters took part in in The Sundance Channel's "Conversations in World Cinema" last month. And way back in May he visited Harrisburg, PA where our own Jim Hollenbaugh caught up with John at their Film Festival. The site www.FilmSpeak.com has an article and photo gallery.

There's a cool interview with John on CNN.com. And make sure to check out the IFCtv for interviews and video clips.

You can already pre-order a copy of Frances Milstead's book MY SON DIVINE, her biography of her son, through Alyson Books.



Finally Jim also writes that the Baltimore Chamber of Commerce is giving out free bumper stickers that say "Come to Baltimore and be Shocked - John Waters". "They pulled a big handfull out of a box and gave them to me," says Jim. Anyone making a pilgrimage to the great city of Bal'more will definitely want to stop by and help themselves.


July
Not much going on this month, so I'll report on recent "sightings." John Waters' was at the Provincetown Film Festival last month, participating in the Filmmaker Symposium and screening BAXTER which he also selected for the Maryland Film Festival in May.

You can spot John in a special airing on Turner Classic Movies this month called "Memories of OZ". Folks close to the film relate their personal memories. John is his usual witty self, bashing Aunt Em and praising the Cowardly Lion.

The Theatre Project in Baltimore recently ran a new musical called "DIVINE" about our hero Divine becoming "an American icon instead of a figure in hiding." Let's hope it makes it to BROADWAY!

Last weekend Pink Flamingos screened at Chicago's Music Box Theatre as part of a midnight movie series with a 3D John Holmes porno flick. The print shown was the anniversary edition, so after the feature, the crowd was treated to John taking us through all the deleted scenes. Thanks Curt for the report!

Make sure you visit the fans section. We've got two recent additions, Chris Hilbert and Curt Marcucci.


June
Lots of news this month, but perhaps most exciting is word about John's next film...

In an online interview with IFC, John was asked "Any unpcoming projects you don't mind discussing?" Here's what he had to say...
"I give you my stock answer on this one. I always believe it's bad luck to promote before you've done it. I'm writing my next film right now. It's called A DIRTY SHAME and it's about sex addicts and their search for dignity. Maybe it'll be my feelgood SALO."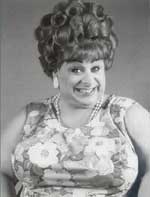 As many of you probably know, HAIRSPRAY was released with PECKER in a double pack DVD. HAIRSPRAY has commentary by JW and Ricki Lake and the theatrical trailer. Both JW and Ricki talk about scenes cut from the movie, but they aren't on the DVD! PECKER has the same commentary as its previous release, and a mini-documentary on photographer Chuck Sacochis who shot all the Pecker photos.
Even more exciting for collectors is the next volumes have been announced:
Volume 2: DESPERATE LIVING & POLYESTER [summer 2001]
Volume 3: PINK FLAMINGOS & FEMALE TROUBLE. [fall 2001]
And if you buy all three, your proofs-of-purchase will get you a special DVD with interviews, documentaries, and more!

Author Robert Pela reports that Divine's mother's book, My Son, Divine, will be out in November. "I've read the manuscript and it's quite amusing," says Pela. Steve Yeager, director of DIVINE TRASH is one of the co-authors. Pela's own book about Waters should be out in March.

We reported last year that HAIRSPRAY was being developed into a Broadway musical. Rumour abound that Harvey Fierstein will be taking on the roll of Edna Turnblad, and that the show is being produced by the same folks who turned Mel Brooks' The Producers into such a smash hit.

Christian McLaughlin is the co-creator/exec producer/head writer of a new MTV daytime soap SPYDER GAMES, featuring Mink Stole as a passive-aggressive admin assistant Merna Young. Christian and his partner Valerie Ahern wrote the part especially for Mink and were thrilled with her performance. She recurs frequently and provides hipness and comic relief as the workplace nemesis of sexy super-bitch Natalia Carlisle (Shawn Batten). The show is a 13-week, 65-episode daily drama with plenty of torrid love triangles, murderous suspense, backstabbing and twisted dark humor. It premieres Monday, June 4th at 3 PM Eastern/Pacific, and yes, Mink is in Episode #1.

Make sure you check out our latest nut in the fans section, Curt Marcucci.


May
It's finally happening. John's films are getting released on DVD. Weird thing is, they're being done as two-fer's, the first one being Hairspray/Pecker. People have mentioned to me that this is particularly odd since Pecker has been out on DVD for a while. But quit your whining, okay? At least you're getting HAIRSPRAY! Get it from Amazon.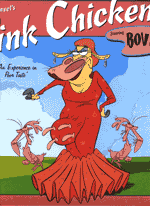 My pal Eric Vinyl has sent this magnificent image of "Bovine" from the Cartoon Network calendar. Starring in a mock of Pink Flamingos, PINK CHICKENS. How bizarre is that? I guess John has truly entered the American Popular Lexicon.

The always resourceful Paula Tribull reportas that John Waters will be hosting a screening of BAXTER, a french film about a killer dog for the upcoming Maryland Film Festival. "Beware the dog that thinks" was the tagline back in 1988. I saw this movie in college and thought it was brilliant. So if you can't be in Baltimore for the screening go out and rent it. The movie starts at 8 at the Charles Theatre, Friday, May 4.
The Maryland Film Festival runs from May 3-6.
Thanks, Paula!

Also of note this month, PIE IN THE SKY: THE BRIGID BERLIN STORY is now showing in New York at the Film Forum. John is one of many underground celebs interviewed in this documentary about the Warhol superstar Brigid Berlin. Check your local art houses for screenings around the country.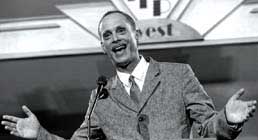 April
I can think of a few celeb's who should have read Stealing and Puking on Awards Show Night: Advice from John Waters before showing up at the Academy Awards last month. IFC also has a transcript from a web chat John did before hosting last month's Independent Spirit Awards. Go to ifctv.com.

Best news of the year so far - Atomic Books will reopen on April 20th in Baltimore's Hampden neighborhood (remember Pecker's 'hood?). Check out their Online Catalog, Live Spycam & more at www.atomicbooks.com. They also forward fan-mail to the master himself.

Superfan Erik "Vinyl" Weber informs me that the Lust in the Dust DVD has "a 16 minute short featurette about the making of the film and talks [with] Tab Hunter, Lainie Kazan and others about the cult film. They show photos and home movies from the set and have some sound bites of Divine and Paul Bartel. Also, the most surprising of all, they have footage of Edith Massey doing readings for the film (they originally wanted her for the role of the old lady bartender, but decided against it so has to keep the film from seeming like a John Waters movie without John Waters)...anyway, it was great and they talk about Divine a lot and even have footage from the premiere." Get it from Amazon.


March
----------
UPDATE: John Waters will be hosting the 16th Annual Independent Spirit Awards to air exclusively on the Independent Film Channel on Saturday March 24. Coverage begins at 5:00 pm/ET and will rebroadcast at 9:45pm. The ceremony will also be rebroadcast on Bravo at 10:00PM/ET.

"Hosting the Independent Spirit Awards makes me feel like a combination of Buddy Hackett and Satyajit Ray," said Waters of the honor. He has been nominated for Best Director and Best Screenplay Spirit Awards in '89 for Hairspray. And he was the key note speaker at the 1999 ceremony.
----------
Josh McCullough reports that Videoscope magazine interviewed John Waters about CECIL B. DEMENTED but also about the DVD release of all of his movies:
"I just redid all of my movies on DVD...in 2001 every quarter two of my films will come out on DVD with all new tracks and all new stuff; I've been working on'em for six months. All new commentary for every one of them, plus we're interviewing Liz Renay at her house, lots of good stuff. And New Line and Fine Line are doing all of these." They also asked him about his next movie: "Well, I'll have to give you my stock answer, 'cause I think it's bad luck to talk about it. But I have many notes on this and many clippings, I just haven't started to write it yet...it's called DIRTY SHAME, which is an expression I love. It's about blue-collar sex addicts in Baltimore and their search for some kind of dignity and peace."

Craig MacNeil has been finding some super interviews all over the net. First off is one from IMDB – and the other is from Nerve.com. Thanks Craig!

And in the March 9th issue of Entertainment Weekly, the last page is all about Divine. Titled "A Divine Tragedy" - it's a puff piece about the star of Pink Flamingos and how he died this week 13 years ago. Thanks to Eric for the heads up.


February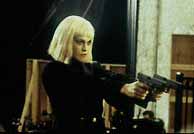 Mathieu Dubois reports that John Waters will be making an appearance at the Virgin Megastore in Union Square, New York. It's on February 8th at 7:00 p.m. and he'll sign copies of CECIL B. DEMENTED which was recently released on VHS and DVD by Artisan Entertainment. Get it from Amazon. Or order your copy now at CD NOW.



We got some thrilling news at the end of President Clinton's presidency - his official pardon of Symbionese Liberation Front and John Waters' star and friend Patricia Hearst! Thank you Slick Willie!
In related news, a recent show at the Museum of Modern Art in New York featured a piece by Dennis Adams called Patricia Hearst: A thru Z (1990). Check it out!

Although Atomic Books have closed their doors, the proprietor, Scott Huffines, will still be forwarding mail to John periodically. He also has autographed copies of John's books for sale. You can get in touch with Scott at...

Scott Huffines/Atomic Books
PO Box 7962
Baltimore, MD 21221
attn: John Waters

January
Dreamland News is five years old. Congrats and thanks to all my contributors!
Guy Mazzaglia reports that the new Divine DVD, "Divine: Shoot Your Shot & Live At The Hacienda" has been released, including videos for Gang Bang, Shoot Your Shot, Jungle Jezebel, Born To Be Cheap, Love Reaction, Alphabet Rap, Shake It Up, Native Love, Love Reaction and the "Live At The Hacienda" performance. Check out Cherry Red and Vision Videos for details and sales info.

Check out fancy-pants magazine Nest for a pictorial and story on John's house in Baltimore. This is the first time he's allowed it to be photographed for publication - and to all you stalkers, there is no address printed. It's amazing to see how he lives, in a fairly traditional home with "nice" furniture and mountains of books. Quite lovely, really. The story is followed by a selection of JW's polaroid photos. Legend has it that he takes a polaroid of everyone who enters his home, so the collection in Nest consists of people like friends Patricia Hearst and Pat Moran, right down to the rough trade fixing the boiler in the basement. Also included is a special holiday greeting card which you can pull and mail to a friend (or enemy)!

And a little ahead of schedule, but I just thought I'd let y'all know, on March 24th Waters will host the 16th annual IFP West Independent Sprit Awards. The ceremony will be broadcast LIVE on IFC and subsequently on Bravo.