Dreamland News

December 2000

And another year draws to a close. There are quite a few news items this month, so strap yourself in...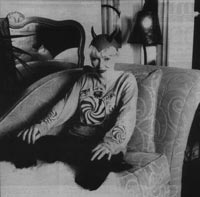 First off, let's hear it for Susan Tyrell (pictured at left). She's doing much better since her surgery in April. You can read more about her "so-called rotten life" in this LA Weekly article.
A fund has been established to help "SuSu" with her ongoing medical needs, rehabilitation and care. Checks should be made payable to
A Sweet Account
c/o 2415 S. Santa Fe Ave., No. 11
Los Angeles, CA 90058.

Thanks to Noel for the tip and Eric for the picture.

Guy Mazzaglia reports that Waters gave a lecture at the Ft Lauderdale film fest on Nov 3. Also in attandance was Frances Milstead (Divine's mother).
From an article by Erin Torneo: "Someone just said to me, 'You've had bush and gore in your movies,' which I thought was funny," said John Waters. Getting the festival off to a rollicking start, Waters offered reflections on his early career, the current state of indie film, and even voting tips to an audience that included Secretary of State Katherine Harris.
Damon Wise reports that John was in the UK on Nov 6th lecturing at Oxford University Union. "It was a surreal experience; rich kids in tuxedos drinking Stella Artois from plastic cups. John was hilarious, as usual, then they showed CECIL B DEMENTED on a screen in the very uncinema-like drafty hall. CBD opens here Dec 8 on a very small release. John's also written about his favourite movies of the year. I seem to remember they include L'Humanite, American Psycho, Dancer In The Dark and Virgin Suicides ('Who would've thought Sofia Coppola would remind me of Cocteau?!' - JW).

Damon also reports that "John is unaware of - or perhaps a little willingly blind to the Net: he says his father told him about the John Waters Worship Page and he was mortified." Well, I was mortified by the JW Worship page too. Stick to Dreamland, folks. It's the real thing.

dvd.com reports: "John Waters fans should be excited by three successive 2-packs of Waters work on DVD, which will then be available as a box set once all three waves are released. The films include Pecker, Pink Flamingos, Female Trouble, Desperate Living, Hairspray and Polyester (complete with, yes, scratch and sniff card.) All these titles are being remastered (except for the already released Pecker)."
Uh-oh - Melanie enters rehab...
"My doctor has referred me to the Daniel Freeman Hospital to step down from the prescribed medication that I have been taking for a neck injury," Griffith said in a statement released to reporters. "I appreciate everyone's concern, and I am sure that you will respect my and my family's privacy. With love, Melanie." A hospital spokeswoman would not comment on Griffith's treatment, except to tell Reuters that patients at the nonprofit Catholic facility (in the Marina Del Rey area of Los Angeles) generally go through a 12-step in-house program. [Reuters contributed to this story.]
And now for the sad news... Atomic Books in Baltimore is closing. In the past, I have referred fans to them as a way to get in touch with Mr. Waters. I'm sorry, but I do not have any other contact information for John at this time.


November 2000
John appears in a new movie called Pie in the Sky: The Brigid Berlin Story. Brigid (a.k.a Brigid Polk) was an actress in some of Andy Warhol's most famous Factory era films, such as CHELSEA GIRLS, BAD, IMITIATION OF CHRIS, BIKE BOY, THE LOVES OF ONDINE AND NUDE RESTAURANT. She had cameos in Pecker and Serial Mom.
Mink Stole News: Nerve Magazine interviews Mink this month - her advice column Think Mink has been picked up by Baltimore's City Paper - and she will be appearing in a new MTV soap opera called Spyder Games which will start airing in January 2001. BUT I'M A CHEERLEADER, in which she plays Natasha Lyonne's homophobic mom, has just come out on video. Two shorts featuring mink, BIRDS DIE, and HE BOP, have been playing film festivals around the county. Look for them.
Reporting from DC, we have Dreamland contributor Alana Miller's report from John Waters' lecture at George Washington University. Paula Tribull points us towards an article about Divine in the Baltimore Sun celebrating his birthday. Peter Avellino reports on an interview with JW from the Digital Video Trade Show where he was keynote speaker on 10/4 at PostIndustry.com.


October 2000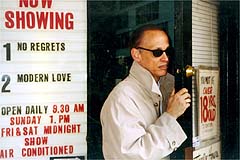 This month I'm gonna catch y'all up on some of the press JW got over throughout the summer. John takes us on a tour of Baltimore porn theaters and drive-ins thanks to a recent New York Times Magazine article. He also gave a cool interview this month in gay-porn mag HONCHO with their editor - discussing, what else - PORNO! And for their 10th anniversary, gay guide METROSOURCE asked John Ten Questions. Legendary Dreamlander Mary Vivian Pearce contributed "The Cinematic Unabomber" - about Dreamland costumer Van Smith - to PAPER last month. And be sure to check out Joe Blevins' updated guide to the music in JW's films. Another zine which I don't have, but you can pick up on newsstands right now is BUST in which JW is listed as one of the Men They Love!

And remember that John will be lecturing in Washington, D.C. on October 18. Check out Ticketmaster for more info.

Erik Weber reports that there is a new book by Jerry Stiller called MARRIED TO LAUGHTER in which there are several pages about HAIRSPRAY and Divine! Stiller, who played Divine's husband and father of Tracy Turnblad, wrote fondly about Divine and seemed very emotional when discussing Divine's untimely death, attending the funeral and meeting Divine's mother.


September 2000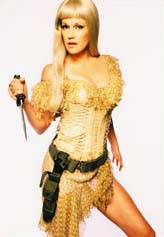 CECIL B. DEMENTED is now in general release throughout the US - check your local listings! The soundtrack hit stores in mid-August. It features the opening theme by Moby, a couple hip-hop tracks by DJ Class, crunching thrash from Locust and Meatjack - and even a song by Liberace! Get it online at CDNOW. Or if you prefer Amazon...
This shot of Melanie Griffith was taken from PAPER magazine who did a great profile on her for their September issue. They also had an article written by original Dreamland star Mary Vivian pearce about Van Smith who has been John's costumer from the beginning. Melanie has her own website now. Check her out at melaniegriffith.com. Lanky14 reports that the Aug 20 edition of Newsweek included a short interview with John and Patty in which John discusses his next project all about sex addicts. Now you know this sounds amazing! SALON magazine reports on an upcoming documentary about the San Francisco performance group The Cockettes. Divine performed with them from time to time, and an interview with John will undoubtedly be included in the film.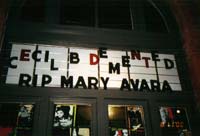 Paula Tribull reports "went to the Charles theatre to see CBD again and had to laugh when the marquee said CECIL B DEMENTED RIP MARY AVARA. Mary was the secertary of the Maryland state censor board. She was never a John Waters fan." To say the least, Paula. Mary can be seen in all her loathsome glory in Steve Yeager's documentary, DIVINE TRASH. Regarding Waters, she was quoted as saying "I wipe him from under my feet"!

Make sure to check out our FANS section for a couple new additions. There's an update from Alana Miller with pictures from her nite at the CBD premiere. I started the Dreamland Fans section a couple years ago when a girl named EVE SEVERE sent me a photo of her John Waters tattoo. Well, it turns out that she was the inspiration behind CBD's Sprocket Holes' tattoos of infamous directors. Way to go Eve! And in the IN PRINT section there are new interviews from NYC's Next and HX magazines.
John will be lecturing in Washington, D.C. on October 18. Although I hate to link to Ticketmaster - you can get more info from them. And Candy from Boston reports that every weekend during the month of September, the Coolidge Corner Theatre in Brookline will be having a JW film festival - each friday and saturday night, at midnight.
For the New York premiere of CBD, PAPER magazine threw a bash with all kinds of cool celebs. Check out the pictures from PAPER and HX here. And in the NEW YORK POST's "What I Watch" column, they reported on his favorite TV show: "The Corner on HBO. It's the best show on television that I've watched all year. All white people should be forced to watch it."
And on a sad note, Erik Weber reports that Susan Tyrrell (who played Ramona Rickets in Cry Baby) had an operation in May to remove the bottom half of both her legs. A blood disease had stopped the circulation in her legs. Our best wishes go out to you, Susan!

August 2000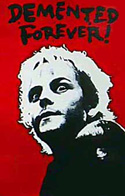 It's here - CECIL B. DEMENTED - a limited release in major cities begins August 11th.
The Baltimore Sun reports: 'DeMented' items on the Auction block: Artifacts from 'Cecil B. DeMented' will go on sale next week at Amazon.com. ...a number of props, costumes and accessories from the new John Waters movie will be on view on Amazon.com, and will be auctioned on Aug. 18. [Cecil's branding iron; several outfits worn by the radical filmmaker's band of pranksters; a bathrobe, gown and pair of shoes worn by Melanie Griffith; an eyelash curler and a dog collar] The auction will be held through Aug. 31. Proceeds will benefit the Prisoners Aid Association of Maryland Inc., a social services organization that provides housing, job training and counseling to inmates and ex-offenders. (Thanks for the tip, Paula).
The official World Premiere was held on August 2 at Baltimore's Senator Theatre. As usual, the premiere was a benefit for AIDS Action Baltimore. Ticket holders were invited to a Gala Party after the screening. Check out Dreamland's Exclusive Report from the Premiere from Jeff, Jim and Alana.
Peter from the JohnWaters&Co list at egroups reports the following tidbit from IMDB: Who's Demented? To promote his latest movie, Cecil B. Demented, writer-director John Waters is sending out promotional "Cinema Terrorism Kits" with the words "Stop the mass distribution of mediocre movies" and "Death to those who are cinematically incorrect" printed on the outside. As reported in [the] New York Post, the packages include glass capsules containing ammonium sulfide (stink bombs), rope, a book of knots, duct tape, a picket sign, a rubber tomato, a water gun and a megaphone.
John Waters was featured on Comedy Central's show Canned Ham - a behind the scenes of CBD. John, Patricia Hearst and Stephen Dorff also appeared on an episode of Politically Incorrect with Bill Maher where they discussed (duh, what else?) politics! And John appeared on Conan O'Brien's show Friday the 11th.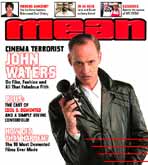 John graces the cover of MEAN magazine which features an interview with the auteur, a run-down of all his movies with behind-the-scenes insight from Mink Stole, a fashion spread of CECIL B's Sprocket Holes, and bio's of the directors who influenced Cecil and his gang. JW is also featured this month in OUT, Genre, The Boston Globe, Filmmaker Magazine, HX and countless other publications. If you have good press on Mr Waters that you'd like to share, email me!


July 2000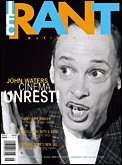 John is featured on the cover of IFC's new RANT magazine this month. The interview is accessible through their site at ifcrant.com. July also sees the release of Steve Yeager's documentary, DIVINE TRASH on VHS and DVD, so if you missed it in the theaters, now's your chance!
Ads and trailers for CECIL B. DEMENTED are cropping up around US cities in anticipation of it's release next month. Reports have it that old-school Dreamlanders Mary Vivian Pearce and Susan Lowe have cameos. Other newer Dreamlanders (folks who have been in more than one of JW's recent features) round out the cast.
Richard Mann reports that dvdfile.com has a listing for an upcoming John Waters DVD collection, which according to them will contain the following 6 films: Pink Flamingos, Desperate Living, Female Trouble, Polyester, Hairspray and Pecker!

June 2000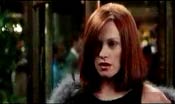 See a clip from CECIL B. DEMENTED at France's Canal Plus website. Just click on the link to the Cannes Film Festival. Who knew Melanie Griffith could be such a cunt!

And be sure to visit DEMENTED FORVER - the official website for CBD. You can hear three tracks from the soundtrack (hardcore hip hop songs "Bankable Bitch" "No Budget" and "Demented Forever"), witness a Flash animated version of Honey Whitlock's abduction, take the Demented Personality Test, read Cecil's manifesto and bios of the Sprocket Holes.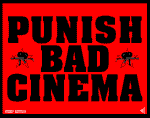 John appeared at the Michigan Pride Fest on June 17 - check out Grizelda's report in Dreamland's FANS section.
And a new movie called BUT I'M A CHEERLEADER, featuring a cameo by our very own MINK STOLE opens this month at the New York Gay & Lesbian Film Festival. Look for it in your local gay film fests in the months to come.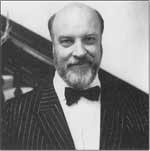 "It's amazing what you can do with a cheap piece of meat if you know how to treat it."
Paul Bartel - Dead at 61
Queer film maker and Brooklyn native Paul Bartel died last month on May 18th. He directed 11 films and appeared in over 70. He is most notorious for EATING RAOUL, but also directed the brilliant SCENES FROM A CLASS STRUGGLE IN BEVERLY HILLS and the Divine vehicle LUST IN THE DUST. I believe he had liver cancer. He continued to make movies until his death and can be seen in the upcoming mod-shakespeare version of HAMLET starring a bevy of buggerable boys (Ethan Hawke, Casey Affleck etc).

May 2000

This month will see the debut of John Waters' new feature CECIL B. DEMENTED at the Cannes Film Festival. It's being screened out-of-competition which means it will not be eligible for any awards. Check out the link for stills from the movie and more!
Entertainment Weekly has this to say about CBD:
For dyed-in-the-Polyester fans of Waters, DeMented may seem something of a departure. "It's my action epic–Die Hard for the Hollywood impaired," says the director, who named the film after himself–"Cecil B. Demented" is a nickname given to Waters by a journalist.
Dorff stars as Cecil, who leads a band of "cinema terrorists" in kidnapping a big-time Tinseltown starlet (Griffith) at her latest premiere and forcing her to star in their own underground film. And just in case you're worried that Waters has gone too mainstream, he assures us that DeMented is "the craziest film I've done in years."
Indeed, in the estimated $10 million production, the terrorists envision punishing the public for their poor attendance at a Pasolini film festival, the usual Waters suspects (like Lake and Hearst) make their appearances, and Witt, playing an ex–porn star, has an intimate scene with, as Waters puts it, "a little furry creature."
Despite the on-screen mayhem, says Dorff, the two-month shoot "was a lot less zany than I thought it'd be. John's very old-fashioned Hollywood; drives to the set dressed in those suits, the Teamsters park his car, and everything is two takes."
And finally, Waters made a selection for the Maryland Film Festival, as he does every year. The festival takes place in the last weekend of April and this year his selection was Lodge Kerrigan's CLEAN, SHAVEN starring Peter Green as a schizophrenic father in the midst of a crisis. Waters says "there is not the slightest bit of irony in my selection this year," which seems funny, but probably isn't supposed to seem funny.


April
Scott Huffines from Atomic Books reports that John has "finished recording new commentary for DVDs that are coming out in the near future. Since another company bought the rights (I think he said Fine Line or New Line) he had to record new commentary for Pink Flamingos, Polyester and I think even Serial Mom. Pecker commentary stays the same. He said there are some good extras on the DVD's, like a trip to Liz Renay's house, etc. but I didn't get too many details."
Scott also reports that Atomic Books has John Waters' books back in stock! Both SHOCK VALUE and CRACKPOT were temporarily out of stock while they underwent new printings. But SHOCK VALUE is back in print and back in stock and CRACKPOT ships sometime after April 19th. John Waters shops at Atomic Books and signs EVERY copy they sell. And they'll sell 'em to you at COVER PRICE! Call them at 410-625-7955 to order your copy, or place your order online at: www.atomicbooks.com . You can send fan mail to John c/o Atomic, so check out their site!

March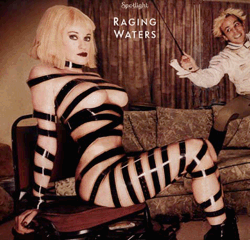 Lots of cool stuff happening all of a sudden. There's a great article in the February/March issue of Index Magazine written by Canadian filmmaker Bruce La Bruce with exclusive photos of his visit to the set of Cecil B. Demeted. And the photo above comes from a spread in Vanity Fair's March issue. Believe it or not, that's Melanie Griffith in her Cecil B filmstrip-bondage outfit photographed by David LaChapelle. Let's hear it for Van Smith, ladies and gentlemen! [applause applause]. For those unfamiliar with the Dreamland team, Van is the person responsible for most of the costumes and makeup in John's films. Looks like he's got some good stuff in store for us in this next picture.
The strangest news this month is the possibility of Hairspray the Musical - on Broadway no less. It was leaked after the New York Independent Film Festival in the Times that plans are underway for a stage production of Waters' most well-loved film. Producer Margo Lion has asked composer Marc Shaiman (South Park: Bigger, Longer, Uncut) to collaborate with Rob Marshall (Cabaret) as director. John himself would be a consultant. But an independent source told me that Lion has a questionable history of coming through with her promises of mounting Broadway musicals . . . although she has actually succeeded from time to time.
If you live in New York, you can check out screenings of John Waters films on Tuesdays at Symphony Space in New York City. Beginning on Tuesday February 22, this series will run through April and puts Waters on double-bills with his Spanish contemporary Pedro Almodovar. Another treat for New Yorkers, this past weekend's Times Magazine featured an amazing photo spread called The Big Remake. The idea was Fourteen Directors, One Question: "If you could cast any contemporary actress in any role, what would it be?" John Waters chose Lil' Kim as Diana Ross in Mahogany. "Why not recast the imperiously glamorous Diana Ross with the stunningly red-hot Lil' Kim for a much raunchier hip-hop version of this much-maligned cinema howler?" Below is the genius photo of her as Diana, next to a shot of former Waters-leading lady Christina Ricci, who incidentally was chosed by Almodovar to take Bette Davis' place in Jezebel!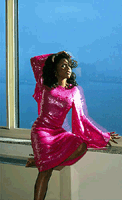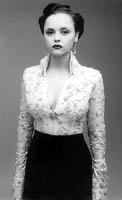 February
As you may have heard, Waters had a part in Woody Allen's latest flick which is still in theaters. Here's a quickie review from Chris Barton: "He's listed in the "main cast" of the opening credits, which precedes a "supporting cast" list of actor credits. I thought, great - John Waters has a decent-sized part in the flick! Not so. he's in the movie for maybe 45 seconds, playing some kind of manager or loan shark or something of that ilk, screaming at Sean Penn about how irresponsible he is. As short as the scene is, I couldn't help but giggle uncontrollably at the bizarreness of John Waters popping up in a Woody Allen film! Screeching at Sean Penn with his BAL'MER accent, at that! The movie's fun on its own merits, but Waters fans will appreciate the cameo, short as it is.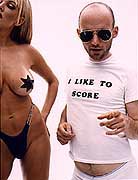 In other news, Moby has been slated to contribute music to Cecil B. Demented.
CD Now Allstar News reports: Moby's people have been on a licensing frenzy lately. He has music in such movies as Any Given Sunday, Play It to the Bone, The Beach, as well as upcoming Madonna and Julia Roberts films, and the upcoming wacky treat from one of his personal favorites -- John Waters.
Moby tells allstar that he was initially up for scoring the movie, but his touring and recording schedule didn't allow time for that. "I've put a self-imposed moratorium on all outside work, but I really wanted to do the John Waters film. I've been a fan since Pink Flamingos, so I'm going to maybe write the music in the opening credits," he says.
Moby says he plans to work on the music for Cecil B. Demented after his European tour, which wraps up in late February. He's not sure yet if his contribution will be an instrumental piece, or a "song" song, or a combination of the two.


January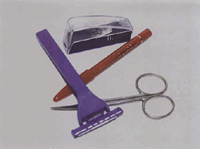 Bryan Wendorf, the Director of the Chicago Underground Film Festival, was gracious enough to email me a copy of this year's Holiday Greeting card from John Waters. For those who don't know, every year, Mr. Waters goes to great lengths to make the season a little brighter by mailing out a very original card to a select list of people. Roll over the image to see the other side. And please check out the Chicago Underground Film Fest online at www.cuff.org.
For more news about what's been going on, check out the news from 1999 just below. Lots about John's upcoming production of Cecil B. Demented!