On The Net

The one question I am asked the most is "how can I get in touch with John Waters?" Well, I'll tell ya. There's a legendary indie bookstore called Atomic Books in Baltimore. They are kind enough to collect snail mail for him (no emails). For more info, visit their site. And while you're there, browse around and buy something!

Also, I have heard from John Waters office that there are fakesters on the major social networking sites, like Facebook and Twitter, claiming to be Mr Waters, and those pretending to be him are corresponding with fans using his name. Obviously Mr Waters does not condone these actions. So, don't be deceived - get your questions answered by the "real deal" by attending one of his many public peformances and participating in the Q&A.

You can read more about Waters on these other sites...

NEW POSTINGS AT THE TOP!

The Broward Palm Beach New Times has an amazing, if brief, interview with Mr. Waters about his favorite designer, Rei Kawakubo of Comme des Garcons.

And speaking of fashion, Rookie Mag has an article about how to look like your favorite John Waters character, All Ratted Up Like A Teenage Jezebel.

Read an interview with Mr. Waters in Lambda Literary.

Mr. Waters disussed Occupy Wall Street, becoming a capitalist and The Wire at Slate.com.

Love That Dirty Waters, from Portland Magazine (that's in Maine, y'all).

There are a quite a few articles popping up in relation to Mr Waters curated show at the Walker Art Center in Minneapolis:
A Q&A in Vitamin
A review in Minneapolis St. Paul Magazine
Another review at minnpost.com

An interview with John in the German art magazine MONOPOL about his jury duties at this year's Venice Biennale

Roger Ebert has posted an article about his appearance in Chicago and Role Models.

In praise of demented fasion icons, from Flavorpill.

John Waters says "Let's ban heterosexual divorce!" Read it on HuffPo.

Bill Hughes photos of the Role Models book signing on Facebook.

John Waters 6 Favorite Books in The WEEK.

There's lots of great press coming out around the book and Mr. Waters upcoming tour. Here's a few links to recent puff pieces.

An interview in Toledo City Paper by Jason Webber

An interview in Nebraska's The Reader by Kevin P. Simonson

Write-up and photos from the Baltimore Book Signing by William Hughes

An interview in Dog Canyon by Steve Birmingham.

An interview on Salon.com by Louis Bayard.

An interview on Boston.com by Eugena Williamson
The Boston Globe, May 16

The Tasemaker - Questions for John Waters by Deborah Solomon
New York Times, May 24

John Waters is not a Poppers Pig by Aaron Hicklin
OUT Magazine, May 2010

Editor's Choice by Jeff Simon
Buffalo News, May 16

BN Review by Charles Taylor
Barnes & Noble, May 21



The clip above is a profile of Edith Massey from local Baltimore news program Evening Magazine in 1978. Thanks to Scott for the link!

Baltimore Magazine has a review of John Waters Christmas show.

Baltimore Magazine also have an article in which locals theorize on the creative output of the city.

Seven Days Newspaper in Burlington, Vermont has published an interview with Mr. Waters, A Very Filthy Christmas. And there's a blog post featuring extras from the interview, John Waters on Tiny Tim, 'A Christmas Story' and being a Never-Nude.

Washington City Paper recently published an excellent interview with Mr. Waters.


The PBS Art Blog has a video interview with John Waters outside the Charles Theater at the Maryland Film Festival.

A video where John Waters walks you through his latest show of visual art REAR PROJECTION at the Gagosian Gallery site.

If you missed the Here! series Movies That Will Corrupt You, you can now check out all the intros/outros that John filmed on the YouTube channel ScandyTangerineMan.

An exclusive interview with John Waters and the UK's Nigel Wingrove about censorship, at Eye For Film.

A new blog was recently discovered called The Adventures of Mary Vivian Pearce, maintained by her sister Valerie.



John Waters' Diane Linkletter Story has been posted to YouTube.

It's JW's DVD picks, from an interview on National Public Radio (NPR).

An interview with Mink Stole in The Onion AV Club

An interview with John Waters by Beth Accomando on her KPBS blog

An interview with Mink Stole by Chad Clinton Freeman at PollyStaffle.com.

A video interview with John Waters from Amoeba in California.

Check out this discussion with John Waters on Maryland Morning (NPR) from March 28, 2007.

Here's an interview with John about A DATE WITH JOHN WATERS in PopMatters.

East Bay Express has a write up about A Date with John Waters.

John has done an interview with Radar Online. The ostensible reason for the article is to plug A Date With John Waters, but the interview takes off on all kinds of tangents, as per usual. Very funny stuff.

Check out this blog all about HAIRSPRAY the movie musical.

Here's a review of the new movie THIS FILTHY WORLD, shot at one of John's legendary speaking engagements in New York City.

MSNBC reports on the best Black Comedies, and of course SERIAL MOM is one of the top 10.

The European Graduate Shool site has lecture transcripts and a great video of John at a speaking engagement.

New site BeardyFreak has reviews of unusual films, including Desperate Living and Pink Flamingos.



YouTube.com has many John Waters and Divine clips available, including the rarely seen pro-smoking ad he made for theaters (above). Search for other clips while you're there!

Here's an interview from 1978 that never got published till now. It was for Modern Correspondence Magazine. And the topics range from Desperate Living, Edith, Manson and Divine.

An interview with John about Movies that Will Corrupt You on PlanetOut.com

An one from Houston's Out Smart Magazine

A superb interview from hip queen zine Butt Magazine conducted by Wolfgang Tillmans. With photos of John in Baltimore by Ryan McGinley.

An interview with John in Mr. Skin, a site devoted to nude scenes!

An interview with Mr. Waters in the Denver Post regarding his Court TV show and other oddities.

Another article about the Court TV show from the Denver Westword.


2005 LINKS: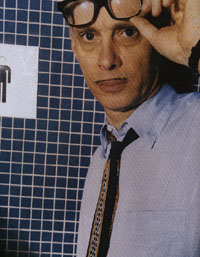 DVD Talk Radio has an interview with John Waters about the DVD release of A Dirty Shame, and some new projects he is working on.

A recent PodCast from Feast of Fools which talks with John about sexual fetishes, weird candy, Republicans co-opting gay culture, and why Waters thinks AIDS activist Larry Kramer is the Bill Cosby for the gay community.

A review of A Dirty Shame on DVD Fanatic.

An article about John Waters favorite things in Los Angeles from the LA Times 6/30/05.

The 2 JEALOUS PERVERTS have updated their site. And it's one of my personal faves. Pay them a visit!

There is a new John Waters message board.

Baz's up and coming Divine site.

Pictures by Allan Tallenbaum from SoHo Weekly News, a great paper from the 70s and 80s. John & Divine | Mink Stole


A DIRTY SHAME & OTHER 2004 LINKS:

Dreamland contributor Liam Hughes has sent over some pictures from the Baltimore premiere.

Or you can also check Dan Bell's site for some of his shots.

Aint It Cool News has a great interview between John and Selma Blair.

A great article/interview in Gay City News about A Dirty Shame, gay life and fashion!

A video interview about A Dirty Shame for New Line.

An interview in Nerve.com including John's thoughts on Paris Hilton, Michael Jackson, Johnny Knoxville and lots about sex.

An interview with John from PlanetOut about A Dirty Shame, politics, television and gays.

Listen to John's appearance on National Public Radio's Fresh Air from February 2004.


PREVIOUSLY POSTED:

An article on Movienet.com by John Waters about one of his influences, Kroger Bogg, the director of Mom and Dad.

Two new articles by John in PAPER magazine. The first is from their 20th anniversary special issue, and the second is from their new book 20 Years of Style.

An interview with John from '97 at Sundance which appeared in Frontiers Newsmagazine.

Click here to read an interview with Waters by writer Dennis Cooper for BOMB Magazine.

Click here to read and article from December 03 about the filming of A Dirty Shame.

Click here to read Daniel Cunningham's essay on on John Waters for the online film journal Senses of Cinema (for their 'Great Directors Critical Database' section).

A story on JW and The Joy of Sex from London's Independent.

Check out the Onion A.V. club interview with JW.

Visit the site of Kurt Thometz to read a recently unearthed interview with Waters about what's on his bookshelves.

Here's an interview recently unearthed by Tonya Starr from Flak Magazine about the new "shock" movies, famous directors and Cecil B. Demented.

An interview with Anne Doran from Grand Street about David Cronenberg's Shivers.

This interview from Bizarremag.com discusses his childhood, the Manson Family, and the bizarre.

An interview with John for Modern Correspondence Magazine #5, which never saw print. Tom Hosier gives us its' first publication.

An interview with Waters from New York Citysearch about filming CECIL B. DEMENTED

An interview with John from PAPER magazine about CBD.

If you are interested in downloading the full PECKER trailer, go here!

For the official Pecker page check out http://www.flf.com/pecker/

An article about Pecker from The Boston Phoenix

A real puff piece from Citizen Robot - check it out!

My nemesis - we've battled like Babs Johnson against the Marbles. Thank god no one's killed each other... yet.

An Italian page about John Waters which for some bizarre reason uses a cheezie instrumental midi version of Pink Floyd's "Another Brick in the Wall" as its background music.

A student's fan page with photos, cast bios, etc.

Join the John Waters & Co discussion list at Onelist.

There are a wealth of articles on TimeOut New York's site. Check out his 1999 tour of Baltimore, an 1987 article about New York bars, sex and turning 50, a 1998 review of his Little Movies gallery show, and a 1997 location report from the set of Pecker!