Dreamland News

December 2002:

Sorry, Dreamland Fans. I've been a busy boy and haven't had time to update the news this month. But as a treat, here's a bunch of John's Christmas Cards, from anonymous recipients who want to share! And what Christmas Eve would be complete without the family gathering around the toaster oven to read his infamous "WHY I LOVE CHRISTMAS!" Thanks to 2 Jealous Perverts.

I promise I will give a full report come January.


November:

Atlanta's Lesbian and Gay Film Fest OUT ON FILM is kicking off their 15th Anniversary with an appearance by John Waters. He will perform his one-man show, "The World of Trash" on opening night, followed by a screening of Female Trouble. Ticket prices range $20-$60 depending on seating. For reservations, contact the Rialto Center for the Performing Arts.

John will also be the keynote speaker at Human Rights Campaign's Gala Dinner in St. Louis, MO on Saturday, November 9. For more info, visit their site.


October: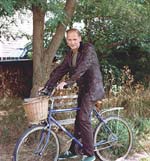 November update:
IMAGE Film & Video Center's OUT ON FILM: Atlanta's Lesbian and Gay Film Festival is kicking off their 15th Anniversary with an appearance by John Waters! Mr.Waters will perform his one-man show, "The World of Trash" during OOF's opening night celebration at The Rialto Center for Performing Arts, followed by a screening of Female Trouble.
Opening Night Gala with John Waters [includes film and reception]
Ticket prices range $20-$60 depending on seating. For reservations, contact
the Rialto Center for the Performing Arts.

John is on the next cover of OUT Magazine! You can check out their site for pics and story.

Also, he will be appearing at two screenings in New York this month. The first one is at the Pioneer Theater in the East Village to introduce "Let Me Die A Woman" - the Doris Wishman doc on Friday October 25th at 8pm. (See September's news for more info)
The second one is a one-time screening of Hairspray on Halloween at MOMA's temporary cinema at the Gramercy Theater.

And finally, I have been alerted that CultPlug! is back online. This was a very cool site from back in the day with lots of audio clips from JW films. Check it out.


September:

John Waters will be appearing at the Wilmington Deleware Independent Film Festival Wednesday, September 25 for their Opening Night Party at the Nemours Theatre. Check out their site for more info.

Read more about Hairspray on Broadway from Slate.com:
John Waters, Wholesome Guy: How the Prince of Puke became the Baron of Broadway. By Tim Appelo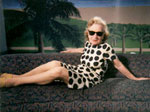 Finally this month, we must say goodbye to a fantastic filmmaker. Doris Wishman died in August, nearly 90 - having made over 29 films.

Jim Hollenbaugh fills us in: "She pioneered the nudist camp film scene in the 60's with Hideout in the Sun and went on to create other nudie gems like Nude on the Moon and Blaze Starr goes Nudist. She went on to do classic roughies like Bad Girls Go to Hell, Another Day Another Man, Indecent Desires, to the Chesty Morgan classics, Doublet Agent 73 and Deadly Weapons, to the crazed sex change documentary Let Me Die A Woman, to psychedelic horror A Night To Dismember... her newer works include the unrealeased Dildo Heaven, Satan Was A Lady and her final feature Each Time I Kill."
"It's not hardcore, but you're supposed to think it is." – Doris Wishman
Her final film EACH TIME I KILL is currently in post production. John Waters has a cameo appearance.
Visit her website: www.doriswishman.com


August:

August Update: Hairspray the Musical is now open on Broadway.
Lots of stuff to read from the New York Times:
Finally, Footlights on the Fat Girls by John Waters
Review of the show by Ben Brantley
At home with John Waters by John Leland
Watch a video from the stage production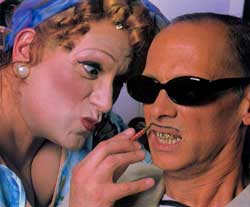 DamnDamo reports:
"The production of Hairpsray has just opened on Broadway and I must say it's pretty good. Tickets are steep (up to $95) but the stage design is pretty impressive and there are enough people up there on stage to give value for money. Waters purists will be sad to hear that music from the original score (including the theme music) is absent and only the Madison remains. Also, the story has been quite drastically rejigged, with Velma Von Tussle being more of a villainess (as the producer of the Corny Collins Show) and Tracy becoming more of a hairdo radical in her bid to integrate the city.

Of course, John's humour is diluted a little, but not too much, and the show certainly captures the spirit of the movie. My only gripe is that the catchier songs are in the first half and the second part falls short of a great ending. Otherwise I'd say this was a success, getting a standing ovation from a mixed, mostly mainstream theatre crowd. FYI, John appears as the voice of a radio announcer, urging Baltimoreans to shoot on sight when Tracy and Link break out of prison."

Thanks for the review, Damon. This musical is so hot, I can't stand it. It seems that everyday there's more glowing press for John's first foray into the legitimate theater world. Visit the New York Social Diary for some behind the scenes photos. You can also get the Original Broadway Cast recording from Amazon.com.

In our Fans section, you can read about filmmaker Lynda Hinkle and her obsession with John Waters. Or visit the site of Kurt Thometz to read a recently unearthed interview with Waters about what's on his bookshelves. Thanks to Jim Gibson for the link!


July: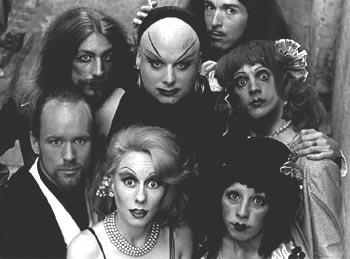 Last night I saw a marvelous documentary about the legendary drag troupe COCKETTES from San Francisco. The movie is just opening now in New York and other major cities, so check your local listings for more info, or visit the film's website for release info, clips and a history of the film.

They really shook things up with their midnight performances on acid. John Waters features heavily in interview segments about his and Divine's experience with the Cockettes in the late 60s and early 70s. "They were the first hip drag queens; insane hippie drag queens on and off the stage. But it was anarchy, true anarchy in the theater which is always a wonderful thing."
- John Waters

John will be co-hosting a screening of Cockettes in Baltimore at the Charles Theater on July 10th. Tickets are only $10 - visit the MD Film Fest site for more info. A must see!

Check out this lengthy interview between John and Lydia Lunch for Sex and Guts magazine. They chat about "kids these days" and Hollywood. Plus John talks about where he was on September 11, 2001. Visit Sex and Guts online.
Also, read this interview from Nashville Scene where John discusses art films, John Walker Lindh, Dionne Warwick and the nuking of Baltimore.

Craig Parker saw Hairspray the Musical preview performance in Seattle. Read his review here. For more info about Hairspray on Broadway, visit the show's site.

Devon Ashby informs me that there is a book of quotes called "Nice Girls Don't Wear Cha-Cha Heels!" It's not all John Waters' quotes, just a collection of campy quotes from various movies. Available from Amazon.com.

Make sure to check out the latest addition to the Dreamland Fans - Hioni and her Honey Whitlock doll.

June: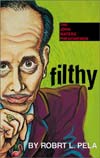 Brand New Bio!

"Dreamland, honey. I'm in Dreamland." That's what Divine says from beyond the grave in Robrt L. Pela's new book Filthy: The Weird World of John Waters. In one of the most bizarre moments in the book, Pela visits a clairvoyant who puts him in touch with the deceased drag queen. A lengthy conversation ensues, and I swear you can almost hear Divine's voice.

In case you aren't familiar with John's history, Filthy covers the basics: his childhood obsession with automobile accidents; the pattern of acquaintances that led to the Dreamland crew; the struggle to get his early movies screened. Robrt delves into the bad habits practiced by John and his friends as they ran from Baltimore to San Francisco, New York to Provincetown. Pela also took a pilgrimidge to Baltimore, looking for Waters characters, explains some recurring themes in Waters films, and provides an extensive movie-by-movie guide in the back.

All of this is terribly entertaining, but the best chapter has to be The Cult of John wherein Robrt Pela gains entry into the home into the most obsessive JW collector in the world, Suki. You have to read it to believe it. This chapter also mentions some Dreamland News contributors. Thanks, Robrt!!!

>> Order your copy now from Amazon.com

For more info, visit Alyson Publications.

Thanks to Chuck for this interview with John from townonline.com.


May:

TWO BIG SCREENINGS!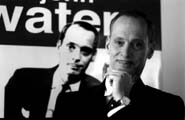 John Waters will be appearing live at Boston's Coolidge Corner Theater on the 11th of this month. He will be performing his "one-man show" The World of Trash and introducing the Director's Cut of FEMALE TROUBLE. Tickets are $25 and can be purchased thru TicketWeb.com, by phone (866) 468-3399, or from the theatre box-office.

John will also be hosting a film at the Maryland Film Festival on Friday, May 3rd called FUEGO. It is an Agentine film directed by Armando Bo from 1969 - and if John picked it, you know it's worth checking out. This is the fourth year Waters has hand picked and introduced a film at the MD Film Fest. Thanks to Lisa for the tip!

In unrelated and unpleasant news, PageSix.com reports that Mink Stole feels snubbed by John. But John claims she hasn't called him in a year! Who ever thought they would battle each other in the tabloid press??? Check out the full story. Thanks, Richard for the trashy news.


April:
There is an official site for Hairspray on Broadway. In casting news, the Baltimore Sun reported that Marissa Jaret Winokur will play Tracy Turnblad and The Village Voice's Michael Musto says Kissing Jessica Stein's Jackie Hoffman is playing Penny's mom and other parts. Thanks to Nicholas Messing for the news!

Also, John Waters will be speaking at the University of Miami on Thursday, April 18th at 7:00 p.m. The lecture will be held at the Storer Business Auditorium (located at UM's school of business) and tickets will be available to the general public at the door for $10 (doors will open at 6:30 p.m.). Questions can be directed to the Hurricane Productions office at (305) 284-4606.


March:
There is so much news this month, I may gag!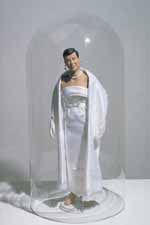 First off, John Waters' Straight To Video photographs (and some from Director's Cut) are currently on exhibition at the Rena Bransten gallery in San Francisco until March 16. It appears he is branching out into Bob Mackie territory - designing gowns for dolls!
>> Check out the virtual tour.
If you're in the SF Bay area, check it out in person. Thanks to Darrin Sullivan for the news.

Go to IFCtv.com's Filmmaking section - Waters chats about his next movie A Dirty Shame, the Hairspray musical, his prediction of penetration in a Hollywood movie - and gives his movie and book reccomendations to up and coming filmmakers.

Read Mike Morton's review of John's appearance on the UK television program So Graham Norton.

Read Doran Wood's review of John's Valentines Day show with X-rated rapper Peaches in Los Angeles.
This appearance was also briefly mentioned on CNN.com.

Local NY/NJ magazine Steppin' Out has an interview with John this month. >> Read it on their site. Thanks to Guy for the link!

Also from Guy is more info about Hairspray - The Musical. As reported in Playbill.com:
Hairspray has set its pre-Broadway dates in Seattle: May 30-June 23 at the 5th Avenue Theater. The New York Post reports that the Broadway Premeire will be August 15th at the Neil Simon Theater. Previews are scheduled for "late July".
Harvey Fierstein is set to star in the Divine role as Edna Turnblad. No other actors' names were released for the other roles.
Composer Marc Shaiman will collaborate with Scott Wittman on the musical. Shaiman is known for working with Bette Midler, Nathan Lane, Patti Lupone and Barbara Streisand, as well as the South Park soundtrack and scores for Full Monte, Annie, The Producers and more.

Aussie fan Peter Gatt informs me that Trashfest 2002 will feature "An Evening With John Waters" as the top event at the festival.

And last, but not least, one-time Dreamlander Kathleen Turner - who appears as Mrs. Robinson in a new stage production of The Graduate - discusses her career, including her turn as Serial Mom in the current issue of New England queer rag Bay Windows.

Make sure to check out our latest addition to the FANS section, Billy Franklinstine!


February:
Late breaking news! John Waters is scheduled to appear on the UK chatshow So Graham Norton tonite - Friday 2/8. All you UK Dreamlanders - check it out and report back. The program also airs on BBC America, although I'm not sure if John is scheduled for broadcast on this side of the pond. Thanks to Mike, Damon and Tim for the heads up.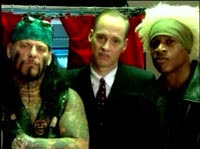 What would you ask John Waters if you had the chance? Well, now you do. Visit IFCtv.com for a chance to ask John anything you want about the art of filmmaking. His responses - as well as his recommendations on movies, dvds, and books - will be posted next month.

Find out what John's favorite films of 2001 were right here from Artforum magazine. His answers may surprise you!

Also make sure to check out Blondie.net for some exclusive pictures of Deborah Harry from Mike Morton who contributed these photos of Divine to Dreamland last Fall.

And finally this month, I'd like to say goodbye to a very special lady who passed on from this Earth in January - Miss Edie Beale - subject of the documentary Grey Gardens. If you've never seen Grey Gardens, go rent/buy it immediately and you'll understand why she deserves mention in Dreamland News. Her personaly and style were unmatched - much like a John Waters character.
The film has recently been rereleased on VHS and DVD.
Read the NY Times obituary for "Little" Edie.
Visit Christopher Barton's Edie site.


January:



As we begin our 6th year of bringing you all things John Waters, take a look at John's Christmas Card for 2001: Divine vs Liz!

The question I was most asked in the second half of 2001 was, "What's the deal with that bonus DVD you get if you buy all 3 double-pack Waters DVD sets." Well, praise the lord, I finally have a bit more info. Here's a review of what's included which must mean it's on the way soon!

The Broadway version of HAIRSPRAY began casting in December in Baltimore. Read more about it in this article from Playbill or this article from the Baltimore Sun. And here's another article from the Sun post-casting call! Thanks to Guy and Paula for the info.

A recent article in Ain't It Cool News reveals that John Waters will appear in the new Herschell Gordon Lewis flick, BLOOD FEAST 2. Lewis was very inspirational to John so I suppose he's just returning the favor, playing the role of a pedophile/homosexual priest in the film. Thanks to Lizzy Bordum for the tip!