John Waters is bringing his one-man show A JOHN WATERS CHRISTMAS to both coasts this month. Each gig has a special guest star (or two!). John's part of the show will be his acclaimed monologue style cultural observations, ruminations on the holidays, and personal recollections on his career. You won't want to miss this!
San Francisco / December 14 at the Fillmore (with Jonathan Richman)
Santa Cruz / December 15 at the Rio Theatre (with Jonathan Richman, Jack E. Strano & Babette)
Portland OR / December 16 at Dante's (with Karaoke from Hell)
Los Angeles / December 17 at UCLA Royce Hall (with Peaches)
San Diego / December 18 at The Casbah (no opener)
New York / December 21 at Bowery Ballroom (with Kimya Dawson & Trachtenburg Family Slideshow Players)
Washington DC / December 22 at the 930 Club (with Trixie & the Evil Hate Monkey)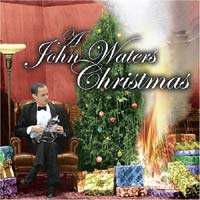 If you missed it last year, pick up the CD A JOHN WATERS CHRISTMAS. It's his first compilation for New Line Records, including 12 unbelievably bizarre holiday songs, all selected from Mr. Waters' personal collection. I gave it as a gift to many people last year, and it never failed to get a reaction when played at Christmas gatherings!

> Order A JOHN WATERS CHRISTMAS

And now for a little sad news. Legendary guitarist Link Wray died last month. Joe Blevins, resident Dreamland Music Expert, reports:
Even hardcore Dreamland fans might not recognize Link Wray's name, but this pioneering guitarist was heard over the opening credits of TWO early Waters films. His "Jack The Ripper" was featured during the chicken-beheading prologue and opening credits of MONDO TRASHO. His hit "Rumble" is also heard during the Dr. Coathanger sequence. And "The Swag" was the theme music from PINK FLAMINGOS. During that first lingering shot of Babs Johnson's trailer and the seemingly endless cast credits, it's Link you're hearing.

> Visit the OFFICIAL LINK WRAY SITE
> Order the PINK FLAMINGOS SOUNDTRACK



November

Lots of news this month Dreamlanders...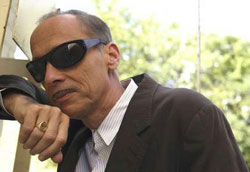 Court TV plans to air a new half-hour series this winter about true-crime domestic murder mysteries hosted by John Waters. Til Death Do Us Part will focus on a single spousal murder in each episode, beginning with a reenactment of the wedding. Waters will serve as the "groom reaper," walking the viewer through each story.

"I've always been jealous of Vincent Price's career," said John. "Maybe now that he's dead, I can hijack it."

The series was conceived by horror director Jeff Lieberman. Each episode will be based on a real murder. "I'm groaning already," said Cheryl Guidry Tyiska from National Organization for Victim Assistance. "While domestic violence and domestic homicide can be very dramatic stories, it sounds like this is designed for prurient entertainment.... My gut reaction is: Yuck."

Sounds good to me! Thanks to all the Dreamland correspondents out there who tipped me off to this story (Scotty, Joe, Matt, Lindsey). To read more, visit adage.com.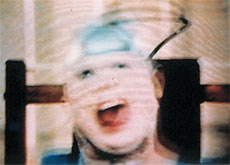 JOHN WATERS: CHANGE OF LIFE just opened at the Orange County Museum of Art, and is running till January 15th.
Besides John's photographs, this travelling show also includes screenings of Waters' first three short films, HAG IN A BLACK LEATHER JACKET, ROMAN CANDLES and EAT YOUR MAKEUP. This is the only way to catch these rare films, so if you're near Orange County, you gotta check it out.

In addition to those movies, they'll also be screening FEMALE TROUBLE, HAIRSPRAY, PECKER, POLYESTER and SERIAL MOM.
And if that were'nt enough, some of John's favorite films are showing including ALL THAT HEAVEN ALLOWS, BOOM! and YOU BETTER WATCH OUT.
For a complete film schedule, click here.
Thanks for the news, Paul and Kelly.

And if you're near Colorado Springs, John Waters will be appearing at the Fine Arts Center there for an evening of film, lecture and reception on November 10. They will be screening Divine Trash. For more info, visit their site.

There's a new book by photographer Tom Atwood of known homosexuals called KINGS IN THEIR CASTLES: Photographs of Queer Men at Home. And John is not only one of the subjects, he's also the cover star! Thanks Noel for the info.

> Order KINGS IN THEIR CASTLES

> Visit TOM ATWOOD.com

And finally, John Waters will be appearing on the Real Time with Bill Mahr season finale (HBO) Friday 11/4. Thanks Josh for the tip!



October ** UPDATE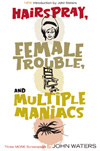 John Waters has a new collection of screenplays available, HAIRSPRAY, FEMALE TROUBLE AND MULTIPLE MANIACS. And to mark the occasion, he'll be appearing at bookstores up the east coast and in California. Here's a schedule:
October 13 - New York
Barnes & Noble Astor Place
7pm

October 15 - Philadelphia
Borders, South Broad St
2pm

October 18 - Lutherville MD
Borders, W. Ridgely Rd
7pm
November 5 - Los Angeles
Book Soup
1pm

November 5 - San Francisco
A Clean Well Lighted Place for Books
8pm
The book also includes an introduction by John and tons of photos. Some are choice movie stills. But there's also a lot of never before seen shots of the Dreamlanders making these classic movies.

> Order HAIRSPRAY, FEMALE TROUBLE AND MULTIPLE MANIACS


October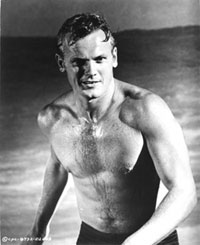 "Making out with Divine, that's beyond the bravery of coming out."

So said John Waters in a recent New York Times article about Tab Hunter, who's new autobiography TAB HUNTER CONFIDENTIAL has just hit shelves. "He was hassled about being gay. You couldn't come out. It was illegal. But he had a sense of humor about the glamour he was caught in. He's a great sport, and a great star."

Before his starring role in POLYESTER, Tab was an ex-teen heart throb of the 1950s. He was very popular, and even had a big hit record YOUNG LOVE. His book details his rise to fame, his ups and downs, his loves and lovers (including Anthony Perkins)! At 74, Tab offers a rare first hand account of what it was like to be queer in the celluloid closet of 50s Hollywood.

> Order TAB HUNTER CONFIDENTIAL: THE MAKING OF A MOVIE STAR

> Visit TAB HUNTER.com


Also coming out this month is a three-disc DVD version of THE WIZARD OF OZ. One of the bonus features is the delightfully bizarre documentary "Memories of Oz" (easily the best Oz-related doc of all) featuring our very own JOHN WATERS! As you probably know, "Oz" was a major influence on John, and references to it are strewn through his writings and films. Thanks Joe for the news!

> Pre-Order THE WIZARD OF OZ

Another documentary featuring Waters words of wisdom, INSIDE DEEP THROAT, has recently been released. For some unknown reason, this has been released in two versions, the original NC-17 version and an R-rated cut (for which I'm not even going to bother adding a link -- it's about porno, for christ's sake!).

> Order INSIDE DEEP THROAT

> Visit the official movie site

In other - more irritating - news, Adam Shankman is in negotiations to direct New Line Cinema's HAIRSPRAY THE MUSICAL movie. It was going to be Jerry Mitchell and Jack O'Brien, who won a Tony for directing the show. After they dropped out, the studio asked Rob Marshall of CHICAGO fame, but he never committed. Shankman directed such movies as BRINGING DOWN THE HOUSE and THE PACIFIER, but got his start as a choreographer. His credits include such gems as STUCK ON YOU, DEUCE BIGALOW, GEORGE OF THE JUNGLE and THE FLINTSTONES. He also choreographed the opening credits of "Friends."

FRIENDS ?!?!? THAT SHIT WAS CHOREOGRAPHED ?!?!?


September

Gee, take a month off and there's so many little things that pile up.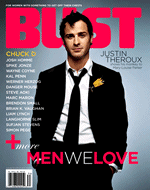 There's a fun photo spread in indie women's magazine BUST inspired by Waters films. They have girls posing as some of the his heroines including Tracey Turnblad, Amber Von Tussle, Lulu Fishpaw and Wanda Woodward. The infamous trio of Dawn Davenport, Chicklette and Concetta and also represented -- in fact Dawn is portrayed by one of my favorite local performers SWEETIE! If you've never seen Sweetie, please visit my photography site and click around. She's all over that shit!

Television Week reports that John will be hosting a TV series for HERE called "Films That Will Corrupt You" by the first quarter of 2006. There will be 13 movies which John will select and introduce. He said "it's like I'm letting you into my house to see a movie, but I can't make any moves on you!" Although HERE is a gay-themed channel, Waters commented that "I'm not showing any touching coming-out films. We're beyond them. I'm really hoping to get a gay audience that is pretty adventuresome, and really cool straight people."

There's a new book called 45 DANGEROUS MINDS: The Most Intense Interviews From Seconds Magazine (Creation Books) that includes Waters' epic 1998 interview - 8 pages with intensive photos and artwork. Thanks for the tip, Stephen.

Internet radio station Cult Radio A-Go-Go! is running a show called "John Waters: Mondo Trasho A-Go-Go!". It is a five hour feature on John that includes interview clips of John, Jean Hill, Mink Stole, & others along with clips, trailers, & dialogue from various John Waters films & music from his films including "Hairspray", "Cry Baby", "Pink Flamingos", "A Dirty Shame", & "Cecil B. DeMented". Visit their official station site.

In other news, John lends his voice to the Partnership for Public Service.
Huh? Click here to read the story. Thanks for the link, Alana!

And Brit fan Duncan reports that the West End production of Hairspray won't be frequenting their shores this year as planned. Apparently there is a problem with the set… THEY HAVENT GOT ONE TO BRING! DOH! They were going to use the one which is now in Vegas, but apparently it's still in Vegas! Thanks for the news Duncan. Keep us posted as you learn more about the other side of the pond.