---
Dreamland News

Holiday Update: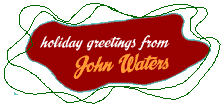 Every year, John Waters sends a personally signed Christmas card to a select list of friends and associates. Over the years, several of these cards have found their way onto the net. Click here.

Also this year, John's famous essay "Why I Love Christmas" has been selected by the Robert Benchley Society as the second most humourous holiday reading. (Although I think it should be first, their selection for number one is naturally Robert Benchley!)
Here's their review:

Blue collar Baltimore meets rainbow colored Provincetown when John Waters takes on American commercialized Christmas traditions. "Why hasn't Bloomingdale's or Tiffany's tried a fancy Santa. Deathly pale, this never-too-thin-or-too-rich Kris Kringle, dressed in head-to-toe unstructured, over-size Armani, could pose on a throne, bored and elegant, and every so often deign to let a rich little brat sit near his lap before dismissing his wishes with a condescending "Oh, darling, you don't really want that, do you?...".
To read the entire essay, get a copy of John Waters Crackpot, or read it at 2 Jealous Perverts.

The Robert Benchley Society was founded for the mutual enjoyment of the writings and motion pictures of American humorist Robert Benchley (1889-1945). Membership in the Robert Benchley Society is free. For more information click here.

December 2003:
This photo is from the wrap party for John Waters' newest flick A Dirty Shame.

Pictured are Ann Hege Hughes, Baltimore Author and Publisher, John Waters, and Character Actor, Liam Hughes.

Liam reports:
"It was great being in the movie. I'm in one scene that takes place in a grocery store-like setting. An actress named Suzanne Shepherd (below left) played one of the key roles, "Big Ethel." She was terrific! My scene as "an elderly sex addict," was with her. She was the owner of the store."
Here are two more photos from Liam:

(Left) Liam the "Elderly Sex Addict," with Suzanne Shepherd, "Big Ethel."

(Right) Liam Hughes and Joyce Flick Wendl. "We were both in Pecker together. I played the "Wild Man of 22nd St." in that film and Joyce was the "Street Lady." Joyce and her husband, Alan J. Wendl play parts A Dirty Shame"

Extra special thanks to Liam for the report from the front.
And with that, we now know the principal filming has been completed.

Several items of interest to Dreamland Fans have been donated to the "Auction for the American Way" to benefit free speech and civil liberties organization People For the American Way, including:
* Autographed Hairspray Playbill and poster
* Serial Mom DVD signed by Kathleen Turner [Turner is a PFAW Foundation board member]
The "Auction for the American Way" kicked off on eBay on Sunday 30 November. Visit their site for a link to the auctions.

Joe Blevins has unearthed an interesting curiosity... Have you ever seen a John Waters filmography which lists movies that our favorite director had NOTHING to do with? Finally, he's found a website which clears up the confusion:
http://www.theaussiejohnwaters.homestead.com/

Marc reports that he spoke with Jean Hill. She is in good spirits after being ill for a while. She told him that she has a small part in the new film. Also, her fan club has been restarted. Click www.misshill.com for information.

And finally, on a sad note this month, Joe reports that Michael Kamen, the talented and versatile film composer, has died at the age of 55, apparently of a heart attack. He had been battling MS for several years. Click here for an obit, or read Joe's words below . . .
Although best known for his work on action movies like Lethal Weapon and Die Hard, Michael Kamen will be remembered by Dreamland fans for his marvelous score for John Waters' Polyester. Waters was, in fact, one of the very first directors to work with Kamen. Kamen's Polyester score is really quite amazing -- an eclectic mix of punk, tango, new wave, country, avant-garde, 1950s soap opera music, and golden age Hollywood film scores, with nods to Ravel's Bolero and Dvorak's 5th Symphony thrown in for good measure. What Waters fan can forget "Be My Daddy Baby (Lulu's Theme)" or the woozy, off-kilter "foot stomper" theme or
the drunken waltz that plays as Francine sinks deeper into alcoholism? They're all the work of Michael Kamen.
A truly good one gone.
Fall 2003: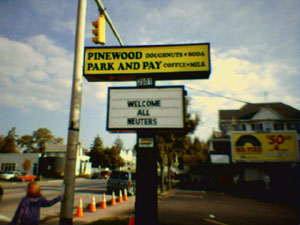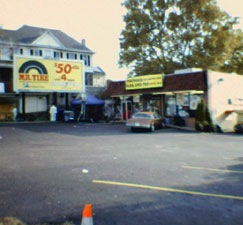 Word has it that John is now filming in Baltimore and has been for the past few weeks. Michael from Northeast Baltimore (known as Hamilton) sent these location photos of a convenience store called "Pinewood Park and Pay." The message board below the main sign says "Welcome All Neuters." The stars of A Dirty Shame have been spotted all around town. See IMDB for more info on who's who in the cast. Thanks to Michael, Scott and Peter for the update.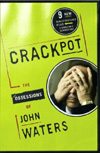 There are two new books by John Waters in stores now. Well, one isn't really new - it's a reissue of his classic tome Crackpot. But instead of just reissuing this out-of-print classic, it has nine new chapters! You can read my full review In Print. Or click here to order from Amazon.com.



The other book is a discussion with co-author Bruce Hainley called Art - A Sex Book. And that's exactly what it is. An big lucious art book, with tons of great plates of dirty art in lurid color, complimented by a conversation between Waters and Hainley about the works. Check my full review In Print, or click here to order from Amazon.com.

Waters will be making personal appearances as follows in support of the release of Crackpot:

Baltimore - November 15th - Barnes and Noble - Towson, MD
Los Angeles - November 23rd - Book Soup
New York - November 14th, 7:00pm - Barnes and Noble - Chelsea,
New York - December 18th - Ursus Books
San Francisco - November 22nd, 7:00pm - Clean Well-Lighted Place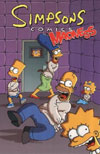 Pick up Simpsons Comics Madness. John appears (in cartoon form) in one section called John's Cockamamies Collectible catalog which includes references to many past Simpsons episodes. Thanks to Joe for the head's up.

In other book news, there are rumours that Divine's mother has compiled Postcards From Divine. Although Frances Milstead did not see him or talk to him for nine years, he sent her postcards from all over the world, from California to Saudi Arabia. Stay tuned to Dreamland News and I'll post more info as soon as I hear it.

Be sure to check out the Fans section for our latest addition, Rinaldo from Berlin. But be warned... it's dirty stuff.

And click here to read Daniel Cunningham's essay on on John Waters for the online film journal Senses of Cinema (for their 'Great Directors Critical Database' section).
September:



It's official... Tracey Ullman is set to star in JW's next film, A Dirty Shame, along with Chris Isaak. These two stars were recently announced in The Hollywood Reporter as signing on, along with previously announced stars Paul Giamatti, Selma Blair and Johnny Knoxville. Thanks for the news, Paula!

Last month I asked readers to send me names of the person they'd like to see star as the sex crazed suburban woman in Waters' next film, so here's the big list...
Chesty Morgan
Madonna
Genevieve Bujold
Frances McDormand
Linda Fiorentino
Amanda Plummer
Peggy Lipton
P.J Soles
Sean Young
Candy Clark
Karen Black
Victoria Principal

Anjelica Huston
Farrah Fawcett
Holly Hunter
Catherine Keener
Nancy Allen
Isabella Rosellini
Sandra Berhnard
Meryl Streep
Shelley Duvall
Tuesday Weld
Joan Allen
Cate Blanchett
Joan Cusack

Mia Farrow
Pam Grier
Susan Sarandon
Catherine Deneuve
Marilyn Chambers
Mary Woronov
Cybill Shepherd
Melanie Griffith
Sissy Spacek
Stockard Channing
Geena Davis
Margot Kidder
Emma Thompson
and my absolute favorite suggestion... Amy Sedaris.

Thanks to everyone who emailed me. And here's to Tracey. I'm sure she'll make a great Dreamlander.

In other news, John was featured in VH-1's program Totally Gay and he has also recently directed a commercial for more.com.

And check out this link to learn more about transforming Bruce Villanch into Edna Turnblad for the touring production of Hairspray: The Musical.

And finally this month, be sure to check out the latest addition to the Dreamland Fans, Daniel Diamond!
August: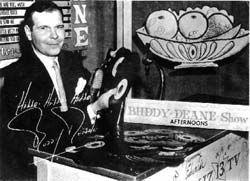 Sorry to start this busy news month on a sad note, but ...
Buddy Deane, the television host who's 60's dance show inspired Hairspray died on July 16. He was 78. Read his obit in the New York Times.

On a somewhat related note, it seems Cry Baby may be turned into a staged musical in the hopes of repeating the success of Hairspray. Read more in The Baltimore Sun, The Advocate and Playbill.com. It has also been reported that Cry Baby will finally be released on DVD in a special director's cut edition.

Traci Lords' autobio Underneath It All is in stores, and there are several chapters devoted to her work with Waters on Cry-Baby, and dirt on her first husband, Brook Yeaton (Pat Moran's son). Thanks to Devon for the news. Get your copy from Amazon.com .

Waters releases a new book this fall. Art: A Sex Book, co-authored with critic and curator Bruce Hainley, discusses sex and it's relation to contemporary art. Read the press release at Thames & Hudson.

On a stranger note, feel like collecting some of John's art for yourself? Then check out his new plates. Weird, huh?

As rumoured earlier this year, Bruce Villanch, the notorious Hollywood writer, will fill in for Harvey Fierstein in the touring company of Hairspray The Musical. He recently shaved his beard for the part on Live with Regis and Kelly! And there are further cast changes on Broadway. Read about them at Playbill.com.

Two interviews with Divine from the early 80s have recently been posted at darkneon.com. One is an in-depth interview about Divine's career and personal life. The other is a more tongue-in-cheek feature on Divine's Beauty Tips.

Dreamland contributor Mike Morton has made some video compilations you might be interested in. Mike is in the UK so the tapes are in PAL format. Check them out here.

July Sighting 1: John thumbing a ride on Cape Cod wearing all white, carrying a cardboard sign that read ''P-town'' on one side and ''Long Nook'' on the other. He was with a handsome (and much younger) man.

July Sighting 2: Pat Moran, Susan Lowe, George Figgs (Dribbles) and Vincent Peranio in an open discussion after a Female Trouble screening. Hosted by Baltimore's Creative Alliance, who's exhibit Trash to Treasure: The Production Design of Vince Peranio includes the FT electric chair, sets from Hairspray, Cecil B Demented, Cry Baby and more. It's up thru Aug. 9.

And finally, Flashbacks in Fells Point already has a poster for A Dirty Shame that reads "coming to theatres in summer 2004." But JW has yet to cast the female lead. Rob Anglin wrote to suggest Amy Sedaris or Deborah Rush as ideal candidates. What are your thoughts? Email me your suggestions and I'll post them next month.
July:






Variety Magazine reports that John Waters is indeed directing the long rumoured A Dirty Shame. Jackass Johnny Knoxville, Legally Blonde's Selma Blair and American Splendor's Paul Giamatti are attached to star. No actress has yet been cast in the leading role of a blue-collar convenience store owner-turned-sex addict, suffering from a concussion and uncontrollable sexual urges. The filmmakers are considering casting an unknown.

"I wish Meryl Streep would do it but I don't think she would," Waters told Daily Variety. "It has to be somebody real, who looks like they could belong in a convenience store, and in Hollywood these days, women in their forties who look real are hard to find."

"It's a sex education film that asks the question, 'Can tolerance go too far?'," he continued. "It's also based on a really true fact, and I've of course exaggerated it. But there are a tiny percentage of concussion sufferers who have a carnal lust they cannot control. Of course in this film, they take over a whole neighborhood."

This is That, Killer Films and City Lights Productions are all attached to the film as is indie producer goddess Christine Vachon!
Thanks to everyone who wrote in and confirmed the reports including Kathryn, Keith, Joe and Jim.
You can read more an interview with Waters about the film (and porn) at Unzipped.net.

On a "how did that happen" note... Jim Whittaker reports that there is a legal battle over the Odorama trademark because Nickelodeon Movies Executive Producer Julia Pistor decided to do a "tribute" to Waters by releasing the new movie Rugrats Go Wild with "Odorama"cards. Nickelodeon's parent company, Viacom, did some checking, and apparently found that the "Odorama" name and logo were never properly trademarked (despite the cards being labeled "TM"). Viacom now has a trademark application pending for Odorama, and this could cause some embarassing and costly problems for Waters and New Line Cinema.

Apparently larger theater chains aren't interested in buying the Rugrats Odorama cards, and they are now being given away (or used in promotions) at Burger Kings and Blockbuster Video stores! This all adds up to a very pointless way for Waters to lose control of something he created.

If you want to get involved, write a letter to:
Julia Pistor c/o Nickelodeon Movies, 1515 Broadway, New York, NY 10036
Just remember it is illegal to send a turd through the mail.

And finally, John was sighted recently at the Provincetown Film Fest awards / panel discussion honoring Todd Haynes. Thanks to Adrianne for the news.
June UPDATE: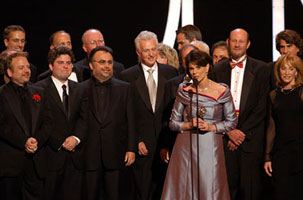 Whoa! The big news is, Hairspray the Musical swept the Tony Awards in New York last nite (6/8/03) winning
Best Musical
Best Performance by a Leading Actor in a Musical - Harvey Fierstein
Best Performance by a Leading Actress in a Musical - Marissa Jaret Winokur
Best Direction of a Musical - Jack O'Brien
Best Performance by a Featured Actor in a Musical - Dick Latessa
Best Original Score - Scott Whittman, Marc Shaiman
Best Book of a Musical - Thomas Meehan, Mark O'Donnell
Best Costume Design - William Ivey Long

Now I'm not a fan of the sugary Broadway show itself, but it was great to see something that came from John Waters get so much mainstream recognition for a change. Too bad he was barely visible at the Awards (and barely mentioned). John joined the ensemble on stage for the final award, Best Musical. He was also shown in the audience with his friend and colleague Pat Moran. The Awards also featured a rousing performance by the cast.
In other news, it is official - the Pecker house has burned down.
Check these photos from Dreamland contributor Jim Hollenbaugh: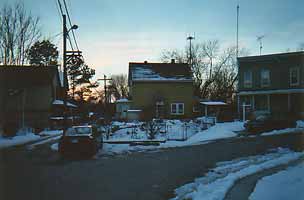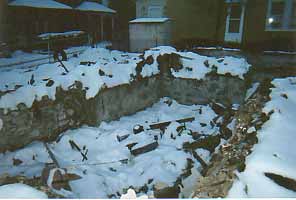 June: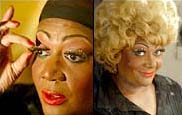 The big news for June is that Hairspray The Musical got tons of Tony nominations. Watch the Awards on CBS on Sunday, June 8th to see how it turns out. And check this link to the NY Times special section on the Tony Awards for lots of good articles on the nominated shows. Pictured at left is Mary Bond Davis as Motormouth Mabel.
The musical already won 10 Drama Desk Awards, including outstanding actress for Marissa Jaret Winokar and actor for Harvey Fierstein. Thanks to Noel for the news.

In other news, VH1 Classics recently played a rare video from the original movie, Hairspray, of the theme song by Rachel Sweet. It features clips from the movie, but most of the video is Rachel lip-syncing the song with a cast of "hair hoppers" on a beauty shop set. E-mail Vh-1 Classics at: vh1classicrequests@vh1.com. If they get enough requests for it they'll play it again. Thanks to Kevin for the news.

Mr. Waters was recently spotted at Baltimore's SoWeBohemian Arts Festival. Check out the photos from the fest.

In future news, Kurt reports that Johnny Knoxville recently guested on the Howard Stern show and blabbed that he is going to appear in the next JW film. This is the first anyone's heard of this, so if anyone else can confirm or deny, please email me!

And finally this month, be sure to pick up the latest issue of BUST Magazine, the coolest women's mag out there right now. There's a piece by Mary Vivian Pierce in which she talks about being friends with John and such. Thanks to Claire for the heads-up.
May:
Sorry I couldn't do an update last month - I was too busy. But the bonus is, that there's twice as much to say in May!

Love Letter to Edie, the documentary short by Robert Maier is finally available officially on DVD! Mr. Maier himself has transferred the film to DVD and is selling them directly through his website. I highly recommend picking up a copy as it's a lovely little movie about one of John Waters' most enduring Dreamland cast-members.

For the 4th year in a row, John himself will be presenting a favorite film of his at the Maryland Film Festival. This year it's Gaspar Noe's I Stand Alone. For more information, visit the festival site. Thanks to Lisa for the news!

We have a new Dreamland Fan this month. Say hello to Della Deluxe!

It is rumoured that Bruce Villanch could take over the role of Edna Turnblad for Hairspray: The Musical from Harvey Fierstein for the touring production. Scandalous! (thanks to Paula for the news).

In a blatant effort to capitalize on the success of the musical, there is a new book out with stories and pictures from the New York show called Hairspray: The Roots. You can order it from Amazon.com.

And finally, you can check out some fab photos from PAPER Magazine of John's art opening at the American Fine Arts gallery in New York City back in March. Thanks to Noel for the link.
March: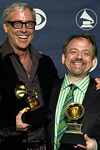 Hairspray was named best musical show album at the 2003 Grammy Awards in February. Receiving the award before the telecast, the composer and producer, Marc Shaiman, stood alongside the lyricist, Scott Wittman, and said, "For everyone out there who thinks Broadway is nothing but Jews and gays, I have this to say: `Oy gevalt; me and my lover just won a Grammy!"
Thanks to Richard for the news.

Chris Mann and Ron Morgan both report that Cry Baby is slated for release on DVD in June - no disc details have yet been released. I'll post more info here as I get it.

Also out now is the documentary The Cockettes is now out on DVD. It features John Waters and Divine, and is all around a great little movie. You can get it from Amazon.com.

John Waters has a gallery exhibition of his "little movies" at American Fine Arts in Chelsea. I was lucky enough to stumble upon the opening quite by accident. Aside from the stars in the photographs (all taken from John's television) were a bevy of stars in attendance. Spotted: Waters superstars Kathleen Turner and Ricki Lake, designer Todd Oldham, novelists Michael Cunningham and Gary Indiana, underground New York artists Philipe and Scott Hug, drag legend Taboo!, indie rocker Roddy Bottom, drag king Moe B. Dick, and indie director extraordinaire Jim Jarmusch.
February:

The big news this month is that John Waters was named Marylander of the Year by the Baltimore Sun. Read the article here.

Photographer Mike Morton recently unearthed an interview with Divine from 1984 which he has graciously shared with Dreamland News. Check it out here. And take a look a gallery of his photos of the late Dreamland star.

Mink Stole arrives to star as a talk show host in the new Ronnie Larson play Sleeping with Straight Men which begins previews on January 28 at New York's Maverick Theatre prior to a February 16 opening. Visit their website. Mink will also be appearing at a one-time screening of Female Trouble at the Chelsea Clearview Cinema on February 20th.


January:

Happy New Year, Dreamland Fans. I was too busy in the fall of 2001 to give thorough updates, so here's a catch-up.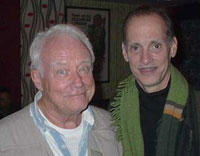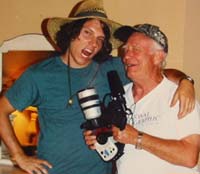 In October of last year, John Waters appeared at a memorial screening of Doris Wishman's film, Let Me Die A Woman, at New York's Two Boots Pioneer Theater. Our very own Jim Hollenbaugh has been working on the completion of Doris' last film Each Time I Kill. Jim reports...

"...we were shooting main characters Tiffany Paralta and Rob Vidal in the Two Boots Theatre as they watched a movie. John was in the scene as an audience member. I was shooting the scene, LEGEND Joe Sarno (INGA) was directing the scenes, taking over for Doris, and C. Davis Smith (shot TONS of Doris' films including Bad Girls Go To Hell) did the lights and served as DP [that's Davis pictured with John - left - and with Jim - right]. The shoot went smooth and Sarno's direction provided for some great scenes. We got some great shots and it was John's best performance to date. A must see for Waters / Wishman fanatics alike. They will definitly be in for a treat!"

So watch out for Each Time I Kill, coming out soon! For more info, visit the Each Time I Kill website. Also check out C. DAVIS SMITH online. Thanks Jim for the cool story and photos.

In other news, John exhibited his photos at a Baltimore gallery for the first time. Read the review from the Baltimore Sun.

John appeared at a benefit screening of Polyester at Chicago's Biograph Theater with proceeds going to the Chicago Rape Crisis Hotline (1-800-293-2080) and Open Hand Chicago which helps to feed people infected with HIV & AIDS.

And finally, he hosted "A John Waters X-Mas" at San Francisco's historic Castro Theatre including Carol Lynley reading "'Twas the Night Before Christmas," a cha-cha heels contest, and a screening of the Rankin-Bass classic Rudolph the Red-Nosed Reindeer.
Click the links below to read previous years news:

2002 News
2001 News
2000 News
1999 News
1998 News
1997 News
1995–96 News

DreamlandNews © 2003 Jeff Jackson. Got news? Email me!