---
Dreamland News

December 2004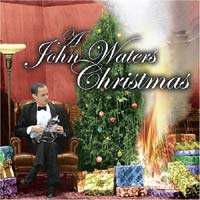 Screw Band Aid 20. Fuck Nick and Jessica. You want some real Christmas Cheer? Pick up A JOHN WATERS CHRISTMAS. It's his first compilation for New Line Records. And it sounds just like a Dreamland soundtrack should, including 12 eccentric holiday songs. Some are oddball versions of your standard carols, some are doo-wop or old rock-n-roll originals. Others are just plain disturbing. Like "Happy Birthday Jesus." If you don't gag on your egg-nog while listening to this song, then you must have anesthetized yourself for the holidaze.

If you're like me, pop it in the disc changer at mom's house on Christmas day just to horrify the extended family with Alvin and the Chipmunks, Rudolph and Gang, or Tiny Tim. The booklet has a fun essay about the songs by Mr. Waters, so buy the CD instead of downloading it, ok? In fact, get it from Amazon right here.

And if you live in Baltimore, John will be doing a CD signing on Dec. 16th at Soundgarden in Fells Point. Thanks Scott.

Angelinos and DC residents rejoice. You will have a chance to see John live and in person as he brings his show, "A John Waters Christmas," to UCLA on December 9th, and DC's 9:30 club on the 21st.
Click here for UCLA info.
Click here for the 9:30 Club.
Thanks to Max and Hackerzero for the news.

National Public Radio recently ran the series Scenes I Wish I Had Written including John and his pick, THE TINGLER! Click here to listen. Thanks for the tip, Joe.

And finally, if you're looking for an unusual xmas gift, New Jersey's super-indie free-form radio station WFMU is selling amazing little sets of illustrated cards of Crackpots and Visionaries, including our own favourite crackpots, John and Divine. Click here to order.

November

Are you a fan of horror and gore? Then get ready for Seed of Chucky. Yes, it's a belated sequel to the Chucky series, but this one features John Waters as a photographer who meets his maker. Fangoria recently ran an article with Waters quotes and pictures of his face ripped off. You can see the trailer here. It'll be in theaters November 12. (Thanks to Peter, Wilson and Kevin for the news.)

Speaking of what's in theaters, A DIRTY SHAME is supposedly playing in the UK now, although reports from some Londoners say that they can't find it anywhere. So if you're a Brit and can offer any news, please email me. In the meantime, read the Catholic League statement about the film, it's director and his "lovely fans."

Fans in the UK can pick up Fused Magazine for a cool piece on Mr. Waters. Thanks for the tip, Monte. Some of John's polaroids were featured in the latest Esquire Photo Issue. And he was also featured in Paper along with Tracey Ullman in October. A new book about porn stars features a section on director Chi Chi Larue as interviewed by Mr. Waters. Check it out at Amazon.com.

In other movie news, it's been reported that the Broadway musical Hairspray is now being turned into a film. So Hairspray is now an article that turned into a movie which transformed into a musical and will be filmed again. What's next? An opera? Thanks for the news, Scott. And in a recent interview, John mentioned that the Cry Baby DVD is still in the pipeline. There will be added scenes, musical numbers and a Johnny Depp interview. I'll keep you posted as I learn more.

There are some new links for you to check out on the NET page.
October

See September's Special Report (below) for the scoop on A Dirty Shame.

And check out On the Net for a heap of new articles and interviews with John Waters. And if you haven't been to the Fans section in a while, click here to meet the latest in Dreamland's ranks.

John's A&E Biography will air again on October 14 at 9pm. I saw it when it aired last month, and it is a fantastic treat for fans. John and friends are interviewed extensively. But his parents really steal the show. And John takes viewers on a tour of Baltimore that is not to be missed.
September ** SPECIAL REPORT **

The new John Waters film A Dirty Shame will hit U.S. theaters tomorrow - September 24th. To see the trailer and find a theater near you, visit the official site adirtyshamemovie.com.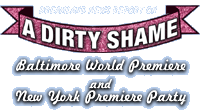 I recently attended the Baltimore World Premiere and the Premiere Party in New York. Click the links to check out my full report including lots of pictures!

And make sure to check A&E this weekend on cable for BIOGRAPHY on John Waters. It airs Monday, September 26 @ 4am ET/PT. (Yes, I said 4 AM) The director takes viewers on a tour of his old neighborhood in Baltimore to meet his friends, and there are reminiscences from Melanie Griffith, Kathleen Turner, Steve Buscemi, Tab Hunter, Mary Kay Place, and Harvey Fierstein. Check local listings. Thanks to Alana and Scott for the news.

And finally, on a sad note, legendary director Russ Meyer died on 9/18. He was 82, and he was a huge influence on John Waters. Indie film fans and large breasted women everywhere are shedding a collective tear. I bet he would have loved A Dirty Shame - especially Caprice Stickles. Thanks to everyone who wrote in to let me know.
September
Hold on to your merkins, Dreamland Fans. The new John Waters film A Dirty Shame will hit U.S. theaters this month on September 24th.

The world premiere will once again be held at the Senator Theater in Baltimore on Sept 14. Proceeds go to AIDS Action Baltimore. There's another benefit screening September 18 at Provincetown's New Art Cinema to benefit their film festival.

The first review was in Slant Magazine last month. But the real prize came later from the Catholic News Service who rated the film "O" or "morally offensive," and also called it "crude." But it would appear that they have played right into John's hands, as he turned their review into his own guilty pleasure...

Waters Thrilled by Catholic Church Blast at Film
The review complains, "(The film features) almost non-stop rough, crude and profane language, full frontal nudity, sexual imagery, obscene gestures, scatological humor, casual portrayal and descriptions of deviant sexual practices, a glorification of freewheeling sex and some sacrilegious imagery."

"I don't know if I can get a better review than that," said Waters on Page Six.

The soundtrack will be released on September 14th. It appears to be an old school Dreamland style soundtrack of oldies and novelties by folks even I've never heard of. You can pre-order from Amazon.com
In addition, all the films previously released in the DVD sets last year will be re-issued individually on September 7. NO WORD ON CRY BABY! Sorry folks.

Mr. Waters recently appeared on the Graham Norton Effect. He didn't talk too much about the movie, but did present a survey of recent terms he learned for cunnilingus. These included "yodelling in the canyon" and "sneezing in the cabbage." Check out a clip on ComedyCentral.com.

You can also watch his interview with Dreamland legend Channing Wilroy at lipTV.

John was featured in last month's PAPER Magazine, and revealed some exciting upcoming plans for a series of CD's and also mentioned the Cry Baby musical again. Must be a reality! Read the entire blurb.

And finally, for those of you in the U.K. the new movie should be out on October 29. I'll keep you posted as I learn more. Thanks to everyone who sent in news this month, including Scott, Joe, Paula, Alana, Kevin, Mike, Damon, Devon and of course, Mr. Valenti. And don't forget to check out our latest Dreamland Fan, Jason.
August

It's here! The official web site for A DIRTY SHAME launched last month. Check it out to see the trailer and production stills. Thanks to all the readers who emailed me the link. Stay tuned for more information about the premiere as I learn more.

In other news, John will be in St. Louis to speak at Webster University on October 29, and they're showing Pink Flamingos on the 29th, Female Trouble on the 30th, and Polyester complete with Odorama on the 31st. Thanks to Pete for the news.

And back on July 14th, Waters was the keynote speaker at the Digital Video Expo in New York. Thanks to Scott for the tidbit.

July

Slow news month, but it has been reported that John Waters new film A Dirty Shame will be released in the US on September 24. Of course this is subject to change, so I will keep you updated if hear hear more. Thanks to Scott for the news. Click here to see a clip of Tracey Ullman talking about her role in the film on the BBC program So Graham Norton. Thank you Mr. Valenti for the link.

And also, Dreamlander Ricki Lake's talk show has reportedly been canned! Not sure what the future holds for the original Tracy Turnblad, but apparently she will not be in the new movie.

June Update

Dear Dreamland Fans...


You know I don't go off-topic very often, if ever. But there's something I've got to say to all you out there in TV Land. DON'T BELIEVE THE REAGAN HYPE.

All I've seen since he passed away are glorious reports in all media about what a great president he was. But very few have mentioned an issue that has literally plagued his reputation since the early 80's - his lack of response to the AIDS crisis in the United States.

In 1987 Reagan made his first voluntary public statement about AIDS in a public address. A year later, at the end of his presidency, 35,508 individuals had been diagnosed with AIDS in the USA, and 20,922 died. And to tie it all in for you, Dreamland star Cookie Mueller died of AIDS related causes in the very next year.

Read more about Reagan's AIDS failings: SF GATE |THE BODY |NY TIMES |COUNTER PUNCH

Read more about the incomparable Cookie Mueller

Remind each other - talk about it. And don't let the conservatives re-write history now that he's dead. Okay, that is all. I now return you to your regularly scheduled broadcast.

- Jeff Jackson, Editor & Founder of Dreamland News
June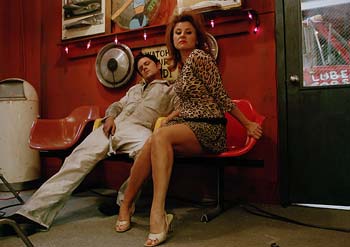 A Dirty Shame has been rated NC-17 for pervasive sexual content by the MPAA. Releasing company New Line even applealed the ruling, but it was upheld. If you've been following along, the film stars Tracey Ullman (pictured at left with co-star Johnny Knoxville) as a working-class store owner who turns into a depraved sex addict following a concussion. Waters has released most of his films through New Line.

An open plea to New Line from Dreamland Fans:
PLEASE DO NOT EDIT A DIRTY SHAME!!!
Waters fans love their filth. Many of you have emailed me with excitement upon learning that the Prince of Puke has created something not suitable for children!

In other news, John will host the film Dog Days June 20th at the Provincetown Film Fest. John and the Dreamlanders have been spending summers on Cape Cod for a long time. The festival release states "John Waters will guide you through this devastating portrait of contemporary life. Not for the faint-hearted, but not to be missed."

Paula reports that Mr. Waters has donated personal memorabilia to Baltimore's "A Night at the Wire" Charity Auction on June 12. It benefits The Ella Thompson Fund, a program that supports recreation and after-school programs in West Baltimore. For you locals, tickets are $75 and are available through the Parks & People Foundation (410-448-5663, ext. 136).

Dreamland star Mink Stole has written an article called "Fur Piece" for Baltimore's City Paper. It is a journal from her days on set of A Dirty Shame. Click here to read it.

Waters' exhibit Change of Life is now at the Fotomuseum Winterthur near Zurich, Switzerland. John was there at the end of May for the opening. The show will run through August. Visit their site for more info. Thanks to Thomas for the news.

There is a new JW message board at ezboard.com for any of you mb fans. Check it out and say hi to Luke the administrator.

Other JW sightings: Hairspray the Musical opened in Toronto at the end of May. John showed up for the opening. Thanks to Jim for the news. And Brian reports that he was also quoted in a recent issue of People magazine talking about pet peeves.
May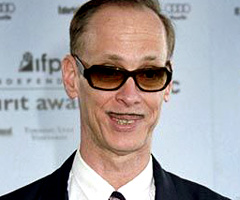 John will be at the House of Blues in New Orleans on May 19th. Tickets are $50 and $30 and go on sale April 17th at 10am. There will be a screening of Pink Flamingos. The $50 ticket is for a seat and a meet and greet with John, only a few of those will be sold. The $30 are standing.

He'll also be in Boston tonite (Sat May 1) at Coolidge Corner Theatre performing his one-man show as part of the Independent Film Festival of Boston. $28.50 General Admission or $75 Gold Circle includes 10:30PM Meet & Greet with John Waters!

And Paula reports that as usual, John will be hosting a screening of the movie Dog Days in this month's Maryland Film Fest. Click here for more info.

Click here to read an article in zap2it.com about John's upcoming role in the Chucky movie, as well as some dirt on A Dirty Shame. Thanks to Peter for the news. Or click here for an interview in Seattle Times about his one man show and more. Thanks to Scott for the link.
April

First off, John will be appearing tonite - APRIL 1st - at the New Museum in a Q & A panel about his show Change of Life. If you're in the New York area, by all means be there. The fun starts at 6:30 pm. For more info on the New Museum, check their site.

Speaking of Change of Life, Dreamland contributor Joe Blevins has written a hilarious and exhastive report about his trek to New York to see the show. Read it here. Thanks Joe! And good news for those who haven't seen the show yet - it's been extended till May 2.

In other news, reports abound that Cry Baby is going to be re-jiggered for Broadway, and - get this - Hairspray the Musical is being primped for a new movie. Is there a single original bone left in the bodies of Broadway or Hollywood? Don't answer that. Thanks to Chester and Richard for the news.

And finally, as some of you know, I have been shamelessly pleading for help. Since New Year, I have experienced a huge jump in traffic resulting in huge bills from my ISP. Many of you have already reached deep in your pockets and helped me out. And I am VERY GRATEFUL! You are all gems. Thank you thank you thank you!

That said, I just received my bill for March and it's even bigger than last month! SO... if you haven't had a chance yet, please Donate A Dollar to Dreamland!


March Update:

How Many John Waters Films Can You Take?
Dusk Til Dawn: The Films of John Waters
Saturday, March 6, 2004, 6PM - 6AM
@ The Pioneer Theater, 155 East 3rd Street (@ Avenue A)
It really pays to live in New York City. This weekend, the Pioneer Theatre will be hosting Dusk til Dawn, a 12 - hour screening of six films by John Waters. A look-alike contest judged by John Waters will be held at midnight, Bingo games will be played throughout the evening, breakfast will be served, and if viewers have the stamina to stay all night, it will all be free. Films to be screened are: Hairspray (1988), Polyester (1981), Cry Baby (1990), Pink Flamingos (1972), Pecker (1998) and Serial Mom (1994).

March 2004: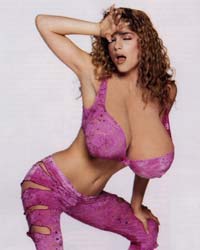 It's a busy month... in case you haven't read the news recently, JW is now the subject of a one-man show at The New Museum of Contemporary Art in New York City. (See February news for more info).

Click here to see exclusive photos from opening night!

Click here to see photos from the opening on Artnet.

Aside from his photos and sculpture, the museum is screening John's earliest movies. There is also a life size cardboard cutout display made to look like JW's living room, done by Vince Peranio. Reports from the opening... Susan Lowe will soon be selling artwork on Ebay and Liz Renay is releasing two new books - a continuation of her autobiography and a gourmet cookbook "with anecdotes of how I got the recipes from movie stars and gangsters". The show may be touring the states later this year for those who can't be in New York before April. Special thanks to Bob, Noel, Anthony, Shade and Bill for their help.

John will be speaking in Milwaukee Tuesday, March 2nd, at the UWM Campus as part of Milwaukee artist Randy James' "Bachelor Pad" exhibit at Luckystar Gallery, located 207 E. Buffalo St., in the historic Third Ward.

John hosted the annual Independent Spirit Awards on 2/28. The program aired on IFC and will be repeating throughout the month. So check their listings.

He also was interviews on NPR's Fresh Air program on 1/25. He talks about the New Museum show and A Dirty Shame, among other insightful observations. Listen here.

In other news, Noel reports that Michael McKean, best known for playing Lenny on Laverne and Shirley, will be replacing Harvey Fierstein in Hairspray The Musical. Fierstein will be leaving at the beginning of May.

And although it's not due in theaters till this summer, A Dirty Shame is already getting good press in Vanity Fair and at Aint It Cool News.com. The picture above is of Selma Blair in her role Caprice Stickles a/k/a Ursula Udders! Thanks to Brian and a mystery person for the info. Click here to read more at Aint It Cool News. WARNING: There are spoilers.

And finally, Dreamland News was chosen as the site of the week in NYC gay party paper HX. Thanks to Martyn and the HX staff.
February UPDATE: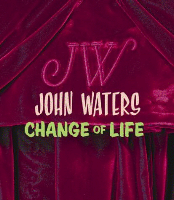 I have been informed that as part of The New Museum of Contemporary Art's show "Change of Life," John Waters will be doing a book signing on February 21st at 4 PM. If you're in the New York area, stop by and meet the master.

And while you're at it, see the exhibit and pick up the catalog. It's a fantastic collection of John's photos, sculptures and film stills from the museum's exhibit. But even better are the elements from his personal collection of magazines, art and ephemera - a real window into the mind of Mr. Waters. In addition, there are written contributions from art curators Lisa Phillips, Marvin Heiferman, Brenda Richardson, writer Gary Indiana and a lengthy interview with one of cinema's more recent bad boys, Todd Solondz.

If you can't make it to the musem, fear not - the book is available for purchase through the New Museum's online store. Click here to purchase.

In other news, Claire reports that Vanity Fair has a small piece on John's upcoming film, A Dirty Shame, including a picture of Selma Blair with huge breasts.
February:

Hold on to your hats, Dreamland Fans. The New Museum of Contemporary Art in New York City is mounting a retrospective of John's photographic and sculptural works that will open February 7 and run through April 15. But the big news for fans is that in addition to approximately 80 photographic and sculptural works, they will also be showing three of John's VERY early films that have only been shown once in Baltimore.



Hag in a Black Leather Jacket (1964), Roman Candles (1966) and Eat Your Make-Up (1967) will be continuously screened in the gallery space during the exhibition. For more on these films, visit the Filmography. In addition to Waters's artworks and early films, the exhibition features an installation by his longtime production designer, Vince Peranio. John will be in attendance at some special events planned for later in the Spring, so make sure you check Dreamland News for updates.

For directions to the museum, hours of exhibition and more information, please visit the New Museum's site. Harry N. Abrams is publishing the accompanying catalogue which I will review as soon as it is available. Thanks to Ben and Chelsea for the news.

In other news, it has been reported by Fangoria that John will be play an ill-fataed paparazzo in the upcoming Seed of Chucky. Writer/director Don Mancini said, "John has been a Chucky fan for a long time, and I wrote the part specifically for him." Producer David Kirschner adds, "And we made sure that he dies the most gruesome death." Thanks to Peter and Eric for the news.

And there's a preview site for Postcards from Divine up this month. Check it out and stay tuned for more info about it's release.
January:

2003 was a pretty good year for John Waters fans. We got John Waters books, DVD's of his movies and the long lost Love Letter to Edie, and Hairspray the Musical swept the Tony Awards. But 2004 looks pretty good with a new movie on the way. John is working diligently to bring us A Dirty Shame.

Reports are pouring in from the Baltimore area. A couple of scenes were filmed at John Collins house. He has posted some pics of the filming and the wrap party on his website. Or check the 2003 news to see what's happened so far.

John will be presenting his World of Trash at Washington DC's 9:30 Club on Jan 17th. For more info, click here.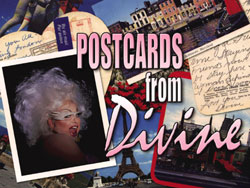 In other news, the book Postcards From Divine should be released sometime this spring. It includes more than 50 postcards written by Divine to his parents from 1977 to 1987. These postcards were the only contact between them during that time. It also includes many never before seen pictures taken on tour, back stage, and at home with Divine and his friends. Plus, new quotes from close friends and fans including Mink Stole, Zandra Rhodes and Fred Schneider and much, much more.

Click the links below to read previous years news:

2003 News
2002 News
2001 News
2000 News
1999 News
1998 News
1997 News
1995–96 News

DreamlandNews © 2004 Jeff Jackson. Got news? Email me!