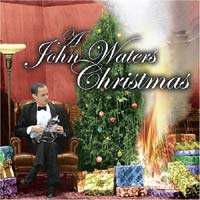 December 2006

It's that time of year again. If you're like me, and sometimes have trouble getting in the Christmas spirit, may I recommend A JOHN WATERS CHRISTMAS?

This CD came out last year, and includes 12 of John's favorite holiday tunes. And trust me, it's not Bing Crosby. Hell, it's not even Grandma Got Run Over By a Raindeer. Think lower. Think creepier. Have a subversive xmas, ok?

> Click here to order from Amazon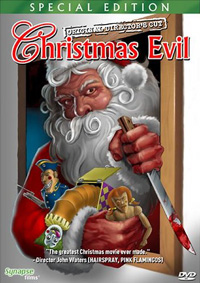 And if that doesn't get you in the mood, here's another bizarre Christmas treat. A new special edition DVD of CHRISTMAS EVIL is out and includes bonus audio commentary by director Lewis Jackson and John Waters. John calls it "The greatest Christmas movie ever made."
Thanks Josh for the news!

> Click here to order from Amazon


If you live in San Francisco, make sure to check out A John Waters XXXMas. He'll be performing at the Fillmore on Monday, December 4th. And it's a double bill with rock and roll goddess Wanda Jackson!
Thanks to Dennis and Josh for the news.

** UPDATE**
Change of venue for the show in San Francisco. It will be at the Swedsish American Hall at 2174 Market Street (near Church St.) It's on the second floor above the Cafe du Nord nightclub. Wanda Jackson goes on at 8:30 pm and John will take the stage around 9:30.

> Click here to order tickets

He'll also be appearing in Las Vegas on Saturday, December 2nd. It's a double bill with the Drop Dead Gorgeous Pageant at the Celebrity Theater.

> Click here to order tickets

A couple weeks ago, the New York Times published an article written by Mr. Waters about one of his influences. "The Kindness of a Stranger" discussed John's youthful yearning for a bad influence. And he found one in playwright Tennessee Williams. Times articles are only free for a limited time, so check it out soon!

> Click here to read the article


November 19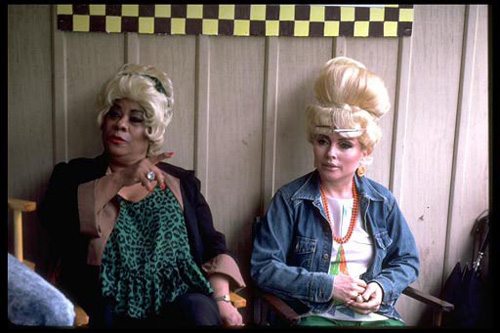 Oh, how I hate to report this news. It's a sad day at Dreamland. The goddess RUTH BROWN died yesterday in Las Vegas at age 78. Dreamland Fans know her as the original Motormouth Maybelle from HAIRSPRAY. But music fans know her as the R&B legend from the 1950's who helped make Atlantic Records such a major force of the genre.

> Click here to read her obit in the New York Times


November 2006

Hi Dreamlanders. Not a lot to report this month.
Unless you live in Huntington, NY or Louisville.
Check it...

November 17 at The Cinema Arts Center, Huntington, NY

November 18 at The Kentucky Center, Louisville, KY

Do you live in our around Baltimore? Then you won't want to miss THIS FILTHY WORLD, screening on Sunday, November 19 at the Charles Theater. It's a benefit for the Maryland Film Festival.

Click here for ticket information


October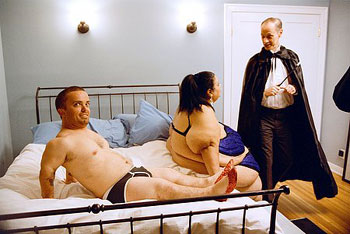 John Waters is in the new JACKASS movie, NUMBER TWO! I am personally a big fan of the Jackass crew, and I know John is too. That's why he cast Johnny Knoxville in A DIRTY SHAME. Can't wait to see it! Thanks to Bruce and everyone else who sent in the news.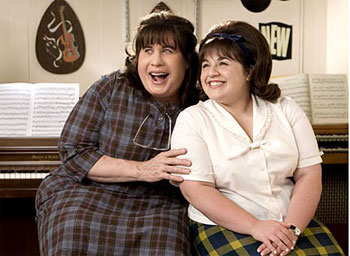 Zoinks! Check out this picture of John Travolta and Nikki Blonsky in their HAIRSPRAY drag. Thanks Anthony for sending this in to Dreamland.

A new charity, United States Artists, was announced last month that will be giving out $50,000 artists' grants to 50 recipients, and John Waters is one of the nominators. Thanks to Noel for the news.
> Visit the United States Artists site

Joe Blevins reports that Oriana Fallaci has died. "She has a minor but noteworthy place in Dreamland history. Waters mentions her in "Why I Love The National Enquirer" from CRACKPOT. (He imagines the headline: "Oriana Fallaci is a Big Grouch.") In the recent revised edition of CRACKPOT, he explains in the "Director's Commentary" introduction why his feelings about Fallaci had changed over the years.
> Read her obit on Yahoo



September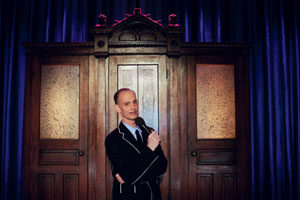 OK, the lazy summer is just about over. So I better post some news already!

A new documentary called THIS FILTHY WORLD is being screened at the Toronto Film Festival this month. The film, shot by Jeff Garlin in New York earlier this year, is a record of John's live one-man show. (Photo by Tina Tyrell)

Here's what the press release has to say about the movie:

"This Filthy World" is John Waters' one-man show, a "vaudeville" act that celebrates the film career and obsessional tastes of the man William Burroughs once called "The Pope of Trash." Focusing in on Waters' early negative artistic influences and his fascination with true crime, exploitation films, fashion lunacy, and the extremes of the contemporary art world, this joyously devious monologue elevates all that is trashy in life into a call to arms to "filth followers" everywhere.

It's screening on Thursday, September 14 at 9:00pm, and Friday, September 15 at 9:30am.
> Visit the Toronto Film Fest Site

And there's another documentary making the art-house route featuring John Waters. THIS FILM IS NOT YET RATED opens in NY & LA on September 1st, with other cities to follow. It examines the secretive MPAA movie ratings system. In addition to Mr. Waters, the film also features interviews with Matt Stone, Kevin Smith, Mary Harron, Atom Egoyan, and many others.
> Visit IFCtv.com for more info
> Read Producer Eddie Schmidt's blog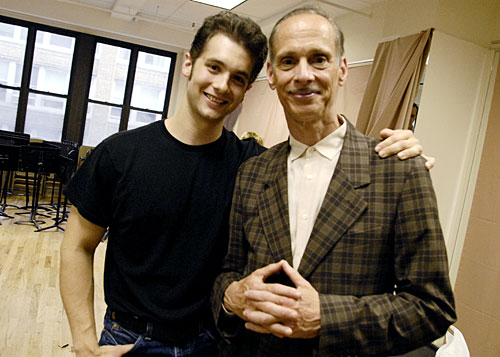 Paula sent the following link to an article in the Baltimore Sun about a reading of the new Cry Baby musical. Looks like another Broadway hit in the making. Pictured at left is Joe Mandragona, who read Cry Baby's part, with Mr. Waters at the reading.
> Read More

Since July, it was announced that Michelle Pfeiffer was joining the cast of the new Hairspray movie. She'll be playing Velma Von Tussle. But checking IMDB has revealed that Billy Crystal may not be in the cast after all? In fact, there are two different actors listed for Wilbur Turnblad, one of whom is Christopher Walken! Will the real Wilbur Turnblad please stand up?

Want to hear some controversial news? Hairspray will be filmed in Toronto! The Baltimore Sun reports that a stand-in Charm City will be built on a sound stage. Waters, who is a consultant on the movie, says, "Do I wish the film was shot in Baltimore? Yes. But I'm not going to go against the film because of that... They certainly didn't change the name of the song to Good Morning, Toronto." Well, technically the Broadway version wasn't really in Baltimore either. Thanks Josh for the news.

If you live near Mahwah, New Jersey, Ramapo College will be hosting an Evening with John Waters next month on October 20th. They're also screening Serial Mom, Hairspray and Cry Baby. Click the link below for ticket info. Thanks for the news, Jane!
> Visit the Ramapo College Site


And if you don't live near New Jersey, maybe you can catch John on your TV! Sean has spotted John as a commentator on VH1's I Love the 70s Vol. 2. Click below for a schedule of episodes.
> Visit VH1.com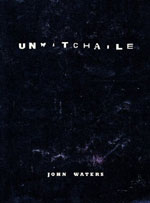 There's a new book of John's visual work called UNWATCHABLE. Aside from the photographs, sculpture and installation that make up his exhibitions, I hear that the book includes snapshots and handwritten notes about the work from John himself. Sounds cool!
> Order from Amazon

Hot stuff comin thru! Season 8 of the Simpsons DVD collection is out and includes the infamous John Waters episode, Homer's Phobia. It's available in a standard box set, or in a collectible plastic Maggie Simpson head, which I've linked to below. Thanks for the tip, Joe.
> Order from Amazon

Wanna buy more stuff? There's a new book about Dennis Cooper that includes a lengthy interview with John Waters, among many other writers. It's called Enter at Your Own Risk: The Dangerous Art of Dennis Cooper.
> Order from Amazon

And finally... if you live in England and are a big fat drag queen, then skip on down to Wild Fruit in Brighton on October 1st for their Divine nite. The trashiest contestant wins £500! Thanks for the tip, Miss Davenport.
> Visit Wild Fruit's site



July

Hello Dreamlanders. Sorry for the late posting for July. I always get a little lazy in the summer. Here's the scoop...






An unknown actress, 17-year-old Nikki Blonsky (pictured left), has landed the role of Tracy Turnblad in the film version of the musical version of Hairspray. As previously reported, John Travolta will play her mother. Billy Crystal and Queen Latifah have already signed on for the project, while teen queen Amanda Bynes (She's The Man -- pictured right) will play Turnblad's best pal Penny Pingleton. Disney star Zac Efron (High School Musical -- pictured center) is cast as hearthrob Link Larkin.

Blonsky is well known in her native Great Neck, where she often performs the National Anthem at local sporting events, but her biggest role to date was in the hometown production of Hair. After being discovered during a nationwide search, she quit her job as an ice-cream store employee to play the part. Thanks Josh for the news!



June

Hello Dreamland Fans. I hope you're enjoying the beginning of summer. As usual, the hot months are a little slow. So the news isn't too exciting for June.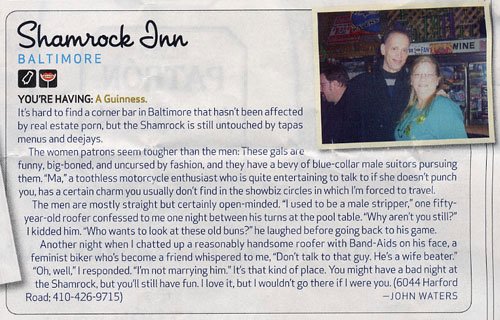 Should you find yourself in Baltimore, consider a stop at the Shamrock Inn. John Waters wrote this review (left) for Esquire about one of his favorite hang-outs on Harford Road.

If you're vacationing on the Cape, check out the Provincetown Film Festival. John Waters has selected the film Head On for his contribution to the schedule this year. Thanks for the news, Joe. Check their site for details.

He will also be in a film screening at the New York Gay and Lesbian Film Fest, also known as the NewFest, this month. It's called Fabulous! The Story of Queer Cinema and features leading queer film heads discussing the genre, including Waters, Ang Lee, Todd Haynes, Christine Vachon, John Cameron Mitchell and Jennie Livingston. Visit the NewFest site.

Check out the Onion AV Club for two features which sort of relate to JW: one about blasphemy in cinema (Multiple Maniacs is #2, get it?) and another about novelty dance songs (several of which are in Hairspray). Thanks for the links, Joe.
> Read More about Blasphemy
> Read More about Novelty Songs

And on a sad note, Josh reports that the actor who portrayed Clarabell the Clown died recently. Clarabell's freakish face partially inspired Divine's look. And rumour has it that Clarabell was rude to JW when he was on the show. Anyone know the story?
> Read More.


May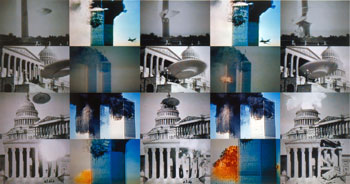 If you live in New York, you must check out the latest work by John Waters at the Marianne Boesky Gallery at 535 West 22nd Street. There's lots of new photo montages (like the 9/11 inspired piece at left) and some really out-there sculptures. It's up till May 20th.

From this example, you might say John is exploring how life immitates art. Well there have been two recent incidents in which life immitated John Waters.

First off, in Tokyo there's a new technology which omits odors in theaters, so fans of cinema can now smell what they're watching. No more scratching your Odorama cards! The first film to receive the olfactory treatment is the New World starring Colin Farrell, some parts of whom I wouldn't mind smelling. Thanks Peter for the link.
> Read More.

And second, here's something for your face, mother fucker!!! Last month a woman in Schenectady, NY crashed a wedding and threw acid at three wedding guests! I wonder if she wore a black leather bondage outfit when commiting the crime?
> Read More.

The LAByrinth Theater in New York is hosting Celebrity Attic, an online fundraising auction. One of the items on the auction block is a John Waters signed Pink Flamingo-shaped planter. There's lots of other celeb items going on sale May 5 through the 15th on ebay. Funds raised will support new play development for LAByrinth Theater Company.
> Click here for more info.

And finally, aMac® reports that a new DVD of Mommie Dearest will feature audio commentary from John. This flick, starring Faye Dunaway as Hollywood legend Joan Crawford, is a riot to begin with. I can't imagine how devilish it's going to be to have Mr. Waters sharing his thoughts with us. Coincidentally, it is being released on 06/06/06.

> Pre-Order MOMMIE DEAREST: HOLLYWOOD ROYALTY EDITION


April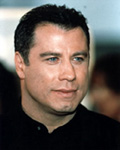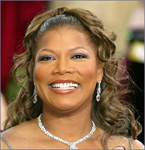 It's official. John Travolta is going to star in the movie remake of HAIRSPRAY THE MUSICAL. That's right, Vinnie Barbarino, Vincent Vega, Tony Manero, Danny Zuko, EDNA TURNBLAD!!! Although I was surprised by this when it was rumoured, I have to admit I can't wait to see him in drags. Speaking of drags, Queen Latifah will also appear in the film as Motormouth Mabel. All hail the queen!

Thanks to everyone who emailed me the news. The film is going into production this fall with a release date sometime in 2007. Click the link below for a story about the movie on CBS including a video clip of John Waters.

> CBS NEWS REPORT

In other news, DZ reports that all JW movies have now been released in Australia separately (as opposed to the boxed set) on DVD with the exception of Cecil B Demented.

Last month, Mr. Waters gave two performances in New York that were filmed for future release on DVD. I think it will be available through Netflix, but the details are sketchy right now. As soon as I know more, I'll let you all know.

And finally, rock legend Gene Pitney died in early April of unknown causes. He was on tour in the UK at the time. Gene is known to Dreamland Fans for his hit song "Town Without Pity," which Motormouth introduced in HAIRPSRAY. And Joe Blevins informed me that Mole McHenry quotes the song in DESPERATE LIVING.


March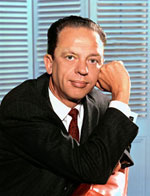 It is with great sadness that I report on the passing of a true legend of film, television and comedy. Don Knotts, who everyone knows from at least one of his many celebrated roles (Barney Fife, Ralph Furley, Mr. Limpet!) died on February 26th. And he was one of John Waters favorite stars. Dreamland correspondent Joe Blevins reports: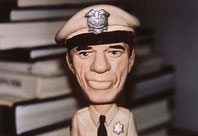 "The importance of Don Knotts to John Waters is not to be underestimated. Of course, the physical similarity between the two has not gone unnoticed by fans or the director himself. While Knotts never actually appeared in a JW film, his portrait was displayed prominently during the flea market sequence in SERIAL MOM. Additionally, Knotts' visage turned up in Waters' artwork. In the tellingly-titled "Self Portrait," [pictured below] a series of images of Don Knotts eventually morphs into the image of Waters himself. And who can forget the "In My House" series of photographs, which ends with "In My Mind," a photo of a Don Knotts bobblehead [pictured at right]? In the "Serial Mom" DVD commentary, JW even reveals that he asked Don Knotts to be his date to the "Pecker" premiere. (Knotts declined.)"

"Sometimes I pretend I'm Don Knotts all day long." - JOHN WATERS
In other news, the series Movies that Will Corrupt You is still running on HereTV. And it's great. You get to watch John introduce every episode from his home in Baltimore. I know what you're saying... "my cable company doesn't carry HereTV!" Well, I didn't think mine did either, but it turns out I got it On Demand. So check what your company offers. It's worth the subscription! There are new interviews posted in the Net section about the series. Check 'em out!

> Visit heretv.com

All you Aussie fans can rejoice. After a very long wait A DIRTY SHAME has finally been released on DVD down under last week. Thanks to DZ for the news. And you Brits might have caught Waters on the new Graham Norton show, The Bigger Picture, last month. Thanks to Gejo for the news.

Also, on 2/28, John Waters presented the 1977 film LE CAMION directed by Marguerite Duras, at the French Institute in New York. Afterwards, Mr. Waters took part in a panel discussion, hopefully revealing why Todd Tomorrow's art-house drive-in featured "Marguerite Duras from dusk till dawn." I wasn't able to attend, so if any of you were there, please email me a report!

And finally this month, I'd like to send a message to all the FANS who have written in asking to be on the site. I had a major email failure recently and lost many of your submissions! I'm so disappointed because there were some really good ones. Including the lady who took a picture of her sleeping husband... after she'd done his make-up! Anyhoo... I'm appealing for you to please resend me your stories and pictures.



February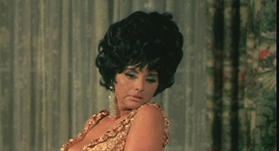 John Waters new series of films for HereTV, Movies that Will Corrupt You, begins Friday, February 3 with FUEGO, a film by Armando Bo from 1969 about Laura, a seemingly insatiable woman whose sexual desire is running out of control. Here's an update of the other films that were selected by John for the series.

L.I.E., Irreversible, Baxter, Porn Theatre, Clean Shaven, Pink Narcissus, The Hours and Times, Freeway, Beefcake, Criminal Lovers, The Fluffer, Dottie Gets Spanked, Sissy Boy Slap Party

> Visit heretv.com

Hewlett-Packard is sponsoring a charity auction of signed photographs taken at the 2006 Sundance Film Festiva, including our own John Waters! The auction starts February 6th. The winning bidder for each photo will get the autographed photo and an HP Photosmart 475 Compact printer, also signed by the star. The proceeds from the auction will benefit Habitat for Humanity and their relief efforts for Hurricane Katrina and Hurricane Rita.

> Visit the Auction site


January

Happy New Year, Dreamlanders.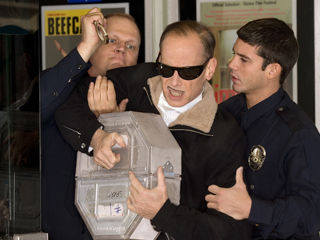 Beginning in February, John Waters will be hosting the series Movies That Will Corrupt You on the gay cable network HERE, featuring 13 films which he personally selected. And even more exciting for us fans, he will introduce each film from his home! "I'm trying to invite the viewer into my world to show them extreme, intelligent movies that will push them closer to the edge of cinema insanity," explained Waters.

And true to John's style, these will not be your typical gay movies. "I'm not showing any touching coming-out films," explains Waters. "We are beyond them. I'm really hoping to get a gay audience that is pretty adventuresome, and really cool straight people who hopefully come back week after week for more." Some of the movies to be featured are...

FREEWAY directed by Matthew Bright and starring Keifer Sutherland and Reese Witherspoon, about a runaway teen whose mother is serving time for prostitution and whose stepfather is in prison for molestation. The retro docu-drama BEEFCAKE directed by Thom Fitzgerald. This film conveys the world of 1950s muscle men's magazines which were supposedly for the health and fitness conscience but in reality purchased by the still underground gay community. FUEGO, a hilarious Argentinean sexploitation opus directed by Armando Bo and starring his voluptuous mistress Isabel Sarli. Additional films in the series include BAXTER (1989), THE FLUFFER (2001), CRIMINAL LOVERS (1999), PORN THEATER (2002), SISSY BOY SLAP PARTY (2004).

> Visit heretv.com


Last month, the Treatment Action Group (TAG) honored Mr. Waters, along with NY Senator Tom Duane and Dr. Bruce Schackman for their annual Research in Action Awards. His award was presented by Kathleen Turner. TAG is one of the leading worldwide organizations in AIDS research. Thanks to Noel for the tip.

> Visit TAG's site


AMC has been airing a half-hour documentary about PINK FLAMINGOS as part of its ongoing series Movies That Shook The World. They're bound to re-run it so check those local listings. The doc will be old news for any hardcore Dreamland fan, and indeed some of the footage is recycled from "Divine Trash," but there are new interviews with John, Mink, and Channing plus Pia Zadora, Steve-O from "Jackass," Edward Furlong, Joe Dallesandro, Dingy Dave from "A Dirty Shame," plus the composers of "Hairspray: The Musical." The narrator is Jeff Goldblum, of all people, and Whoopi Goldberg makes an inexplicable appearance, too. Thanks for the news, Joe!

> Visit amcTV.com


John contributed his voice over talents to a new feature length documentary PLAGUES & PLEASURES ON THE SALTON SEA. John introduced the film at the Provincetown Film Festival last spring. The film won the Grand Jury Prize in Paris, as well as numerous other awards. For more information on future screenings, visit their site.

> Visit plaguesandpleasures.com