November 20, 2007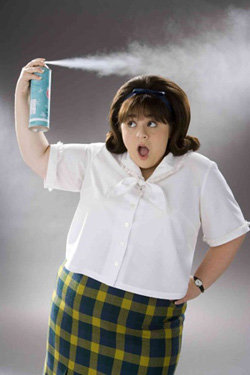 Just in time for your holiday shopping, HAIRSPRAY the movie musical is out on DVD today!

> Click here to order from Amazon

> Click here to order the soundtrack

And if you're feeling nostagic for the original, or you wanna teach those children where it all started, you can still pick up the original John Waters directed film and soundtrack from 1988.

> Click here to order the DVD

> Click here to order the soundtrack

In international news, the other side of the pond just got a little filthier, as the DVD release of THIS FILTHY WORLD is out in the UK. Thanks to Keith from Clone Zone for the news.

And down in Australia, they are lucky enough to get a DVD release of one of John's favorite films BOOM starring Richard Burton, Elizabeth Taylor and Noel Coward. Thanks to Wayne for the news.

If you've been lucky enough to catch Mr. Waters on his fall tour, then you probably already heard the following tidbits. Fans Ed, Josh and Matthew have written in to let us all know what John has planned for 2008!

- A follow-up compilation to his A DATE WITH JOHN WATERS CD is planned, appropriately titled BREAKING UP WITH JOHN WATERS.

- SERIAL MOM is getting the reissue treatment next Mothers Day with additional commentary by Herschell Gordon Lewis and KATHLEEN TURNER.

- His new Christmas movie FRUITCAKE is scheduled to start shooting this winter with JOHNNY KNOXVILLE and a cast of children, and he wants to shoot it in HD.

- MULTIPLE MANIACS will finally get reissued on DVD!

- Broadway will be getting the new CRY BABY musical in March.

- He has fingers cross that TIL DEATH DO US PART will be picked up for a second season. He is less hopeful for a continuation of Here's Movies That Will Corrupt You series. Apparently, only films that contained full frontal male nudity received decent ratings.


November 6, 2007

Hey fans. Baltimore organization Wide Angle Youth Media is having an auciton to benefit their services, and there are various autographed John Waters goodies up for grabs. The auction is on Thursday, November 8 from 6-9pm.

> Click here for more information

John is extending his Christmas tour, adding dates in Asbury Park (NJ), St Paul (MN), Akron (OH), Pontiac (MI) and Toronto (ON). Thanks to Anthony and Mara for the news.

> Click here for tickets

Apparently John Waters was back in England appearing on The Graham Norton Show recently, alongside Jackie Collins. All you Brit fans should check you local listings. Thanks to John for the news.

October 25, 2007

Hey Dreamland Fans. Sorry I've been offline for a few weeks. I had to move! Consequently, there's a zillion things to tell you about in this posting.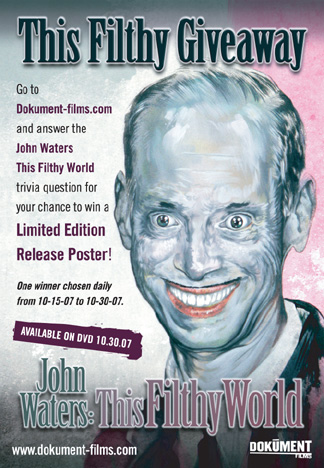 Despite the terrible conditions in southern California, preview perormances of CRY BABY the Musical will proceed as planned, beginning Tuesday, November 6 at the La Jolla Playhouse in San Diego.

> Click here for more info

For those of you who haven't had the pleasure of seeing Mr Waters perform "This Filthy World" in person, the DVD recording from last year is finally getting a wide release on October 30. Thanks to Mistress Reznor for the news

> Click here to order from Amazon

And thanks to Dokument Films, because they're running a contest for fans to go along with the release – THIS FILTHY GIVEAWAY!

Head over to www.Dokument-Films.com every day from October 15th through October 30th and answer that day's John Waters This Filthy World trivia question! Be sure you check out the site on a daily basis as Dokument Films will be posting a new question every morning. Answer the trivia question correctly and you'll be entered into a sweepstakes to win a limited edition, hand numbered, hand screenprinted poster signed by John Waters himself!

Also- John is doing two signings for the DVD:

New York City
WEDNESDAY NOVEMBER 7TH
Borders – 2 Penn Plaza - 6pm

Los Angeles
FRIDAY NOVEMBER 9TH
Barnes and Noble – 189 Grove Drive Suite K30 - 7pm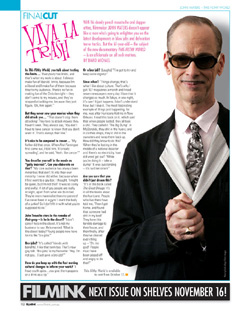 Hey Aussie Fans - the November issue of Australia's FILMINK Magazine features an interview with John Waters on their "Final Cut" page. Obviously Waters is ideal in that sense. Copies of Filmink can be found in Australia and New Zealand, or ordered through their website.

> Visit Filmink.com.au

Knowing how John Waters loves to include animals in his films, it's no surprise that he's the narrator of a new special on Animal Planet called Jessica the Hippo. Check your local listings. And thanks to Peter for the tip.

> Visit Animal Planet

Hey Canada! John is going to be doing his Christmas show in Toronto on Dec 15 at the Phoenix Concert Theatere, and in Montreal on Dec 16 @ Le National. In Toronto, there'll also be a meet-n-greet with the man himself. Ticket info below. Thanks for the news, Ben and Mathieu!

> Click here for Toronto tickets

> Click here for tickets to the meet-n-greet

> Click here for more info about the Montreal show

And finally, on October 23, John was a guest on the Opie and Anthony radio program, promoting the This Filthy World DVD. Thanks to Jep, here's a link to the show. Enjoy!

> Click to download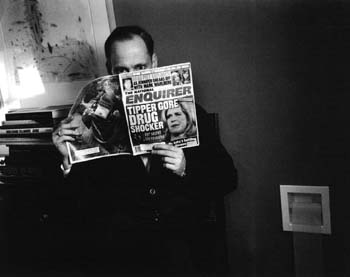 October 5, 2007

Hey L.A. You're in luck. Because John Waters will be in town next Friday, October 12th. He'll be performing THIS FILTHY WORLD at the Regent Showcase Theater.

> Click here for tickets

And if you live in New York, he'll be a featured panelist at the Crimes of Taste Panel on October 21st. It is part of a larger program called Design Happening.

> Click here for more info

Dreamland fan Michael let us know about a documentary narrated by Mr. Waters. It's called Plagues & Pleasures on teh Salton Sea, and it tells the story of "the California Riviera," an accidentally man-made body of water in southern California that has become an ecological disaster. Screenings are scheduled all over the country, and there's already a DVD available, in case the film isn't coming to your area.

> Click here to visit the film's site



September 27, 2007

Dreamland correspondent Liam Hughes sent the following video of Ralph Nader and John Waters at a "Symposium on Free Speech" sponsored by the Maryland Institute College of Arts (MICA) and the ACLU's Maryland branch, on September 17, 2007, in Baltimore, MD. Get John's hilarious take on Senator Craig's toilet toe tapping controversy.



Good, right? Thanks for sending it in, Liam!

So if you've got HBO, tomorrow night a documentary called THINKING XXX about the porn industry will be on air at midnight, featuring John Waters and Gore Vidal, among others.

> Click to visit HBO.com

Do you live in Charlotte, NC? Well here's your chance to get a little face time with the master himself, as the McGlohon Theatre presents "An Evening with John Waters" on November 1. Thanks for the news, Chris.

> Click here for more info



September 18, 2007

Just got word that John Waters will also be making an appearance on October 10th at UC San Diego as part of their "art pwr" series. Thanks to Elaine for the news.

> Click here for ticket info


September 17, 2007

Good news for you Southern California fans. John will be performing This Filthy World at the Regent Showcase Theater in Los Angeles on October 12. Tickets are $30 and can be purchased at ticketweb.com.

And another tip from Jeremy, John is performing in Asheville, NC this week on September 19th. Sorry for the short notice, but I just got word! He will be at UNCA, and there is also a screening of 4 Waters films!

> Click here to read more



September 7, 2007

Hello Fans. Sorry I haven't posted in a few weeks. Here's some news for ya!

Wes Perry reports in that CRY BABY, the new John Waters musical, will debut at the La Jolla Playhouse in San Diego in November. Fo those who haven't been reading the news, the answer is Yes. There is another musical coming out based on another Waters film. This time, Cry Baby gets the treatment with lyrics and music by David Javerbaum and Adam Schlesinger, book by Mark O'Donnell and Thomas Meehan. Directed by Mark Brokaw. I hope there's a Dreamland correspondent out in San Diego who can give us a first-hand report on the show.

> Click here for tickets

And if you happen to live in Ohio, Mr. Waters will be appearing in Akron at the EJ Thomas Hall on November 13. Sorry I don't have any links to provide for tickets on this one. Thank you Therron for the news.


August 13, 2007

Good news for you Scots. John Waters will be appearing at the Edinburgh Film Festival to screen This Filthy World. The film screens twice, this Thursday August 16th, and next Friday August 24. But Mr Waters will only be present at the screening on the 16th for Q&A after the film. (Thanks Ben, for the news!)

> Click here for tickets

And stateside, two appearances by the director have been announced in North Carolina, the first one on September 22 in Greensboro...

> Click here for tickets

And the second on November 2 in Wilmington...

> Click here for tickets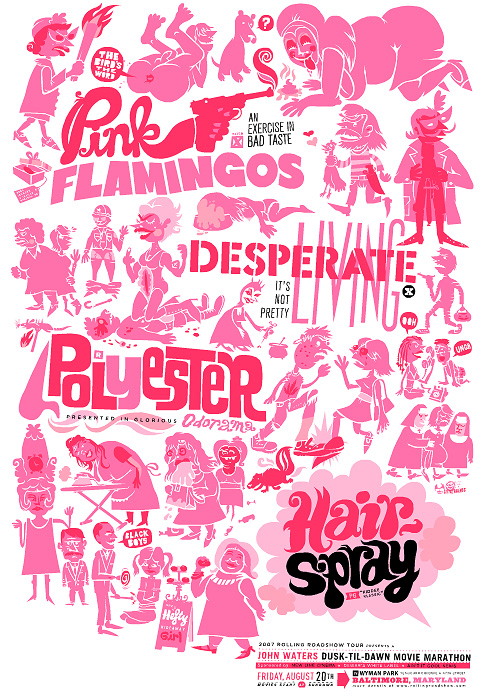 August 9, 2007

Hey kids, sorry for the late breaking news, but I was out of town and unable to get online to let y'all know the following...

Baltimore, Friday August 10

Austin's Alamo Drafthouse Cinema is hosting 35mm screenings of famous movies in famous places.

JOHN WATERS MARATHON at Middlebranch Park
Middlebranch Park
3301 Waterview Ave
Baltimore, Maryland

Featuring a dusk-til-dawn drive-in marathon of Hairspray, Polyester and Desperate Living!

The first 200 people get a free ODORAMA card. And every visitor will receive a complimentary John Waters barf bag, because as the master says, "To me, bad taste is what entertainment is all about. If someone vomits watching one of my films, it's like getting a standing ovation."

And here's something the whole family can enjoy. Courtesy of the Drafthouse Cinema, a list of infamous John Waters filming locations around Baltimore.
Thanks Tim for the news!
July 23, 2007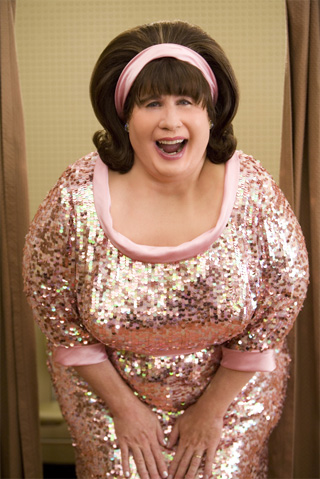 It's out! HAIRSPRAY the musical has hit theaters, and the reviews are pouring in. I've included a few links here for you to read, starting off with our own resident reporter Joe Blevins' review. Thanks for the write-up, Joe!

> Joe Blevins: A Field Report from the Hinterlands

> New York Times Audio Slideshow

> Baltimore Sun Video of the Hairspray Premiere Party

> San Francisco Gate Movie Review

> IMDB Photo Gallery


July 17, 2007

This Sunday on CBS Sunday Morning, John Waters will be featured in a story about the upcoming HAIRSPRAY the Movie. Check your local listings. It's on early!

And incidentally, the movie is in theaters this weekend! I can't wait to hear what the Dreamland Fans think of the "little movie that could"s transformation into a big Hollywood musical.

More good news for those Brits. John Waters is appearing at a Q&A following This Filhy World at the Edinburgh Film Festival on Thursday, August 16. Thanks to Steve for the news.

> Click for more info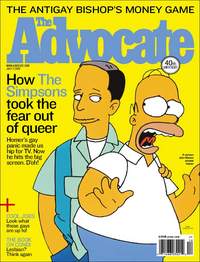 July 10, 2007

With Simpsons fever running high in anticipation of the Simpsons Movie coming out soon, the ADVOCATE is featuring an article in their current issue about how the show has handled gay issues. Of course the cover star is John Waters, from his beloved episode "Homer's Phobia." Thanks for the news, Thomas.

> Read an excerpt on Advocate.com

And here's a reminder in case you missed the news... this weekend in San Francisco, drag legend Peaches Christ is kicking off her MIDNIGHT MASS movie series with Mink Stole on Friday night, and John Waters on Saturday!

Celebrating 10 years of "Midnight Mass With Peaches Christ" at the Landmark Bridge Theatre, Mink is hosting a screening of DESPERATE LIVING on Friday and John will present FEMALE TROUBLE on Saturday.

> Click for more info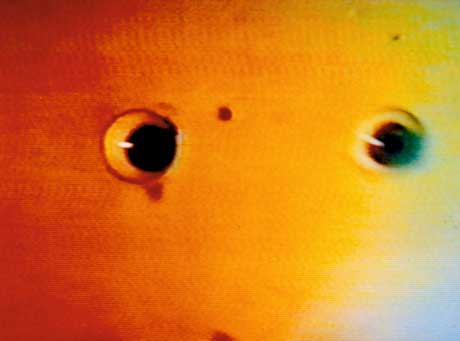 July 2, 2007

San Francisco Treat: Rena Bransten Gallery is featuring a show called JOHN WATERS: RECKLESS EYEBALLS starting on July 12 and running through August 18th.

> Visit RenaBranstenGallery.com


June 26, 2007

Attention UK fans! I've just gotten word that John Waters is going to be doing a masterclass, followed by a screening of This Filthy World at the BFI, London on the 17th August! Tickets will be on sale from the 2nd July for BFI members and the 8th July for non members. Thanks for the news, Saul.

June 18, 2007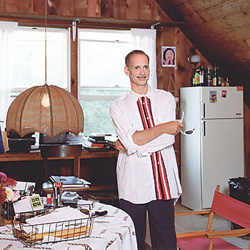 As is typical every summer, there's a flurry of John Waters activity in Provincetown, MA right now. He and Kathleen Turner were at the Provincetown Film Festival last week to introduce "A Different Kind of Family Night" with a screening of Serial Mom and War of the Roses at a local drive in.

And he's curated an art show called ELIMINATE at the Alert Merola Gallery. If you're up there on vacation, check it out. It's up for about a month.

If you're on the other coast, check out Peaches Christ's Midnight Mass Series in San Francisco. John will be the guest on July 14th for a screening of Female Trouble. Thanks Andrea for the news!


June 4, 2007

Sorry I haven't posted in so long. Has it really been more than a month? Wow.

Anyhoo, Mistress Reznor has alerted me that tonight is the last episode in the Til Death Do Us Part series on Court TV. She also said that some of John Waters' Films That Will Corrupt You (Freeway, Fuego) are showing up on Video On Demand, in particular Comcast subscribers. Check your local listings for specifics.

Make sure you pick up a copy of Baltimore Magazine for John Lewis's puff piece on our favorite director. Especially if you're not familiar with the many facets of his creative output beyond the director's chair.

> Visit BaltimoreMagazine.net

Speaking of facets, the HAIRSPRAY musical movie premiere has been announced as July 18th in Baltimore at the legendary Charles Theater. Tickets are $150 and benefit AIDS Action Baltimore, including a gala after party at the Tremont Grand Hotel. Phone 410-837-2440 for more information and tickets. The movie will be released in theaters on July 20th.

> Visit the Hairspray site

Also the live version of HAIRSPRAY is hitting the stage in London finally at the Shaftesbury Theatre. Performances begin in October, but tickets are on sale now.


April 27, 2007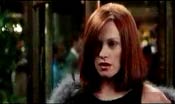 "Somebody call Jack Valenti!"

> Read Jack Valenti's Obituary

Reminder - tonight John Waters will be the guest on the Henry Rollins Show. It airs on IFC.

> Visit the Henry Rollins Show site

Also on TV tonight is FASTER PUSSYCAT! KILL! KILL! - the classic Russ Meyers film that has been an inspiration to John Waters and all us Dreamlanders. Tune in to TCM Underground tonight for a Russ Meyers double feature.

> Visit TCM Underground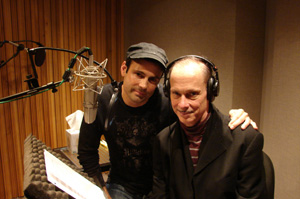 John is the narrator of a new film called IN THE LAND OF MERRY MISFITS in which a naïve young man takes a wrong turn through a mystical tunnel and lands in a fable-like universe where he is forced to assist a whimsical group of misfits in their quest to capture "the Grail of Popularity."

Pictured at right is Mr. Waters with the film's writer and director Keven Undergaro at their recording session in Baltimore.

If you live in New York, you can catch it at the Tribeca Film Festival on May 2nd through the 5th.

> Click here for schedule information

And on May 3rd, My Name Is Earl will have "scratch n laff" cards. Very Polyester, don'tchathink?

> Click here to find out more



April 24, 2007

This year at the Maryland Film Festival, John Waters will be presenting Bob Goldtwait's film Sleeping Dogs Lie. A funny, outrageous exploration of just how honest you should be with your fiancé about past sexual experiences. Bob Goldthwait will join John for this screening.

> Visit the Maryland Film Festival Site

April 15, 2007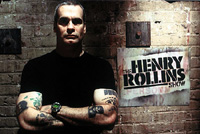 There's a new season of the Henry Rollins show on IFC and John Waters will be the guest on Friday, April 27. Thanks to everyone who emailed me th news.

> Visit the Henry Rollins Show site

If you live in (or near) Maryland, you can go see him at the Columbia Festival of the Arts on May 11. Even if you can't go, you gotta visit their site (below) to see the promo video they made to promote the appearance. Thanks for the news, Paula.

> Visit the Columbia Festival site

And finally for today, a disturbing little link that Mathieu sent me about some promotional dolls for the new HAIRSPRAY movie. That's right, a John Travolta in drags doll.

> Get into it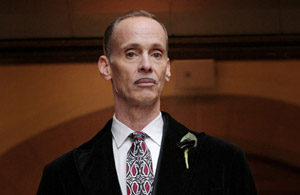 April 2, 2007

I planned to post this yesterday, but didn't want y'all to think it was an April Fools joke.

Mr. Waters has been disucssing his new film in the press. It's a childrens Christmas adventure entitled FRUITCAKE! No joke!

Don't belive me? Nicholas sent an article about John's recent appearance at a librarian convention during which he mentioned his plans for the film.

> Click here to read the article in the Baltimore Sun


March 19, 2007

Tonite's the nite! Make sure you tune in to CourtTV at 10pm for the series debut of TIL DEATH DO US PART.

Also, check your nearest comic shop for a copy of "Til Death Do Us Part - To Love, Honor and Perish" featuring John Waters as the Groom Reaper. It's being given away free! Thanks for the news, Kass.

> Click here to check out the comic online


March 13, 2007

This afternoon at 2pm ET, Court TV is hosting an online chat with John Waters about his new series, 'Til Death Do Us Part. For more information about the show, check out the news from March 2nd (below).

> Click here to log into the chat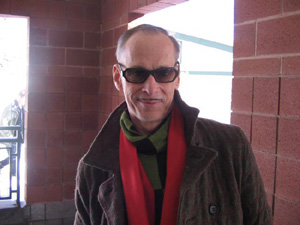 March 2, 2007

John Waters' new Court TV show TIL DEATH DO US PART premeires on March 19. As "The Groom Reaper," he'll guide you through true stories of doomed marriages that end with one spouse murdering the other. Each episode opens at a wedding, with Waters time-traveling as an unexpected guest, revealing the story of the ill-fated relationship, leaving viewers guessing as to who will be the victim and who will be the culprit. The show's creator is cult director Jeff Lieberman -- best known for Squirm, Blue Sunshine, Just Before Dawn and, most recently, Satan's Little Helper.

" I've always been jealous of Vincent Price's career," said John Waters, "maybe now that he's dead, I can hijack it."

> Click here to visit the official site

And on March 31st at 11PM, IFC will be air the documentary THIS FILM IS NOT YET RATED, featuring Mr Waters and his views on the MPAA ratings system. Thank you Misstress Reznor for the news!

It appears that the landmark Senator Theater has been saved from foreclosure thanks to an outpouring of donations. So if any of you Dreamlanders out there helped with a contribution, it worked!

Conversely, another Baltimore spot is closing. The famous American Dime Museum was always a favorite stop for fans of the underground. Click here to read an article in the Washington Post about the closing, including John Waters' reaction. Thanks for the heads up, Mark.

And for those of you who participated in the nerve.com interview, the article is up and is very entertaining. Check it out!




February 26, 2007

Dreamland correspondent Joe Blevins reports:
While watching last night's Oscar telecast, I was surprised and saddened to see the name of Basil Poledouris among those included in the list of celebrities who had died in the previous year. The Missouri-born composer, whose career spanned over 80 films over nearly four decades, died of cancer at the age of 61. Poledouris' credits range from "Robocop" to "Red Dawn," but Dreamland fans will know him best for his work on two John Waters films: "Serial Mom" and "Cecil B. Demented." On the latter film, he colloborated with his daughter Zoe. "Serial Mom" is by far my favorite original score composed for a Waters film. It's no suprise that the "Serial Mom" album is the only Waters soundtrack devoted mainly to score music. The movie's lush, dreamy theme music, "Mom's Suburban Dream" perfectly sets the stage for Waters' dark comedy, and the rest of Poledouris' score for the film brilliantly mixes lush romanticism with macabre undertones, seemingly drawing inspiration from both 1950s TV sitcom music and Bernard Herrmann's Hitchcock scores. Like Waters' script, Poledouris' score cobmines the best of "The Donna Reed Show" and "Psycho."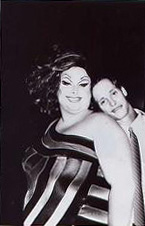 February 22, 2007

What makes a city great? That's what Baltimore Magazine has set out to define this year as they celebrate their 100th anniversary. And this month, they have chosen the moment when John Waters met Divine as one of the 12 Events that Shaped Baltimore.

> Click here to read more


February 13, 2007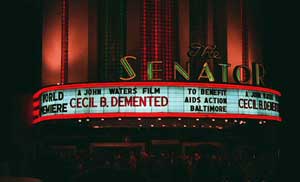 Anyone have a spare $93,000? Because that's what it'll take to keep the famous Senator Theater open.

The Senator is known to Waters fans as the Baltimore movie palace where Mr. Waters hosts all his premieres. Unfotunately, they're having financial troubles, and in a week or two, the bank will foreclose on this gem of a theater.

> Click here to read more
February 1, 2007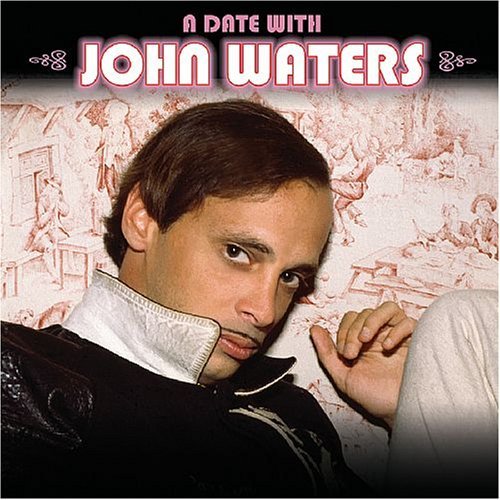 Hey Dreamland Fans... in case you haven't heard, John's new CD is out on February 6th. A DATE WITH JOHN WATERS was compiled by John, and it's a collection of his favorite love songs. As you can imagine, they're not your typical fare. It ranges from easy (or should I say sleazy?) listening to punk. And you know what's really awesome? It's the first time Edith Massey's version of "Big Girls Don't Cry," has been on CD (as far as I know!). It's also got tracks by Mink Stole, Tina Turner, Josie Cotton, Dean Martin and a whole mess of folks you've probably never heard of. I highly recommend you pick up the CD. It'll help you through those winter blues.

> Pre-order the CD from Amazon

You want a really special Valentines Treat? Check out this video on YouTube!

John is doing 4 autograph signings to celebrate the release of A DATE WITH JOHN WATERS

Feb 2 - Record & Tape Traders - Towson, MD 6:30 pm
Feb 6 - Amoeba Music - Los Angeles CA 6pm
Feb 8 - Amoeba Music - San Francisco 6pm
Feb 10 - Barnes & Noble - Chelsea, NYC 1pm

And one last thing about this release... John will be a special guest on NPR's Fresh Air and All Songs Considered on Valentine's Day.

This Friday, February 2, Nerve.com is seeking reader-submitted questions for John Waters. Want to participate?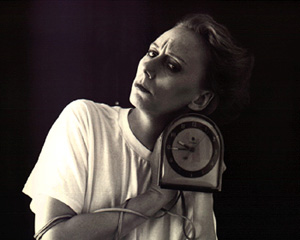 Also on February 2, Mink Stole and Steve Balderson will participate in Hollywood's "Ring My Bell," a new show where viewers phone in and speak with celebrity guests, fabulous people, assorted commentators, artists and freaks. Call with questions about Steve and Mink's histories making independent films. They'll be happy to answer whatever question you want to ask no matter how inappropriate or otherwise insane!

Call 323 - 603 - 6312 from 11am to Noon L.A. time (that's Pacific Time)

THIS FILTHY WORLD has been scheduled to screen at the Berlin Film Festival in February (8-18). And the best part: John Waters will be there in person! A specific date has not been scheduled yet (I will tell you as soon as I know). Thanks for the news, Thomas!