December 22, 2008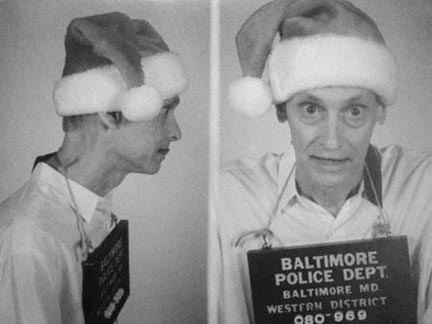 It's the MOST wonderful time of the year. Christmas time has a special place in the hearts of Dreamlanders. Time to pull out your John Waters Christmas CD and force your family to watch FEMALE TROUBLE. This will probably be my last post of the new year, so I'd like to take a moment to thanks everyone of my faithful readers for a great '08. See you in the new year!

> Click here to see a collection of John Waters Christmas Cards


December 10, 2008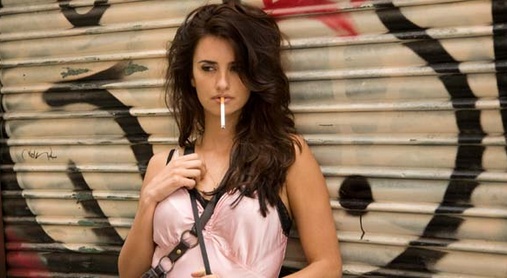 As I mentioned last week, John Waters has written about his favorite films of 2008 for Artforum magazine. Thanks to Eric and Sean for the link!

> Read more at Artforum.com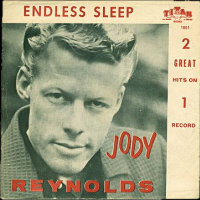 Dreamland music correspondant Joe Blevins reports that guitarist Jody Reynolds died last month at the age of 75. Dreamland fans will know Jody's hit, "Endless Sleep," which is used as the theme song to John Waters' Multiple Maniacs. It's Jody playing those two twangy guitar notes which Waters looped over and over to induce a sort of trance-like state in the audience. Later in the film, the song is reprised at double-speed. More recently, A Dirty Shame used a Reynolds instumental called "Black Tarantula" to underscore a sequence in which Sylvia goes looking for a trashy new wardrobe. Happily, that track is included on the excellent Dirty Shame soundrack CD for those interested.

> Read The L.A. Times obituary here


December 3, 2008

Hi there, Dreamland Fans. It's almost Christmas. Hope you're getting your cards in the mail soon.

Some sad news came through my inbox this week. Apparently the legendary folk singer Odetta has passed. She died in New York on December 2. So what's the connection? If you have to ask, you may want to watch Hairspray one more time.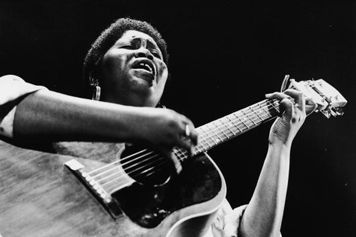 "When I'm high, I am Odetta. Let's get naked and smoke." - Pia Zadora

Thanks to James for the news.

> Read Odetta's Obit

In somewhat related news, the sequel to Hairspray seems to be moving along. There's an article in Empire magazine creating a buzz among Waters fans.

> Click here to read more

And in other news, Artforum has published their top ten lists for the end of the year. And John Waters has contributed a list of his ten favorite films from 2008. There's a tie for first! And two Woody Allen movies!! Everyone rev up your Netflix accounts. Thanks to Jason for the info.

1 (a). VICKY CRISTINA BARCELONA (Woody Allen)
1 (b). LOVE SONGS (Christophe Honore)
2. MISTER LONELY (Harmony Korine)
3. SAVAGE GRACE (Tom Kalin)
4. MAN ON WIRE (James Marsh)
5. THE LAST MISTRESS (CATHERINE BREILLAT)
6. MY WINNIPEG (Guy Maddin)
7. THE WRESTLER (Darren Aronofsky)
8. TAXI TO THE DARK SIDE (Alex Gibney)
9. MILK (Gus Van Sant)
10. CASSANDRA'S DREAM (Woody Allen)

And finally, in what looks like it may become a tradition here at Dreamland News, it's the second annual John Waters Advent Calendar straight from the diseased mind of Orchidbau.

The John Waters Advent Calendar - 2008 Edition.

Day 1... Get naked and smoke.
Day 2... Ask a neighbour if they find it funny that every man in the neighborhood has a penis.
Day 3... Flash someone.
Day 4... Get your hair done.
Day 5. Go to a porn theatre (or rent a porno movie) and "pop a load"
Day 6... Whenever you hear someone say "shit" tell them you hate the brown word.
Day 7... Exclaim "What a day for an execution!" to strangers.
Day 8... Stomp on someones foot - laugh maniacally.
Day 9... Play "car accident." (Be sure to have plenty of ketchup on hand.)
Day 10... Get a baby sitting job - throw wild destructive party. Trash everything.
Day 11... Admit to God that you are a whore.
Day 12... Tell your nephew (or other younger male relative) you'd be so happy if he turned nelly and found a nice beautician boyfriend.
Day 13... Seduce a bus driver.
Day 14... Refer to your daughter (or young female relative) as "that little MF"
Day 15... Write "I sniff jury underpants" (or other obscenity) in a bathroom stall.
Day 16... Have sloppy joes for dinner.
Day 17... Go to doctor and demand "a wang."
Day 18... At the dinner table exclaim loudly "I'm so hungry I could eat cancer."
Day 19... Tell someone that you're a thief, a shit kicker and that you'd like to be famous.
Day 20... Condone first degree murder. Advocate cannibalism.
Day 21... Have sex with a midget in the back of a car.
Day 22... Be celibate for celluloid.
Day 23... Watch "Christmas Evil" with JW commentary.
Day 24... Send someone a bowel movement.
Bonus day - Return all your Christmas gifts for money because.... "you can do that you know."

Advent calendar © 2008 by: Orchidbau of orchidbau.com


November 10, 2008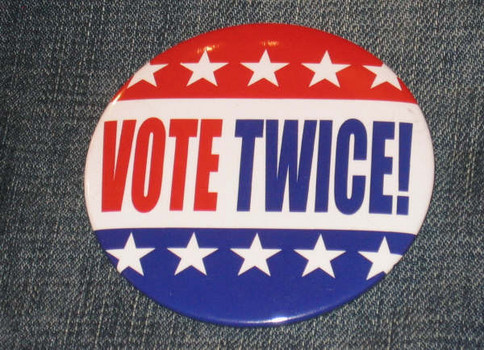 Ya'll probably know that I don't get political on this site very often (I can only think of once before). But I have to say congrats to everyone in the USA. We are on finally the brink of a new administration in Washington, and I for one couldn't be happier.

If you've been by the Gap recently, you may have noticed that they went a little political this Fall as well. Their campaign to get out the vote included a series of buttons for sale at their stores, one of which was designed by our very own John Waters! And as we all know, wherever John goes, controversy seems to follow. He designed the VOTE TWICE! button you see above, but apparently some people didn't think it was very funny. The buttons have been removed from stores and are no longer on sale. Too bad.

> Read more on the controversial button campaign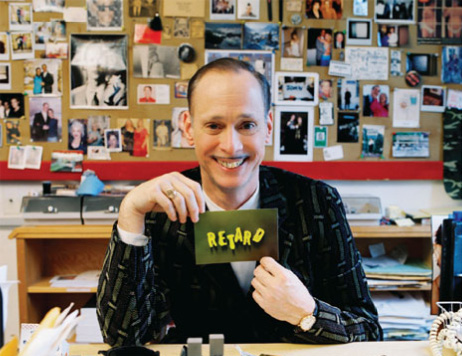 September 29, 2008

Designer Todd Oldham has a series of design books called PLACE SPACE, and the latest issue features the Baltimore home of John Waters!

Aside from the full-color photography of his home, the book features essays by Oldham and photography legend Cindy Sherman. Plus it comes wrapped in a custom poster, and features tear-out postcards featuring books from Waters' shelves such as "Sex on Horseback" and "Gay John!" Thanks to John for the news.

> Order PLACE SPACE


> Read on AmmoBooks.com


For those of you with Showtime Showcase or the Flix network, check your listings because THIS FILTHY WORLD has been airing over the past couple weeks. Thanks to James for the tip.



August 25, 2008

Good news for all you St Louis fans. On October 13, following the events mentioned below, John will be doing his show, THIS FILTHY WORLD at The Sheldon Theatre.

> Click here for tickets

Dreamland fan Rick reports that cable channel Starz on Demand is currently airing a brand new special called Starz Inside: In The Gutter. It runs until September 25, and explores the history of offensive, no-holds-barred humor. There's a good 15 minutes dedicated to John with clips from Multiple Maniacs, Pink Flamingos and Polyester.

> Click here to read more at Starz.com

Mr. Waters has recorded the narration for a new documentary about dollhouse murder scenes! It's called Our Wildest Dreams, but it's not complete yet. For now, you can check out their site, and their Flickr account for some gorey dollhouse moments.

> Visit the Wildest Dreams site

>Visit their Flickr account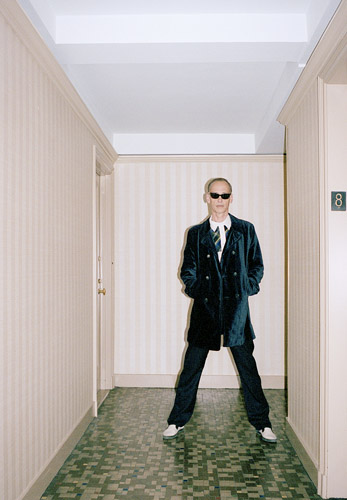 August 20, 2008

Dreamland fan Taylor reports that there are several John Waters events happening next month in St. Louis, MO at Laumeier Sculpture Park.

John Waters Double-Feature Film Festival
September 19, 2008, 7 PM/9 PM
Laumeier Outdoor Music Amphitheatre
Enjoy showings of John Waters' classic films Hairspray and Polyester under the stars. (Free)

Artistically Incorrect: The Photographs and Sculpture of John Waters Opening Reception
October 11, 2008, 6-8 PM
Laumeier Sculpture Park Museum Galleries
Attend the public Opening Reception for our Fall Exhibition featuring John Waters for a peek inside the mind of this incomparable artist. (Free)

Socially Incorrect: A Night of Contradictions with John Waters
October 11, 2008, 8 PM
Laumeier Sculpture Park
Laumeier's biennial fundraiser offers adventurous attendees a unique experience in an unparalled setting. Don't miss this year's party that everyone will be buzzing about. (Ticket required)

> Click here for more information about all three events


He'll also be going to San Francisco to perform THIS FILTHY WORLD - DIRTY AND FILTHIER for one night only on Monday, October 6, 2008, at 7:30pm at the Castro Theatre. All proceeds from the evening will benefit Frameline, the nation's only nonprofit solely dedicated to the funding, exhibition, distribution and promotion of lesbian, gay, bisexual and transgender media arts. A limited number of VIP ticket packages are available for audience members who would like to attend a meet and greet with Waters after his performance. Thanks to Desiree for the news.

> Click here for tickets

And finally, last month there was an incident of particularly trashy proportions when HAIRSPRAY star Nikki Blonsky was arrested for fighting with a contestant from America's Next Top Model. Thanks to James for the tip.

Click here to read the story on omg.yahoo.com


July 28, 2008

MORE HAIRSPRAY, PLEASE!
Variety reports that New Line Cinema, a subsidairy of Warner Bros, has asked John Waters to write a treatment for the sequel to Hairspray the Musical the Movie. The film will be directed by Adam Shankman, with new music by songwriters Marc Shaiman and Scott Wittman, the same team who created the 2007 film. They hope to release the movie by 2010. Thanks to all 6 of you who sent me the news - I think that's a record for the same story!

> Read the Variety report

Brasilian disco punk band CSS released their new album DONKEY last week, complete with reference to Mr. Waters in the lead track Jager Yoga. Below is an interview from Lipster.com where two members of the band review their top 5 John Waters films. Thanks to Rebecca from Lipster for the news!

> Order DONKEY by CSS





July 20, 2008

SCANDAL IN MIDDLETOWN! The Unicity Festival, a day-long celebration of the performing arts on August 2 in Middletown Delaware, have booked John Waters to open the festivities at noon on their outdoor stage. Only some residents don't want him there!

> Read more about the scandal

> Visit UnicityFestival.com

One of my personal favorite musicians, Roisin Murphy, has done an homage to Multiple Maniacs in her new video. Witness... a Divine-alike, and the return of LOBSTORA! Thanks for the link, Miss Davenport!



On October 3, Mr. Waters will be appear on a panel at The Wexner Centre in Ohio as part of their "Andy Warhol: Other Voices Other Rooms" exhibition.The discussion, "Remembering Andy" will also include Vincent Fremont, the head of Warhol's Video Dept, which produced Warhol's various television series, as well as co-producing/directing Pie in the Sky: The Brigid Berlin Story.

> Visit WexArts.org
June 21, 2008

A bit of sad news today. Despite it's Tony Award nominations, the CRY BABY Musical is not doing well enough to stay on Broadway, and so the show will close in New York tomorrow. The touring company will continue, so keep an eye out for a local run in your city. Thanks to everyone who sent in the news.

If you live in (or near) New York City, you can catch the director in his one man show THIS FILTHY WORLD on June 26 - Gay Pride weekend! It's at the unusually named Concert Hall at The New York Society for Ethical Culture, and there are VIP tickets available that include a meet and greet with the master himself, an autographed DVD and reserved seating at the event.

> Click here for tickets


June 13, 2008

Hey kids.. Friday the 13th. Don't walk under any ladders today. Here is the news...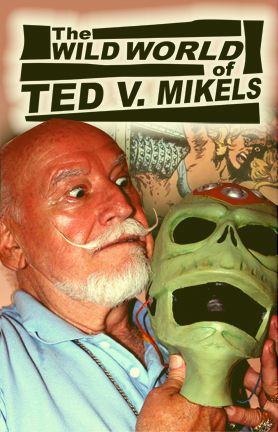 John Waters narrates a new documentary film The Wild World of Ted V. Mikels, directed by Kevin Sean Michaels (Vampira: The Movie). The film is s a rollicking look at the independent cinema of Ted V. Mikels, who has been producing films for over 60 years. Mikels is considered a maverick of low-budget movie making and is still making movies at age 79.Way before low-budget action films were termed "grindhouse," Ted was wowing audiences with his own special brand of gore, drama, humor, violence, and -- most of all -- style.

"Ted V. Mikels puts the 'exploit' in exploitation films," said Waters. "He's pretty amazing.'"

The film is scheduled for preview screenings in New York, New Jersey, San Diego, Los Angeles and San Francisco before showing on the film festival circuit in the fall.

> Visit the Official Site for more info

> Visit TedMikels.com

Living in New Haven? Well then this is your lucky weekend because PINK FLAMINGOS is showing as part of the Insomnia Theater Series tonight and tomorrow at Bow Tie Cinemas.

> Visit BowTieCinemas.com


June 2, 2008

UK fans are in luck... John Waters will finally perform his one man show THIS FILTHY WORLD in London on September 18th. Thanks to Saul and Helen for the news.

> Click here for tickets


Matt reports that The Cedar Lee Theater in Cleveland, OH is showing Pink Flamingos as part of its ongoing cult cinema series. It's next weekend on June 7, 2008 @ 9:30 and midnight.

> Visit ClevelandCinemas.com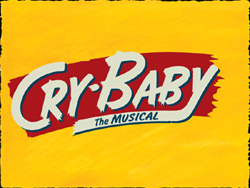 May 13, 2008

The TONY Award nominations were announced today, and guess what? CRY BABY the Musical was nominated for 4 awards - big ones too!

Best Musical
Best Book of a Musical
Best Original Score
Best Choreography

Will it win? You'll have to wait till June 15 to find out when the awards are broadcast on CBS.

> Visit Cry Baby the Musical online

In other news...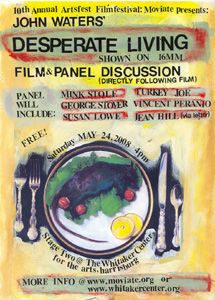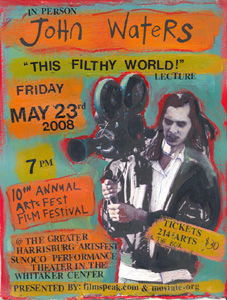 The 10th Annual Artsfest Film Festival is happening in Harrisburg, PA next week. Not only is John Waters performing THIS FILTHY WORLD on Friday the 23rd, but on the next day there's a film and panel discussion on DESPERATE LIVING with the unbelievable roster of MINK STOLE, TURKEY JOE, GEORGE STOVER, VINCE PERANIO, SUSAN LOWE and JEAN HILL! Seriously, if you live anywhere near here, get yourself to Harrisburg. You don't want to miss this once in a lifetime event.

> Visit Moviate.org for more info


May 12, 2008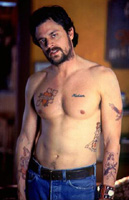 OK... here is the news we've all been waiting for. The Hollywood Reporter says that Johnny Knoxville is attached to star in John Waters' Christmas film FRUITCAKE. The plot is officially under wraps but is said to center on the title character, a boy named after his favorite dessert. He runs away from home during the holidays after he and his parents are caught shoplifting meat, then meets up with a runaway girl raised by two gay men and searching for her birth mother. This Is That Productions and Killer Films are producing the film instead of New Line. ThinkFilm is said to be in talks to come aboard. Thanks to Mark and Scott for the news!

If you live in (or near) New York City, you can catch the director in his one man show THIS FILTHY WORLD on June 26 - Gay Pride weekend! It's at the unusually named Concert Hall at The New York Society for Ethical Culture, and there are VIP tickets available that include a meet and greet with the master himself, an autographed DVD and reserved seating at the event.

> Click here for tickets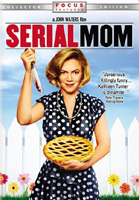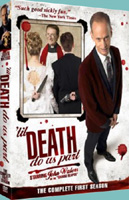 In DVD news, there are two new releases you should pick up. The first is a new and improved SERIAL MOM edition chock full of extras, including commentary from John Waters and Kathleen Turner, Serial Mom Surreal Moments, the Making of Gore about legendary directors Hershell Gordon Lewis and David Friedman, and the Making of Serial Mom. It's out now.

> Order SERIAL MOM from Amazon


The second new release won't be out till July, but just to let y'all know - TIL DEATH DO US PART - the television series starring John Waters as the Groom Reaper, gets the box set treatment including all 13 episodes from the first season. For those of you who missed the show the first time around, the series dramatised stories of real life cases of ill-fated relationships, where one of the spouses ends up dead. Fun for the whole family!

> Pre-order TIL DEATH DO US PART from Amazon


Publishers Weekly reports that John's next book project will be called ROLE MODELS. A release date is not set yet, but the book will offer a portrait of the artist through profiles of his cadre of quirky friends and acquaintances, both famous and unknown. Personalities to be profiled in the work range from Miss Esther "owner of the scariest bar in Baltimore" to singer Johnny Mathis. According to the publishers, the collection of profiles will "hopefully inspire readers to their own devious hero worship and appreciation of the power of subversive inspiration." John also mentions the book in this month's INTERVIEW magazine. Thanks to Anthony and Josh for the news!


April 27, 2008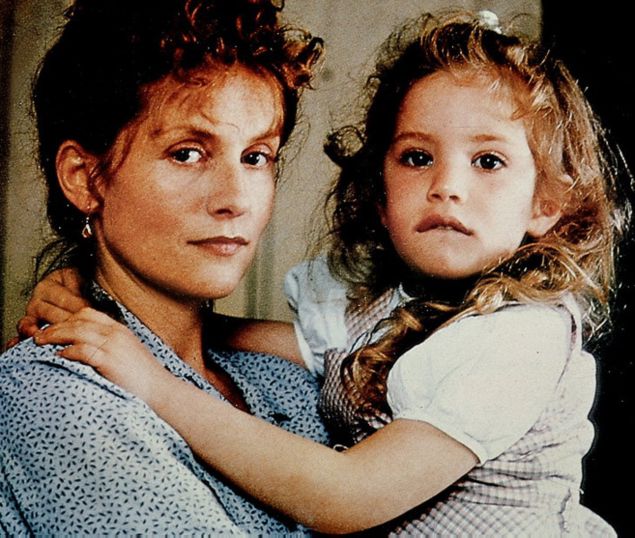 Next week, on May 2, John Waters will take part in the Maryland Film Festival. He always picks one of his favorite films to screen. This year, he'll be presenting the provocative French abortion drama STORY OF WOMEN directed by Claude Chabrol and starring Isabelle Huppert (pictured - right).

> Click here to order tickets


April 23, 2008

Hey kids - I apologize for the lack of posts recently. I've been a busy guy, and Dreamland News had to take a back seat for a little while. Anyway, I want to thank everyone who's emailed me over the past month with news and listings.

Yesterday was John Waters' 62nd birthday. And he was on The Daily Show with Jon Stewart! For those who missed it yesterday, it will repeat this evening on Comedy Central. Thanks for the news, Paula!

> Visit The Daily Show.com

In the May issue of DETAILS magazine, there's an interview with Mr. Waters, with additional Q&A online at details.com.

> Click here to visit Details.com

And in the Baltimore Sun, a recent article was published about three imagined stage interpretations of John Waters classics. Thanks to Paula for the link.

> Click here to visit the Baltimore Sun

If you live in Seattle, you're in luck! John will be making an appearance at the Seattle Arts and Lectures series, sponsored by the Seattle International Film Festival on June 3. Thanks to Bret for the tip!

> Click here for tickets

And next month, he'll be kicking off the 10th Annual Artsfest Film Festival in Harrisburg PA. Thanks to Jim for the news!

> Visit Moviate.org for more info

March 27, 2008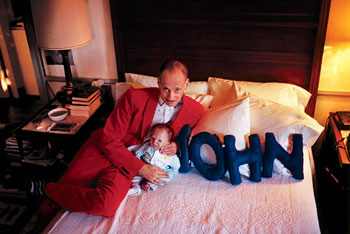 Check out the latest issue of New York Magazine for a huge puff piece on John Waters!
Thanks to Sean and Noel for the tip.

> Visit NYMag.com

And for those of you who actually LIVE in New York, you can visit the Armory Art Show this week for a sneak peek at some new original art by Waters.

> More info on the Armory Show

March 17, 2008
Get your cameras out, because John Waters is going to watch the videos posted to a new YouTube group and pick his favorites to be featured on the official Cry-Baby On Broadway YouTube channel and the official MySpace page.



> Visit the John Waters YouTube Challenge

Saul, our self-professed London pervert extraordinaire, reports that Hairspray The Musical just keeps on going from strength to strength: four Olivier Awards!!!

> Click here to read more

March 7, 2008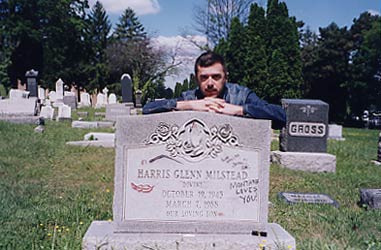 It was twenty years ago today that our beloved star Divine passed away at the age of 42. Hairspray had just been released in theaters, and he was in Los Angeles when he died, preparing for a new role on Married With Children. I was preparing to graduate from high school in North East, Maryland. And I remember when it happened, because John Waters and Divine were becoming a huge influence on me at that time. It was such a shock that this tremendous persona was gone, just as I was getting to know his work. I'm sure a lot of you also remember.

I don't get a chance to write back to everyone who emails me, so I'd like to take this opportunity to thank all of you who have sent me your photos, your thoughts and obsessions over the years. Keep it coming!

March 3, 2008
My mailbox was flooded with news this week, including the following article from Bret. Some words from the master himself about the demise of New Line Cinema.

> Read the article from the Baltimore Sun


Brian Ezzelle sent along the clip below of Waters interviewed by host Jiminy Glick for the Independent Spirit Awards, as part of their red carpet proceedings.



Mr. Glick has an unusual approach to conducting interviews, wouldn't you say? Anyhoo, John was also a presenter at the awards ceremony. Check out the hilarious video he made with Sam Jackson via the link below.

> Watch the clip

Also, watch the following clip of Ricki Lake and John as they enter the awards ceremony, including a cameo by one of my favorite photographers, Gary Lee Boas! Gary, what were you doing there? Shooting the red carpet, I hope. Thanks to James for the link.

> Watch the clip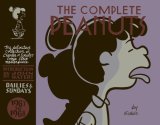 Joe Blevins reports that John Waters has penned the introduction to The Complete Peanuts 1967-1968, the latest in the gorgeous series of deluxe hardcover Charles Schultz reprints from Fantagraphics. His introduction, naturally, focuses on the strip's most Dreamland-like character Lucy Van Pelt. ("I like her politics," he says in the intro.) The book will be published on April 30, 2008.

> Click here to pre-order from Amazon



Mr. Waters has an upcoming appearance at the Whitaker Arts Centre, Sunoco Theater in Harrisburg, PA on May 23. Thanks to Bill for the info!

> Visit WhitakerCenter.org


And finally, Bill also reports that Jerry Dallman, the DC area rock n' roll star who had a 1958 hit with "The Bug", and played in the band called Jerry Dallman and the Knightcaps, has passed away. John included "The Bug" on the soundtrack to Hairspray. And speaking of soundtracks, our resident expert on the music in John Waters films, Joe Blevins, has an appeal to all you fans out there.

> Click to read Joe's letter

March 1, 2008
It's the END OF AN ERA people!
New Line Cinema is no more. It has been folded into Warner Brothers by parent company Time Warner as of this week. And the studio heads Bob Shaye and Michael Lynne are not sticking around. I'm sure you all know the New Line logo from the opening credits to John Waters films. Let's hope this doesn't have a negative effect on FRUITCAKE, the new Waters movie scheduled to be released this Fall. Thanks to Joe Blevins for the news.

> Click here to read about the shake up in the New York Times

February 20, 2008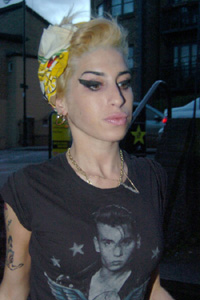 She's kind of like a John Waters character come to life, so it should come as no surprise that Amy Winehouse was recently photographed tromping around London in a Johnny Depp CRY BABY t-shirt. Hot, right?

> Get yours here!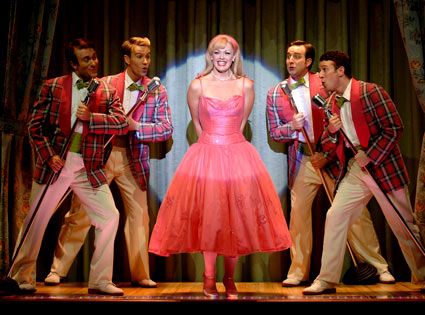 And while we're on the topic of CRY BABY, the new Broadway musical has a preview website up, and the poster is amazing. Let's hope the art direction continues in this vein.

Tickets go on sale next week - February 24th.

Thanks to Duncan in Manchester for the tip.

> Check it out

Read more about the musical on E Online.
February 16, 2008

A few tidbits for you.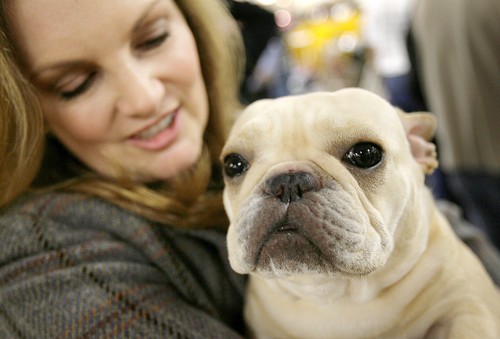 Pictured above is Dreamland star and FOJW (Friend of John Waters) Patricia Hearst with her French Bulldog, Diva. They were in New York last week for the Westminster Kennel Club dog show at Madison Square Garden. Diva was named "Best of Opposite Sex" at the competition. Congratulations, Ms Hearst – and thanks for the news, Josh!

Mink Stole will be a guest at the Cinema Wasteland movie and memorabilia expo in Strongsville, Ohio on April 4th, 5th, and 6th.
> Visit CinemaWasteland.com

Dreamland correspondent Joe Blevins uncovered rumours on IMDB that New Line Cinema founders Bob Shaye and Michael Lynne may be terminated and New Line's projects folded into Warner Bros. Apparently, with the exception of Hairspray the Musical, New Line hasn't had much success of late.

Joe reports that "in addition to his official producer credits on "Polyester" and both "Hairspray"s, Bob Shaye was an instrumental figure in JW's career. New Line/Fine Line has been JW's home for 30+ years (much as Orion once was to Woody Allen or Warner Brothers to Kubrick), and it was Shaye who originally agreed to distribute "Pink Flamingos" leading to a long and successful collaboration between Waters and New Line."



January 15, 2008

Hey kids, how was your New Year? Mine was great. Not too much news to report so far this year.

John Waters is being honored by the National Gay and Lesbian Task Force for their 2008 Leadership Awards. They're having a cocktail reception on January 28 in New York, with the awards being held later in the spring on April 8.

Click here to visit TheTaskForce.org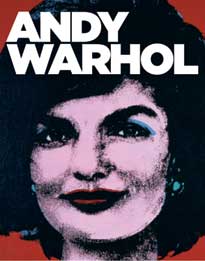 Daniel Mudie Cunningham writes in to let us know that an interview he conducted with John Waters last year has been published in Andy Warhol, a handsome 320 page publication produced by Queensland Art Gallery / Gallery of Modern Art (Australia) to tie in with their major retrospective of Warhol's work showing until March 30th. Titled "A Star Thing", the interview explores the many enduring connections between Waters and Warhol. Thanks for the news, Daniel!

Click here to order the book