December 29, 2011
As they do at the end of each year, ArtForum magazine has published John Waters favorite films of the year. Catch 'em in the theater if you can - and for the rest, get thee to Netflix! Enjoy!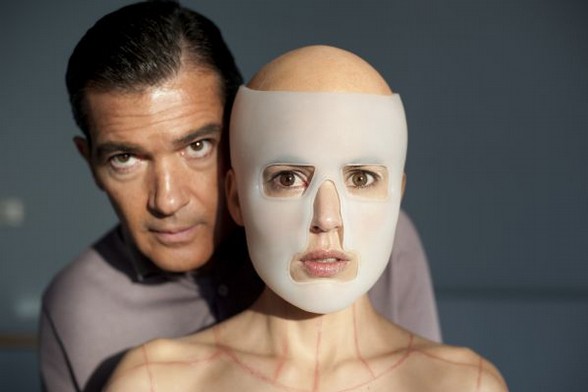 1. The Skin I Live In (Pedro Almodovar)
A dark, twisted, beautiful, and, yes, funny shocker from the greatest director in the world. God bless you, Pedro Almodóvar!

2 Mildred Pierce (Todd Haynes)
This elegantly shot, pitch-perfect made-for-TV melodrama makes everyone who watches secretly yearn to be a woman with issues. The best period film in decades—period.

3 Justin Bieber: Never Say Never (Jon M. Chu)
I'm not kidding. A well-made doc that proves the Bieb was a child prodigy. Wait until you see Justin stick his head into the audience and shake his hair in 3-D. I screamed.

4 Hadewijch (Bruno Dumont)
In this grim, fiercely uncommercial movie, a fanatical Catholic young lady from a rich family hooks up with a handsome male Muslim terrorist, and together they blow up a commuter train. Love is strange, especially when God is involved.

5 Kaboom (Gregg Araki)
A sexy, well-written, end-of-the-world comedy that succeeds beyond all expectation. Doomsday never looked so hot.

6 If a Tree Falls: A Story of the Earth Liberation Front (Marshall Curry and Sam Cullman)
This sad documentary debates the regrets of radicalism as a pack of lunatic-kid tree huggers get caught up in frenzied activism and are suddenly accused by the government of terrorism.

7 The Tree of Life (Terrence Malick)
You'd think I'd hate this film, and I almost did—until I realized it's the best New Age, heterosexual, Christian movie of the year.

8 I'm Glad My Mother Is Alive (Claude and Nathan Miller)
This beautifully acted French film is a tragic, harrowing warning to all adoptees: Finding your real-life birth parents isn't always such a good idea.

9 We Were Here (David Weissman)
Half my friends died of AIDS, so this simple and painfully told doc on the disastrous epidemic's effect on San Francisco is personal. If you don't sob watching, maybe you should be dead too.

10 Uncle Boonmee Who Can Recall His Past Lives (Apichatpong Weerasethakul)
A spooky, witty, never pretentious meditation on the otherworldly lust of ghosts and wild animals. Aren't you glad art films don't get test-screened?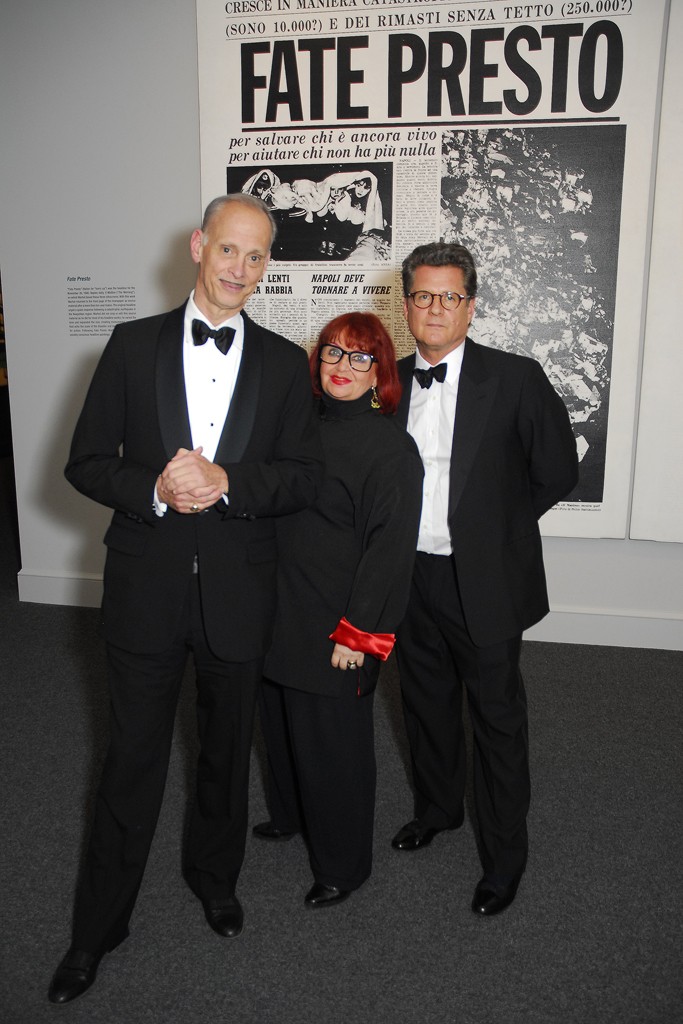 December 20, 2011
Hello everyone and MERRY CHRISTMAS! It's been a long time since my last update, and I hope you all got to check out one of the holiday shows.

Mr. Waters and his associate Pat Moran were spotted in Washington DC in October at the National Gallery for a black-tie dinner celebrating their "Warhol Headlines" show. (pictured) Thanks to Connie for the news.
Read more at WWD

There are a heap of new links on the Net page, so jump over there and check them out.

And aside from that, I just want to wish everyone happy holidays. We'll see you in 2012!



September 10, 2011
I have more details on John Waters' tour of Australia - and New Zealand! Plus, Mr. Waters is curating the Double Features From Hell film festival at the Sydney Opera House in October. Not to be missed! And down below, you'll find the dates for his upcoming Christmas tour dates for the United States and London.

AUSTRALIA DATES:

Perth
Wednesday 19 October
Perth Concert Hall Bookings:  BOCS 08 94841133 or www.bocsticketing.com.au

Canberra
Tuesday 25 October
Canberra Theatre Bookings: 02 6275 2700 or www.canberratheatrecentre.com.au

Brisbane
Wednesday 26 October
Brisbane Powerhouse Bookings: 07 3358 8600 or www.brisbanepowerhouse.org

Adelaide
Thursday 27 October
Her Majesty's Theatre Bookings:  BASS 131 246 or www.bass.net.au

Melbourne
Saturday 29 October
Melbourne Recital Centre Bookings: 03 9699 3333 or www.melbournerecital.com.au

DOUBLE FEATURES FROM HELL
Sydney
Fri 21 through Sun 23 October
Sydney Opera House Bookings: 02 9250 7777 or www.sydneyoperahouse.com

Waters will unleash his favourite feel bad movies, based around the themes of 'Shock',' Terror', 'Goddess' and 'Sex', introducing each film and conducting a post screening Q&A. Prepare to be corrupted....

"I invite the Australian moviegoers into my cinematic world to show them radically intelligent and disturbing movies that will push them closer to the edge of cinema insanity. Here are films for adventuresome audiences who think they've seen everything."
- John Waters
SHOCK: Friday 21 October at 7pm

Irreversible (Gaspar Noe, 2002)
Monica Belluci, Vincent Cassel and Albert Dupontel
A terrifyingly brutal take on rape, revenge and, yes, intimacy that will leave you spinning in cinematic wonder. "If you meet the director, ask him for your $10 back and punch him in the mouth" - New York Daily Press

Antichrist (Lars Von Trier, 2009)
William Dafoe and Charlotte Gainsbourg
If Ingmar Bergman had committed suicide, gone to hell, and came back to earth to direct an exploitation/art film for drive-ins, this is the movie he would have made.

TERROR: Saturday 22 October at 12pm

United 93 (Paul Greengrass 2006)
A real time account of the events on United Flight 93, one of the planes hijacked on 9/11 that crashed near Shanksville, Pennsylvania when passengers attempted to foil the terrorist plot.

Cecil B. Demented (John Waters 2000)
An insane independent film director and his renegade group of teenage filmmakers kidnap an A-list Hollywood actress and force her to star in their underground film.

GODDESS: Saturday 22 October at 6pm

Boom! (Joseph Losey 1968)
Elizabeth Taylor and Richard Burton
The best failed art film of all time! Elizabeth Taylor as the richest woman in the world and Richard Burton as The Angel Of Death. Beyond bad, the other side of camp – a film so genuinely beautiful and awful that there is only one word to describe it: perfect.

Fuego (Armando Bo 1969)
The man who has been called "the Argentinean Russ Meyer" directs his cinematic goddess, Isabel Sarli, in this unintentionally hilarious and amazingly politically incorrect tale of nymphomania.

SEX: Sunday 23 October at 12pm

Zoo (Robinson Devor 2007)
Jaw-droppingly sympathetic documentary about a man and his secret sexual encounter with a horse.

A Dirty Shame (John Waters 2004)
Tracy Ullman, Johnny Knoxville and Selma Blair
Sylvia Stickles, an uptight, middle-aged, repressed woman turns into a sex addict after suffering a concussion.  Experiencing a carnal lust she cannot control, Sylvia teams up with an underground subculture of sex addicts in suburban Baltimore and fights an epic battle of decency vs depravity.
NEW ZEALAND DATES:
Wellington
8pm, Monday 31st October, The Opera House
Bookings Ticketek (04) 384 3840 or www.ticketek.co.nz

Auckland
8pm, Wednesday 2nd November, Civic Theatre, THE EDGE
Bookings through THE EDGE – www.buytickets.co.nz or 0800 BUY TICKETS or (09) 357 3355
U.S. and UK CHRISTMAS SHOW DATES:
11/30
Jacksonville, FL at the Lyric Theater
12/11
Portland, ME at the State Theatre
12/1
Tuscon, AZ at the Rialto Theatre
12/14
Madison, WI at the Barrymore
12/2
Austin TX at the Paramount Theatre
12/18
Alexandria, VA at the Birchmere
12/5
London, UK at the South Bank Centre
12/19-20
New York, NY at BB King's
12/9
Baton Rouge, LA at the Manship Theatre
12/21
Baltimore, MD at the Lyric Theatre
12/10
Boston, MA at the Berklee Performance Center
September 10, 2011

Hi everybody! I took a bit of a break this summer, so apologies to all you fans for the lack of news. It does not mean there was nothing going on, it was really just due to my capacity. So now that that's over, here's what happened the last 60 days!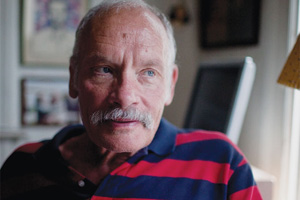 This week, one of the greats of underground film died, George Kuchar. Along with his brother Mike, the Kuchar Brothers helped define DIY filmmaking by creating their own lurid stories, filmed in their Bronx home. They were an early influence on John Waters, and he was quoted in the New York Times obit for George on Thursday.

Read George Kuchar's Obituary in the New York Times
View my obsessive Flickr set on brother Mike Kuchar
And while we're on the topic of influences, there is a documentary about Hershell Gordon Lewis, featuring interviews with Mr. Waters, released by Something Weird Video. Thanks to Wayne for the news!

Click to order The Godfather of Gore on DVD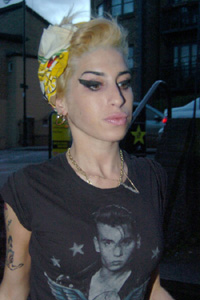 Of course we all heard the news of Amy Winehouse's untimely demise, and it should be noted that she was John Waters' type of girl. Not only did she identify with Johnny Depp's Cry Baby character, but John Waters himself engaged in conversation with Guy Trebay in the New York Times when she died. If you haven't read it already, I encourage you to. Thank you Eric for the link.

Read Guy Trebay's "A Bad Girl With A Touch of Genius"
Are all the stories today about influences? Canadian underground queer filmmaker Bruce LaBruce is the subject of documentary THE ADVOCATE FOR FAGDOM, directed by Angelique Bosio. Mr. Waters is a featured talking head in the picture, and it is making the festival circuit. Check for screenings near you. And go check out some Bruce LaBruce movies if you haven't already! Thanks to Connie for the tip.

Visit The Advoate for Fagdom's site for more info
If you live in Australia, get ready, because Waters is bringing his one man show down under. During the month of October, THIS FILTHY WORLD will hit Perth, Adelaide, Canberra, Brisbane, Melbourne and Sydney! I do not have specific ticket information, so check your local listings. Thank you to Sean for the news.
I'm excited to announce that long-time Dreamland pal Shade Rupe has published a book of his interviews with underground superstars - including Divine! DARK STARS RISING is out through UK publisher Headpress, and can be ordered online. Check out Shade's site, and check out the book!

Order Dark Stars Rising: Conversations from the Outer Realms
And finally, here's a little action you can take. Think of it as a public service. The National Film Preservation Board is a government funded program and part of the Library of Congress charged with preserving and protecting films as part of our cultural "family album". So many early films have been lost because the studios simply didn't think they would be anything anyone would care about down the line and many weren't taken care of or were thrown away.

Every year, 25 films considered worthy and voted on by a board get added to the Film Preservation Registry to ensure that these films of all made get protected for future generations to get a glimpse of who we were at the time the film was shot. In addition to films that are nominated by the board members, they take into serious consideration fan nominations. Let's start a campaign to nominate Mr. Waters films! All you have to do is click the link below and nominate!

Visit the National Film Registrty site to nominate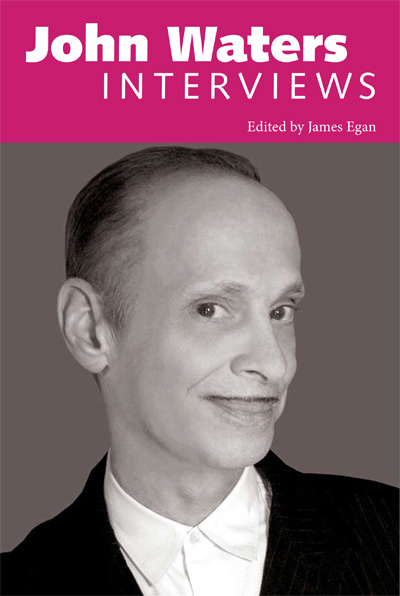 June 29, 2011

As we wrap up June and head into Summer, there are quite a few things to let you know about.

The most exciting news is the annoucement of John Waters Interviews, a new collection of interviews, edited by James Egan, spanning Waters' career from 1965 to 2010.

Mr. Egan is himself an award-winning, independent filmmaker and professor of film at the Graduate School of Cinematic Arts at USC. The book, to be released in October, is the latest in the series Conversations with Filmmakers, published by the University Press of Mississippi.

Professor Egan has assembled a collection of the most enlightening interviews and articles that have defined the career of our hero. He brings a unique personal perspective to this anthology, as he has been a friend of Mr. Waters since 1973 while working with him on the production insurance for Female Trouble and Desperate Living. Spending time on the set, Egan got to witness Waters work at a seminal time in his directing career, and has also maintained a close relationship with many of the Dreamlanders.

To suport the publication, on October 14th, the USC School of Cinematic Arts will be honoring Mr. Waters as part of their Visions & Voices series with a screening of Pink Flamingos, plus a Q&A with Mr. Waters, led by Mr. Egan.

The book will also be launched in New York on November 17th at the Museum of Modern Art, with a special retrospective evening of Mr. Waters' contribution to American cinema. Stay tuned for more details!

BUY IT! John Waters: Interviews


In other news...

Beginning July 1, Shooting People are inviting filmmakers to submit work for their July edition of Film of the Month, which is being judged by John Waters. This is a rare chance for three filmmakers to get their work in front of Mr. Waters, who will watch and give feedback on each of the films, selecting his favourite. This film will become Film of the Month.
Visit Shooting People for more info

Waters appeared at the Bonnaroo Music and Arts festival this month. Check out the link below for some great photos from Todd Fixler.
Visit Fixler's Flickr

There's a new zine on the stands, and it's name is Little Joe. Described as "a magazine about queers and cinema, mostly," their second issue features an interview between Waters and the Tate Modern's curator of film Stuart Comer. Thanks to Connie for the news.
Visit Little Joe for more details

Mr. Waters will be appearing in-person at the Horrorfind Weekend in Pennsylvania in September to sign autographs and a photo op. Check out the link below for details.
Visit Horrorfind

Dreamland superstar Mink Stole has launched a Kickstarter campaign to raise funds to finish a new CD. Mink can be found on Facebook, and there's a link below to her fundraising campaign. Give a girl a hand-out! Thanks to James for the tip.
Donate to Mink's Kickstarter Campaign

And finally, if you think it's too early to plan for Christmas then you haven't read Why I Love Christmas! Dates have been released for a John Waters holiday tour starting in November. Check your local venues for ticket information...
11/30 Jacksonville, FL
Lyric Theater

12/02 Austin, TX
Paramount Theatre

12/05 London, UK
South Bank Centre

12/09 Baton Rouge, LA
Manship Theatre

12/10 Boston, MA
Berklee Performance Center

12/11 Portland, ME
State Theatre

12/14 Madison, WI
Barrymore

12/18 Alexandria, VA
Birchmere

12/19-20 New York, NY
BB King's

12/21 Baltimore, MD
Lyric Theatre

May 15, 2011

Lots of tidbits to report this week.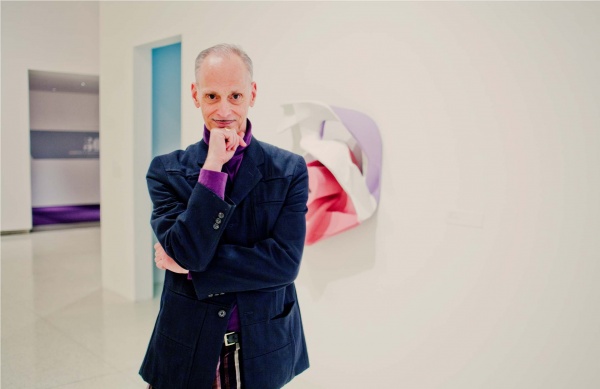 Minneapolis! Head on down to the Walker Art Center, because your local museum is hosting an not-to-be-missed exhibition curated by Mr. Waters. "Who should room together in the world of contemporary art? Can a Russ Meyer photograph go to sleep in the same gallery as an Yves Klein blue chip masterpiece?"

His contribution, Absentee Landlord, is part of the exhibition Event Horizon, and reinvents the galleries as rental apartments that contain "roommate" artworks that may be friendly or belligerent, unruly or reserved, supportive or indifferent. In exploring the tensions and connections among disparate works in the Walker's wide-ranging collection, Waters imbues his new role as curator with his trademark blend of subversion and insight. The show features works from Jack Pierson, Willem de Kooning, Cindy Sherman, Wolfgang Tillmans, John Currin, and a few of his own. Additional interventions by Waters throughout the museum incorporate surprises into activities like parking the car, checking in at the visitors' desk, or ordering food in the café. Thanks to Kaleb for the tip.

Read what Mr. Waters has to say about the exhibition.

More info @ Walker Art Center

Mr Waters is the cover star of horror magazine Rue Morgue, and in addition to the article about him, drag legend Peaches Christ picks her all time favorite John Waters movie moments. Thanks to Gary for the news.

Visit Rue Morgue

Two recent documentaries feature commentary from John: Blank City about the New York downtown underground music, art and film scene; and another film, Beautiful Darling, about Warhol Superstar Candy Darling. Both films are playing in festivals and screening in cities around the world, so check the sites below for when they'll be hitting your local art house. Thank you Connie for the news.

Blank City
Beautiful Darling


May 1, 2011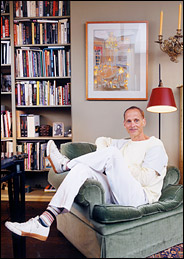 If you live in New York, or even if you don't, you should check out Strand Bookstore's curated collections. The latest batch is from John Waters, and his selections are truly diverse. From fiction to non, pop to politics, the collection runs the gamut. Maybe you'll find inspiration for a good summer read!

Visit StrandBooks.com

And if you live in the UK, you're in luck! Mr. Waters will be appearing at the Festival of Ideas on May 27th, and the Hay Festival on May 28th, in conversation about his latest book, ROLE MODELS. Thanks to Cat for the tips.

Click here for ticket information at the Festival of Ideas

Click here for ticket information at the Hay Festival


March 21, 2011

Hey gang, sorry for the lack of news. I got a few things to relay. John Waters will be making many personal appearances over the coming weeks. Here's a run down.

Mr. Waters will be performing his one man show at Lake Forest College in Illinois on March 24.

He'll be in attendance and participating in events at the Tennessee Williams New Orleans Literary Festival on March 25, 26 (celebrating Tennessee Williams' 100th birthday).

He performs his one man show (as part of the TennCent Festival) at Georgetown University in Washington DC on March 27.

The paperback version of ROLE MODELS will be released in late April. There will be a book tour, so stay tuned for dates.

Speaking of books, there's a new book on HAIRSPRAY that claims to be the "first scholarly work on any of film director John Waters' films?"
Check it out: Hairspray (Wiley-Blackwell Series in Film and Television)


And finally, John will be participating in the Maryland Film Festival as usual in May. Details have not been released yet on what film he will be presenting this year. So check back next month!


February 2, 2011

Check out the video below from last week's Saturday Night Live. John Waters makes a cameo as a creepy host to a teenage dance party - sort of a mix between Dick Clark and Max Headroom via Ed Wood! Do you think he got to meet Nicki Minaj? (Thanks to Devin and Cliff for the news)




If you live in New York, this Friday the Anthology Film Archives will host John Waters Presents Kitten With a Whip, starring the incomparable Ann Margaret, a special screening as part of Anthology's 40th Anniversary. Thanks to Connie for the tip.


> Visit Anthology Film Archives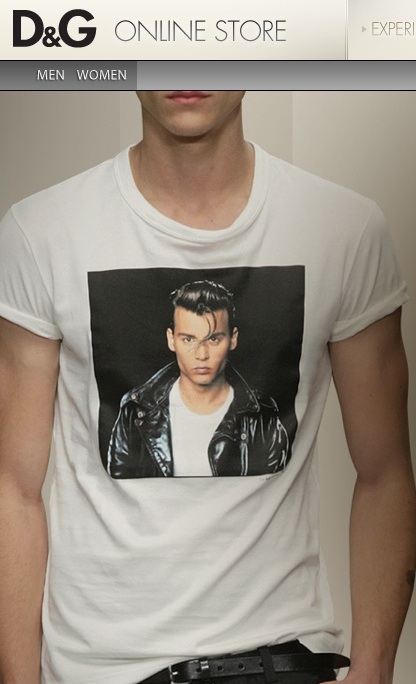 And here's a bit of fluff... the latest collection from D&G features a t-shirt emblazoned with the image of Johnny Depp as Cry Baby! How did this come about? And was it sanctioned? Let's hope so!
Thank you to Peter for sending the image.