Dreamland News


September 24, 2012

It's been a long summer, but now I'm back and I have quite a few updates to share. Buckle up!


In case you've been living under a rock, there is a very important election coming up this November. And we have a rare weigh in from John Waters, although with his own twist. Ban heterosexual divorce! Check out the clip above with Mr. Waters and Sandra Bernhard discussing gay marriage and visit theFour.com to get involved.

> The Four.com
If you live in or around Baltimore or Indianapolis, there is a project underway with the Indianapolis and Baltimore Symphony Orchestras called HAIRSPRAY IN CONCERT. Marking the 25th anniversary of the original film, Conductor Jack Everly brings together an all-star cast of Broadway, film and TV stars for the full symphonic production of the Broadway musical, Hairspray. Headlined by Waters, Hairspray: In Concert! will premiere with the Indianapolis Symphony Orchestra Jan. 11-13, 2013, and with the Baltimore Symphony Orchestra Jan. 24-27, 2013.

> Visit IndianapolisSymphony.org or BSOmusic.org
On a related note, and a sad one at that, I'm sorry to announce that Mark O'Donnell, writer and Tony Award winner for "Best Book of a Musical" for Hairspray in 2003, passed away on Monday, Aug. 6. He was also nominated for his work on the musical "Cry Baby" book in 2008. O'Donnell was 58 years old.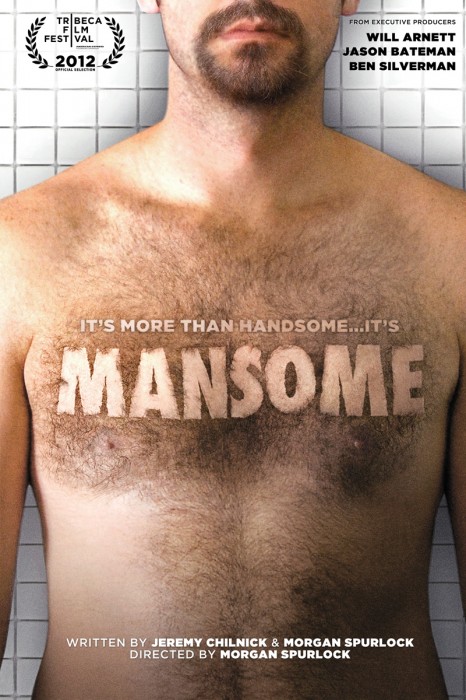 Morgan Spurlock, the director behind the hit documentary Supersize Me has a new film about the art of manscaping called MANSOME. And of course it features Mr. Waters, the possessor of a legendary moustache. It's already played in festivals and is now available on streaming sites. No word on a DVD release yet. Thanks to Mike for the news!

> Stream at Amazon
There's also a new horror movie called Excision that stars Traci Lords as the protagonist's mother (!) and also featues a cameo by John Waters. It's doing the festival circuit, so check the site and Facebook for screenings near you. Thanks to Mathieu for the tip!

> Excision the Movie
A old-school Dreamland player has passed away, as reported in the Baltimore Sun. Jackie Zajdel, who was a personal friend of Divine, having met in beauty school, and a hairstylist in her own right, played the character Meryl in Pink Flamingos. She was 67 and quite a character. Read the obit below.

> Read Jackie's Obituary
And finally, there are two tour schedules to share, including performances of THIS FILTHY WORLD and the legendary JOHN WATERS XMAS show.

THIS FILTHY WORLD
Sep 25 - Grand Rapids, MI ArtPrize
Nov 9 - New London CT Garde Arts
Feb 1 - Pittsburgh, PA The Andy Warhol Museum
Feb 2 - South Orange, NJ South Orange Performing Arts Center
Feb 8 - York, PA The Strand Performing Arts Center
Feb 9 - Wilmington, DE The Grand Performing Arts Center

A JOHN WATERS XMAS
Nov 29 - Trocadero, Philadelphia PA
Nov 30 - Lupo's, Providence RI
Dec 1 - Barvedon Opera House, Pougkeepsie NY
Dec 2 - Empire Center at The Egg, Albany NY
Dec 3 - Tarrytown Music Hall, Tarrytown NY
Dec 4 - Belly Up, Solana Beach (San Diego north) CA
Dec 5 - House of Blues, Las Vegas NV
Dec 6 - Wilshire-Ebell Theatre, Los Angeles CA
Dec 7 - The Knitting Factory, Boise ID
Dec 8 - Scottsdale Performing Arts Center, Scottsdale AZ
Dec 9 - Raritan Valley Community College, Branchburg NJ
Dec 10 - The Birchmere, Alexandria VA
Dec 13 - Variety Playhouse, Atlanta GA
Dec 14 - Mill City Nights, Minneapolis MN
Dec 15 - Royal Oak Music Theatre, Detroit MI
Dec 16 - (venue TBA) Rochester NY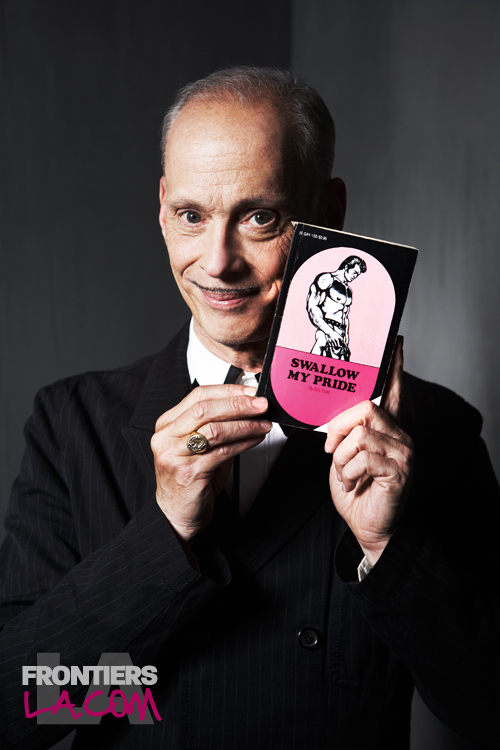 June 28, 2012

John Waters will be the honored guest at this year's OUTFEST in Los Angeles. It's their 30th anniversary (!) and in addition to bestowing their annual achievement award to Waters, they will also screen Desperate Living. The festival runs from July 12-22.

> Visit Outfest.org for a full schedule of events

Also out of L.A., Frontiers magazine has a tremendous interview with the auteur from his summer residence. He talks about his upcoming work, including a new book called Carsick!

> Read the interview on FrontiersLA.com

June 22, 2012

A sad note today, as we have learned that underground legend Susan Tyrell passed away on Saturday. Dreamland Fans will know her as the matriarch in Cry Baby, Ramona Rickets of Turkey Point!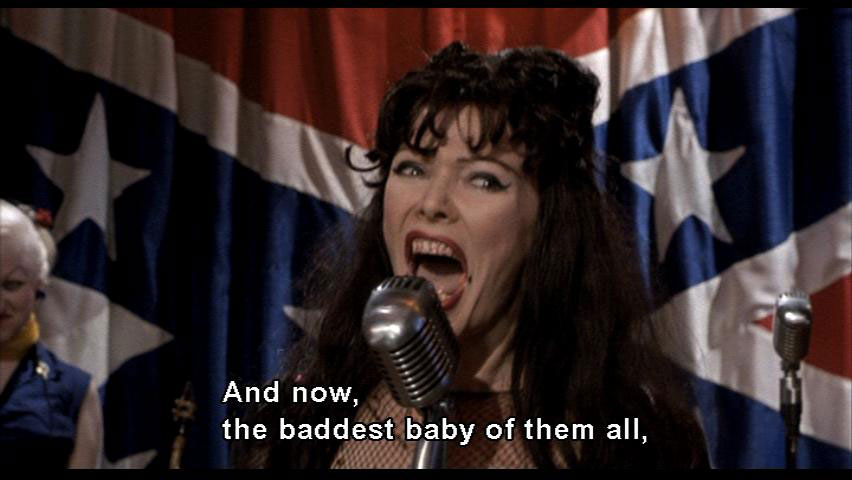 Susan was an Oscar nominanted actress and stage legend, and she will be missed.
Thank you to Eric and James for the news.

> Read her Obit in the New York times

Tonight on the Cooking Channel, John Waters will appear on The Culinary Adventures of Baron Ambrosia, a preposterously titled show that doubles as a cross-country adventure. The episode takes place in Baltimore, natch.

> Check your listings for air times
And finally for today, if you're in the pacific northwest, Mr. Waters will be appearing at the Bumbershoot Festival in September. Thanks to AW for the tip!

> Visit Bumbershoot's site for more info


May 22, 2012

Last week I wrote about an unexpected incident of John Waters hitch hiking in Ohio. He was picked up by the band Here We Go Magic, and they published photos of themselves with him. Some additional shots are below.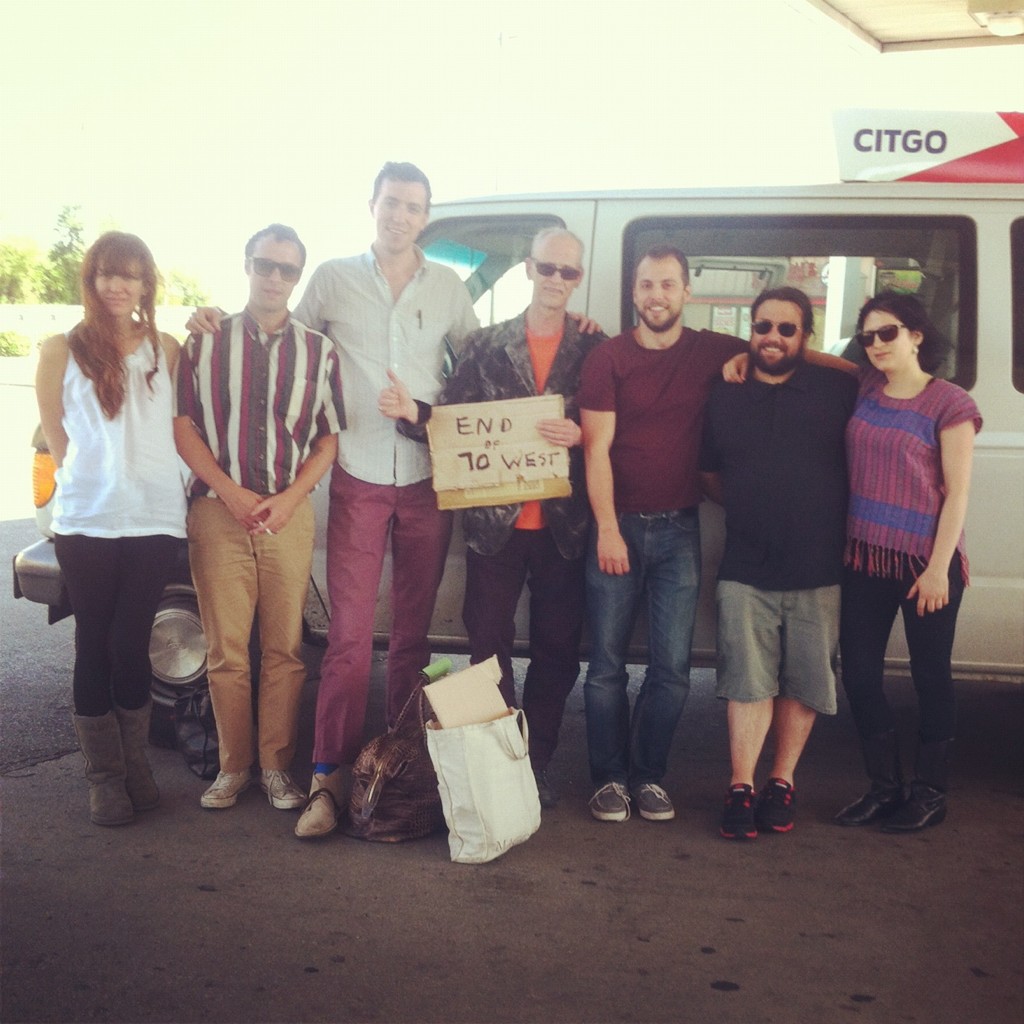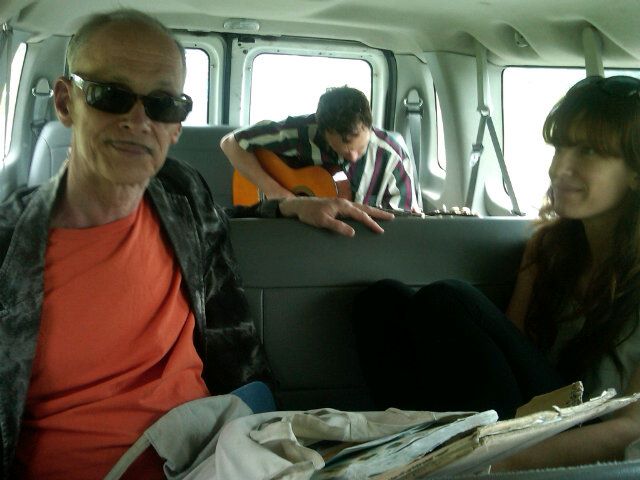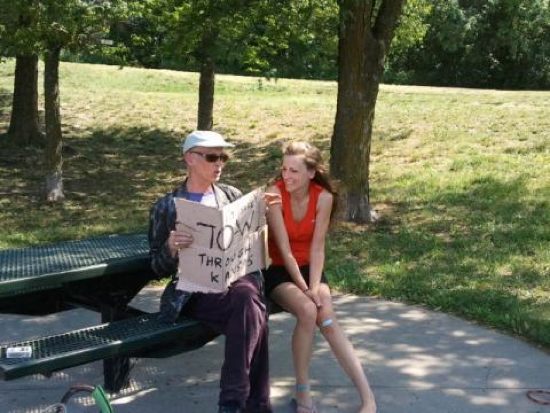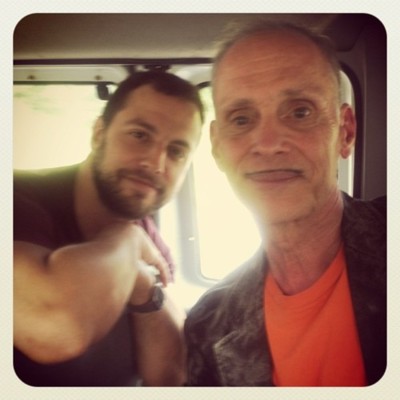 What I didn't know at the time is that he is in fact hitch hiking his way across America, from Baltimore to California, and writing about his experience. Amazing! There are already two more reported sightings!

Before the trip with HWGM, he was picked up by a town councilman, Brett Bidle, from Myersville, MD who drove Mr Waters to Ohio on his way to Missouri.

Read more

Later on, he was picked up by a married couple from Illinois who drove him clear across Kansas on their way to a vacation in the Rockies!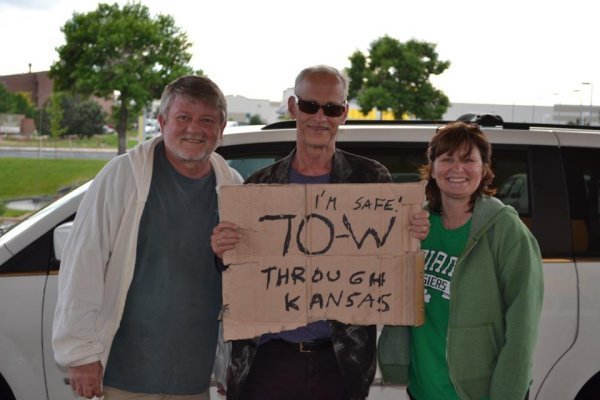 Apparently it was a pretty long drive filled with lots of conversation, and John bought them lunch. According to the article, he is writing about his experience. Let's wish him a safe journey, and look forward to seeing the results of his cross-country odyssey!

Read more


May 16, 2012

So here's an unexpected story. The band Here We Go Magic, a bubbling-under indie band from Ohio, were travelling in their van when they passed a hitch hiker. And who do you suppose it was?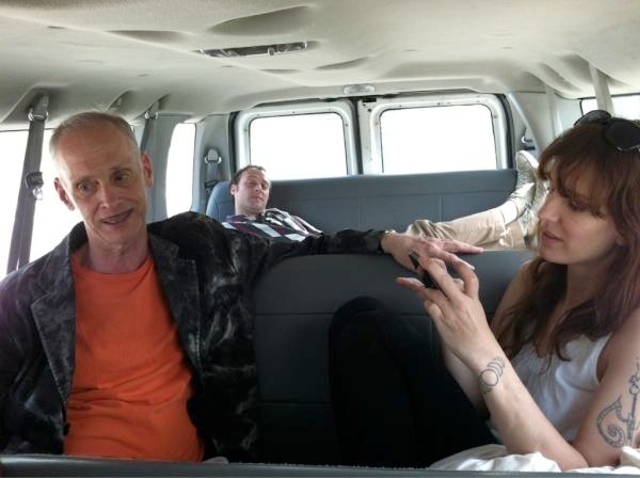 Seems kind of hard to believe, but the band have released a statement AND a photo. So it's gotta be true! The internet doesn't lie.

Read the full story at the DCist

March 25, 2012


With Easter rapidly approaching, you'll be pleased to know that John Waters appears as Jesus in Mangus, a new film by Ash Christian. The movie is about a high school senior who hopes to fulfill his family's tradition of playing Jesus in the local annual production of "Jesus Christ Spectacular." The movie also stars Jennifer Coolidge and Heather Matarazzo. Thanks to Kaleb for the tip!

Check out Mangus! on Amazon
Hazel from Rookie Magazine has a photo tour of John Waters home, including shots of his eclectic art collection, CDs he's been listening to, some of his favorite books, and even his work space! Thanks to Sean for the news.

Check it out!
March 19, 2012
If you're in the New York area, John Waters will be performing his one man show at City Winery on June 22 and June 23. And if you really want a once-in-a-lifetime opportunity, the venue is offering a meet-and-greet dinner with the artist himself!

Click here for ticket info

Also, check out the Fans section for a brand new entry from Blondie Nation!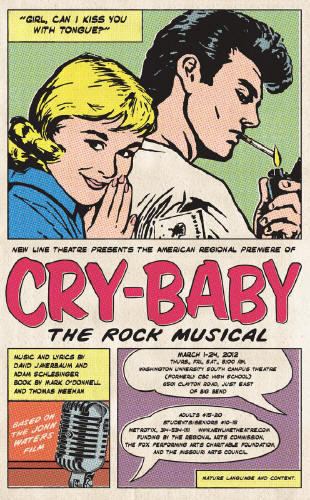 February 25, 2012
Hi everyone - it's been a slow news season, but hey, that's winter for you!
Anyway, there is some crazy news I just got - if you live out in St. Louis, MO, you are lucky! For the New Line Theater is about to restage the CRY BABY MUSICAL. That's right, the show that was on Broadway in 2008 gets a new life out west, starting March 1, 2012.

CRY-BABY has a score by David Javerbaum (The Daily Show) and Adam Schlesinger (Fountains of Wayne), and a book by Mark O'Donnell and Thomas Meehan. O'Donnell and Meehan also adapted John Waters' Hairspray for the musical stage.

Click here for Tickets
December 29, 2011
As they do at the end of each year, ArtForum magazine has published John Waters favorite films of the year. Catch 'em in the theater if you can - and for the rest, get thee to Netflix! Enjoy!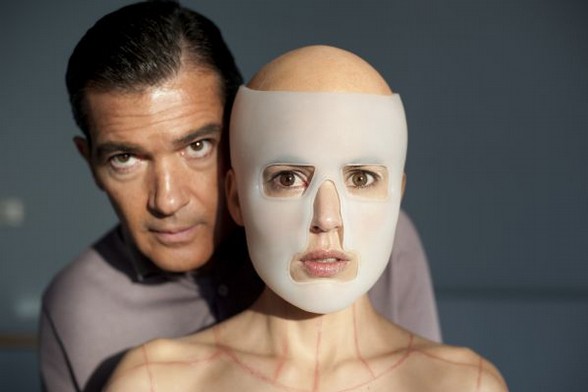 1. The Skin I Live In (Pedro Almodovar)
A dark, twisted, beautiful, and, yes, funny shocker from the greatest director in the world. God bless you, Pedro Almodóvar!

2 Mildred Pierce (Todd Haynes)
This elegantly shot, pitch-perfect made-for-TV melodrama makes everyone who watches secretly yearn to be a woman with issues. The best period film in decades—period.

3 Justin Bieber: Never Say Never (Jon M. Chu)
I'm not kidding. A well-made doc that proves the Bieb was a child prodigy. Wait until you see Justin stick his head into the audience and shake his hair in 3-D. I screamed.

4 Hadewijch (Bruno Dumont)
In this grim, fiercely uncommercial movie, a fanatical Catholic young lady from a rich family hooks up with a handsome male Muslim terrorist, and together they blow up a commuter train. Love is strange, especially when God is involved.

5 Kaboom (Gregg Araki)
A sexy, well-written, end-of-the-world comedy that succeeds beyond all expectation. Doomsday never looked so hot.

6 If a Tree Falls: A Story of the Earth Liberation Front (Marshall Curry and Sam Cullman)
This sad documentary debates the regrets of radicalism as a pack of lunatic-kid tree huggers get caught up in frenzied activism and are suddenly accused by the government of terrorism.

7 The Tree of Life (Terrence Malick)
You'd think I'd hate this film, and I almost did—until I realized it's the best New Age, heterosexual, Christian movie of the year.

8 I'm Glad My Mother Is Alive (Claude and Nathan Miller)
This beautifully acted French film is a tragic, harrowing warning to all adoptees: Finding your real-life birth parents isn't always such a good idea.

9 We Were Here (David Weissman)
Half my friends died of AIDS, so this simple and painfully told doc on the disastrous epidemic's effect on San Francisco is personal. If you don't sob watching, maybe you should be dead too.

10 Uncle Boonmee Who Can Recall His Past Lives (Apichatpong Weerasethakul)
A spooky, witty, never pretentious meditation on the otherworldly lust of ghosts and wild animals. Aren't you glad art films don't get test-screened?