Dreamland News
December 10, 2013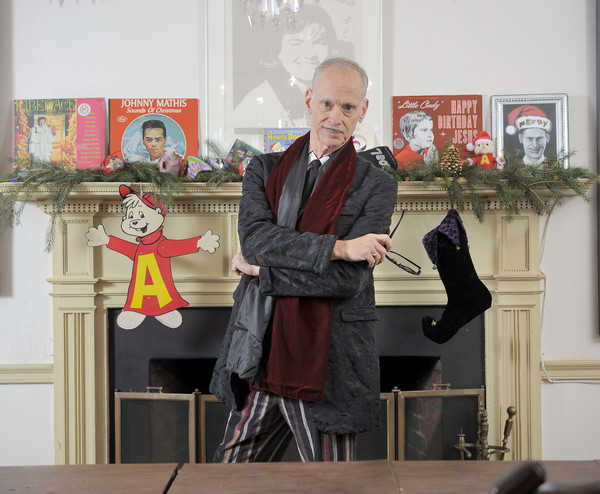 The Christmas season is upon us, and there are already a few treats arriving for you Dreamlanders to snack on. First up is a feature in the Baltimore Sun of John Waters' home during the holidays, including a description of his annual Christmas party, and a photo gallery of some of his favorite decorations.

Read the article in the Baltimore Sun
View the photo gallery
Next up is his annual list of the Top 10 Movies of the Year for Artforum. And his favorite of 2013? The tongue-wagging scandal-baiting SPRING BREAKERS starring James Franco, Selena Gomez and various other Disney tramps.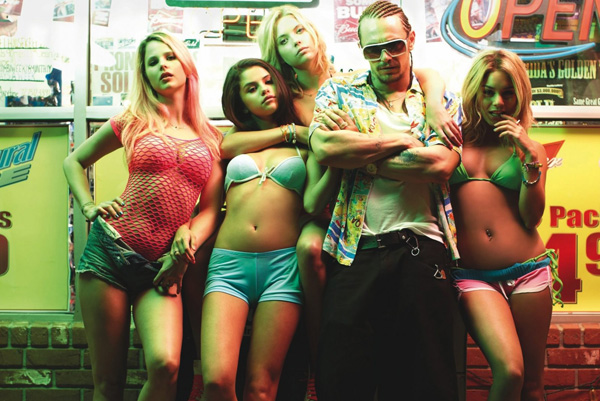 Read the entire list at ARTFORUM
And finally, there are a couple of holiday related interviews from Time Magazine and the New York Times (by Guy Trebay) that are worth a read. Check 'em out at the links below. And if you don't hear from me before end of year, I hope you get those cha-cha heels.
Time Magazine Interview, December 2013
New York Times Interview with Guy Trebay, December 2013
November 22, 2013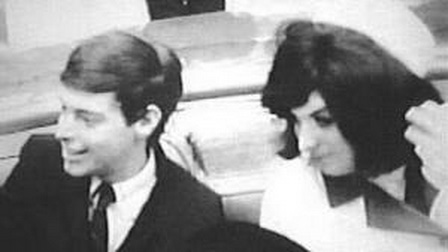 November 20, 2013
We have a few tasty tidbits to share this week. First up is that John Waters will be doing a tour for the holidays. Makes a great Christmas present for the pervert in your life. Check you local listings for ticket details!
12/1: Chicago, City Winery
12/5: Seattle, Neptune)
12/6: Portland, Alladin
12/10: New Orleans, Civic Theatre
12/11: Nashville, War Memorial
12/12: Atlanta, Variety Playhouse
12/13-14: New York City, Stage 48
12/15: Boston, Berkelee Theatre
12/18: Alexandria, VA, The Birchmere
12/19-20: Baltimore, Soundtstage
And if you live down under, you're in luck! Waters will also be performing three shows in Austraia in the new year. Here are the details. And thanks to Paul for the tip!

3/6: Adelaide, Elder Hall
3/9: Sydney, Opera House
3/10: Melbourne, Arts Centre Melbourne, Hamer Hall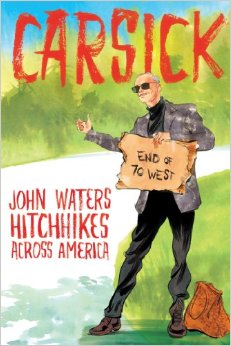 Next, we're excited to announce that John's new book CARSICK is up on Amazon for pre-order! It's still a ways off (June 3!) so try to be patient, and put it in your shopping cart for safe keeping. Thank you to those who emailed me with the link.
Pre-Order Carsick: John Waters hitchhikes across America
John recently performed in Liverpool, England, and did an enjoyable interview for the Guardian before hand, talking about hitchiking, his youth, personal life, and his future in filmmaking. Thank you to Andy for the link.

Read the Guardian Interview
On February 20th, Mr. Waters will be in Lawrence, Kansas for the 100th birthday celebration of his hero (and mine!) William S. Burroughs. There will be an exhibit of Burroughs' work at Kansas University, and as part of the festivities, Waters will perform at the Lawrence Arts Center. Tickets are available at the link below. Thanks to Lindsay for letting us know about this special performance.

Click here for tickets to John Waters at The Lawrence Arts Center
And finally, tickets are on sale for a talk with John Waters and Jeff Koons, set to take place in Los Angeles on February 24 at The Broad. This is a rare chance to see two provocative artists as they discuss Koons' work live - in the flesh! Kudos to Hiland for the heads up.
Click here for tickets to see Jeff Koons and John Waters at The Broad
October 16, 2013
Dangerous Minds have unearthed a few video gems this week. Here's a clip of John Waters giving a tour of Baltimore for the news cameras in 1981, including a pop-in at Edith Massey's shop.
And a trailer for what must have been a film series curated by Waters the same year. I'm not sure where it screened, but it was Rated R - for REPULSIVE!
October 12, 2013
Turner Classic Movies' Star of the Month is Vincent Price: appropriate for October! And John Waters has provided his thoughts on the actor's career in this promo video running on air on TCM.


Mr. Waters continues to tour THIS FILTHY WORLD. Here's some upcoming dates and cities. Check it out!

October 19 – Santa Fe Independent Film Festival; Santa Fe, NM
November 8 – Homotopia, Liverpool UK
November 14 – Key West Film Festival
November 23 – Yoshi's, San Francisco (2 shows, 8 and 10pm)
If you're in the Oakland area, check out the Transmission Gallery's current show, The Indisputable Still Life, featuring some of Waters' origianal artwork. It's up through November 16.

Visit Transmission Gallery
September 19, 2013
The Baltimore Sun has an article and interview with Pat Moran, the Dreamland casting director's, all about her office in the neighborhood of Canton.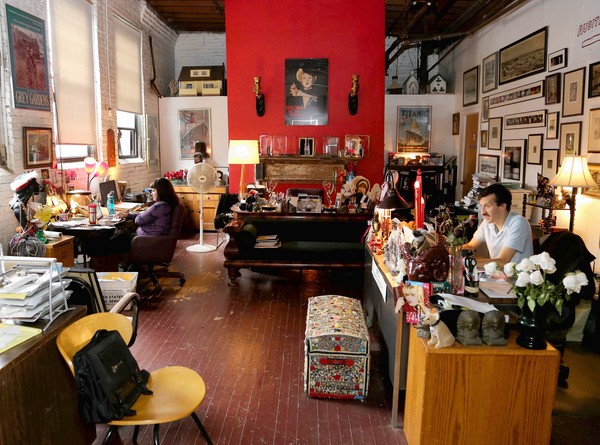 Read the article at BaltimoreSun.com

September 12, 2013
Here is a lovely interview with John Waters from TheCredits.org, a site that appears to be affiliated with the MPAA! Kind of an odd pairing, but the results are great. Enjoy!
Singing for his Supper: 7 Questions With Icon John Waters from The Credits on Vimeo.
August 27, 2013
Despite the sadness of Jean Hill's passing, there was also some uplifting news for the Dreamland crew last week. On Friday, August 23, 2013, Dreamlander and former Buddy Deane Show dancer, Channing Wilroy married his longtime partner, Aldo Labartino at a ceremony in Provincetown, MA. The wedding was officiated by John Waters, who is a Universal Life Church minister! Here are a couple pictures of the blushing grooms and Mr Waters on the day of.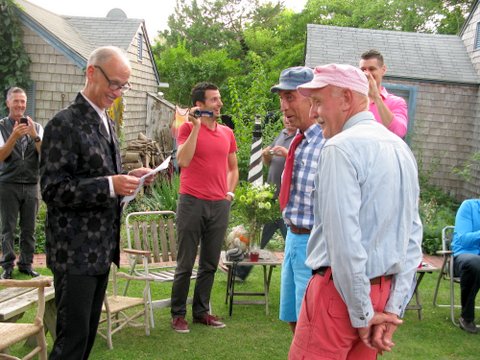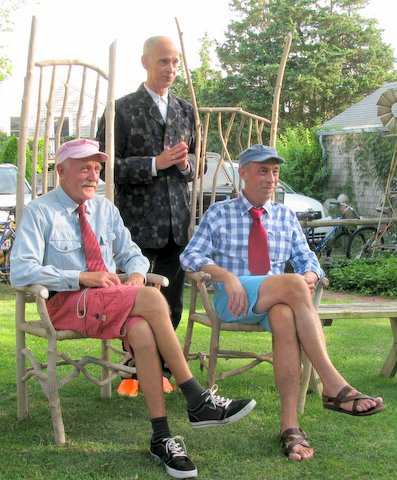 Don't they make a handsome couple in their hats, ties and shorts?
August 23, 2013

It's with great sadness that I bring you the following news: Dreamland legend Miss Jean Hill died on August 22. Starring in Desperate Living as disgruntled maid Grizelda and following that up with a cameo in my favorite, Polyester, Jean made a big impression on Dreamland Fans over the years.
Here's a photo of me and Jean from the premiere party for A Dirty Shame, in which she also appeared. An official obit is forthcoming from the Baltimore Sun.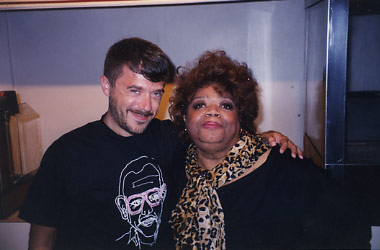 Thanks for the memories, Jean. May you rest in peace.
UPDATE:

The Baltimore Sun has published a thorough and thoughful obituary for Jean, including quotes from John Waters, Pat Moran and other Dreamland members.

Read Jean Hill's Obituary in the Baltimore Sun

And if you live in or around Baltimore, a Going Home service for will be held on Wednesday, August 28th at St. Peter Claver Church, 1526 N. Fremont Ave. Everyone is welcome to attend. The wake will be from 10:00a.m. until 11:00a.m. at the church with the funeral service beginning at 11:00a.m. Interment will take place immediately after the service at the New Cathedral Cemetery, 4300 Old Frederick Road, Baltimore.
June 29, 2013

Happy Gay Pride weekend, y'all. If you're in the New York City area for Pride this year, you can catch John Waters performing his one man show at City Winery downtown in the Tribeca neighborhood. It's an intimate venue with an option for a meet and greet dinner. Tickets still available!

Check for tickets

June 7, 2013

HEY KIDS! Boy that was a long break. Sorry for the delay in news, but I had some personal shit to deal with, part of which required a new laptop which is here and working great! So thanks to all who have donated and continue to donate to Dreamland. Now, on to some news!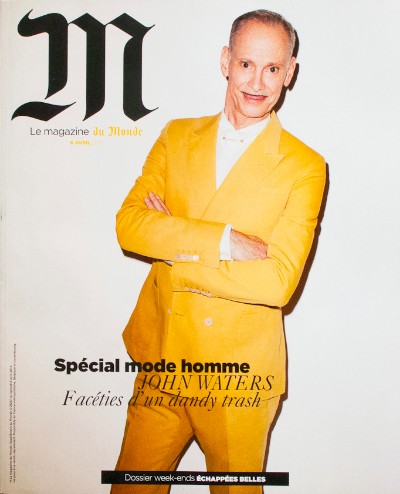 Back in April, John was featured on the cover of the magazine by Le Monde in Paris, complete with fashion spread by one of my favorite photographers, the pervy Terry Richardson! As is customary on Terry's shoots, the subject always gets a shot of themselves in Terry's trademark frames. WITNESS: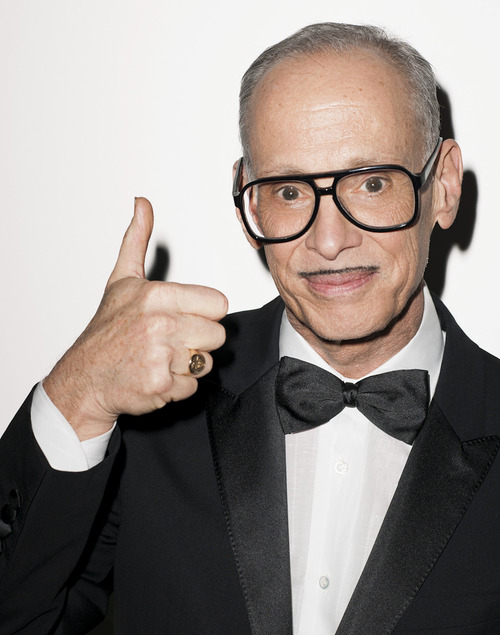 And as John prepares for some speaking engagements, he's also doing a round of press. Check out this recent interview from the Windy City Times in which he discussed his new book CARSICK, as well as more traditional fare like poppers and catholicism! Thanks to Sean for the link.
Read the Windy City Times interview
And here's another one from Sean, this time from HuffPo, all about Bieber, the Wire and Governor O'Malley, for those of you locals.
Read the Huffington Post interview
OK - I promise no more 3 month hiatuses. If you got news, send it my way.
March 9, 2013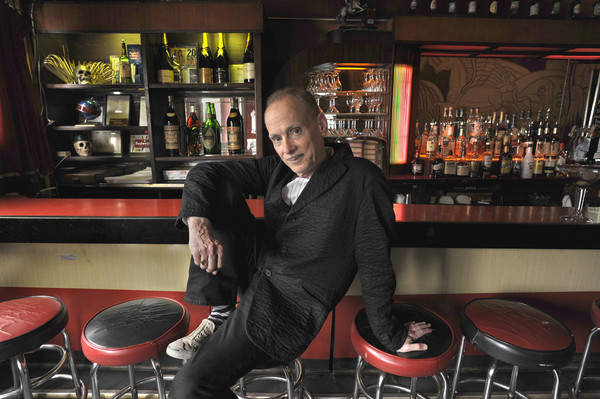 John Waters is in Brussels this weekend for the Offscreen Film Festival - a celebration of camp and trash cinema - where he'll be performing "This Filthy World" tonight! And they will be screening all his films from Pink Flamingos to A Dirty Shame, and the documentary I Am Divine. Check out their site below, and Agenda Magazine for a new interview. Thanks to Gerd for the news!

Visit Agenda Magazine.be

Visit Offscreen Film Festival's Site

Stateside, he'll be performing his show at a few spots in the coming months...

April 4: Edinboro University, Edinboro PA

May 15: Howard Theater, Washington D.C.

May 21: The Harris Theatre, Chicago, IL

October 1: Out In The Open: The Orlando Gay Film Festival, Orlando, FL

He was spotted last month at Elton John's annual Oscar party to benefit the Elton John AIDS Foundation. (Thanks to Mike for the news.) And finally, here's some shots of Mr. Waters at the Independent Spirit Awards last month, looking dashing in a vibrant red Paul Smith suit, a departure from his traditional Comme des Garçcons blacks and blues. Looking good John!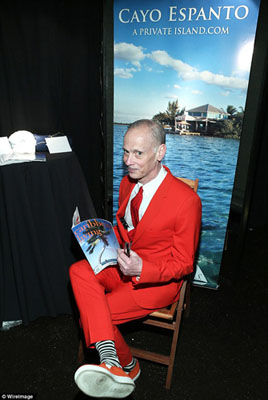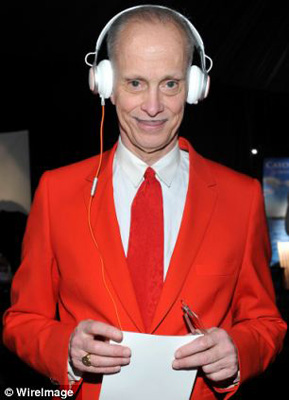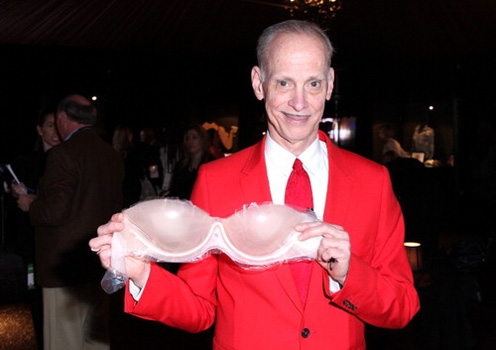 January 14, 2013

More news from Pittsburgh! The Warhol Museum will be hosting an intimate gallery talk with Mr Waters for it's Regarding Warhol, Sixty Artists, Fifty Years exhibit on Thursday, January 31 at 8:30pm. This unique opportunity is limited to 30 persons, so act quick if you want to sign-up! Tickets are $150 and can be purchased by visiting warhol.org or calling 412.237.8300. Thanks to Sean for the news!


January 5, 2013

Happy New Year! And happy new news...

John Waters will be performing his show This Filthy World at the start of February in Pittsburgh and South Orange, NJ. Here's the details:

Pittshburgh, PA
February 1
8pm at The Carnegie Music Hall, hosted by the Andy Warhol Museum

South Orange, NJ
February 2
8pm at the South Orange County Performing Arts Center

He'll also be at the Offscreen Film Festival in Brussels, Belgium on March 9 and 10.

The Hairspray: In Concert series is scheduled for performances in Indianapolis and Baltimore. John has written and will deliver narration for the show that will include all the great music from the Broadway show - and even some great actors who will perform vignettes from that show.

He is also at work on a new book called CARSICK that chronicles his hitchhiking trip from Baltimore to San Francisco this past May.

The Roxie Theatre in San Francisco has a Kickstarter campaign to help keep their doors open and the screen lit. And of course, Mr Waters has contributed by making this video to guilt you into donating! DO IT, or he'll kick your ass!


The Roxie appears to have met their goal of $60,000 already, which is great news!

And finally this month, it's with great sadness that report on the passing of a legend. Not a Dreamland legend per se, but someone who inadvertently found themselves as the soundtrack to the most legendary John Waters scene of all time: Miss Patti Page. Her rendition of "How Much Is That Doggie In The Window" accompanies Divine in Pink Flamingos as she proves that she is truly the filthiest person alive. What you are about to see is a REAL THING!