DREAMLAND FANS

The latest fan is
Heather Jones

The whole gang:

Aili Alechnowicz
Alana Miller
Babs Johnson
Billy Franklinstine
Blondie Nation
Brooke Garr
Chakatreatment
Chie Kato
Chris Hilbert
Chris Wilembrecht
Curt Marcucci
Daniel Diamond
David Robert Crews
David Gouny
David Heulun Jones
David McNeil
David Robert Crews
Davide Scovazzo
Della Deluxe!
Devileen
Duncan Craig
Erik Weber
Eugene Schroeder
Eve Severe
Gretchen and Kevin
Grizelda
Guy Mazzaglia
Heather Jones
Hex and Dze
Hioni
Jackie Divine
Jacopo Coccia
Jim Hollenbaugh
Joanna Satana
Jeff Smith
Jerry Kochendoerfer
Jimmy Pio
Josh West
Julie Taylor
Kaleb Bronson
Karie Sprockethole
Kevin Johnson
LULU
Lurleen
Lynda L. Hinkle
Marko Sosic
Massimiliano d'Italia
Maxwell Drake
Michael Simmons
Mink Dagger
Mister OohLaLa
Orchidbau
Polyester
Polly [Esther] Styrene
Poshgrrrl
Rinaldo
Robert Geise
Sebastian
Shaboobie Boobarella
Simply Divine
Sky Rockford
Tom Korzeniowski
Trevor Robinson
Uvula Dangles
Vanamal Lucifer
Yakov Levi
Yong Kim
Zero Renton Prefect

How do I become
a Dreamland Fan?
Ossessione Italia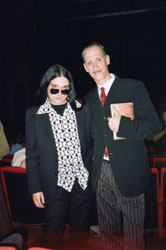 Hi there moviegoers,

This is Davide Scovazzo from Genova, Italy. I am the long-haired guy in the picture with the "Pope of Trash", the others are the cast of the short movie I wrote and directed, "PINK FILM" (nothing in common with "Pink Flamingos", just an hommage in the title and in some scene details....most like a sort of early Jim Jarmusch meets Cipri' and Maresco on Candy Darling's grave, they say, but with a very gloomy, sooo italian mood....), a little cult of melancholy and surrealism with a Man-Child, a Transvestite, a Geisha, a Sado-Dominatrix and a Fatso who acts like Elvis Presley among the rubbish and the syringes in an abandoned industrial zone.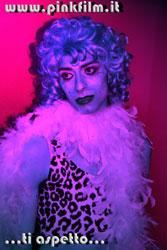 Check the website www.pinkfilm.it

I actually met John Waters in Torino, at a movie festival called "From Sodom to Hollywood", hosted by Platinette, Italy's most famous drag queen, a sort of clone of Divine. I hadn't been so excited since I met Alejandro Jodorowsky here in Genova, and I must say Waters is a very polite and well-mannered guy, a real Lord. He autographed my copy of Shock Value, stayed and chatted for a while, letting himself be followed by many cameras and posed for pictures with me many times.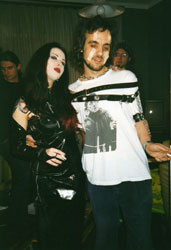 We talked a while and I was trembling ridiculously like a child that pisses in his pants as I told him "ehm...hello, I am a filmmaker. Could you give me an address of yours I can send you my movies to?" He smiled and acted as a gentleman, and gave it to me! He presented "A Dirty Shame", really naughty and rotten to the core.

I shook his hand goodbye soon after Johnny Knoxville filed the screen with sperm, and I must say that it was adrenalinic to think I met the man who, more than any other, signed with fire my own aesthetic world and that he was so gentle and friendly, elegant and, I must say, a little bit shy (man, he's the guy who filmed Divine eathing shit!!!!!!)

Vive le Trash, baby!

kiss