DREAMLAND FANS

The latest fan is
Heather Jones

The whole gang:

Aili Alechnowicz
Alana Miller
Babs Johnson
Billy Franklinstine
Blondie Nation
Brooke Garr
Chakatreatment
Chie Kato
Chris Hilbert
Chris Wilembrecht
Curt Marcucci
Daniel Diamond
David Robert Crews
David Gouny
David Heulun Jones
David McNeil
David Robert Crews
Davide Scovazzo
Della Deluxe!
Devileen
Duncan Craig
Erik Weber
Eugene Schroeder
Eve Severe
Gretchen and Kevin
Grizelda
Guy Mazzaglia
Heather Jones
Hex and Dze
Hioni
Jackie Divine
Jacopo Coccia
Jim Hollenbaugh
Joanna Satana
Jeff Smith
Jerry Kochendoerfer
Jimmy Pio
Josh West
Julie Taylor
Kaleb Bronson
Karie Sprockethole
Kevin Johnson
LULU
Lurleen
Lynda L. Hinkle
Marko Sosic
Massimiliano d'Italia
Maxwell Drake
Michael Simmons
Mink Dagger
Mister OohLaLa
Orchidbau
Polyester
Polly [Esther] Styrene
Poshgrrrl
Rinaldo
Robert Geise
Sebastian
Shaboobie Boobarella
Simply Divine
Sky Rockford
Tom Korzeniowski
Trevor Robinson
Uvula Dangles
Vanamal Lucifer
Yakov Levi
Yong Kim
Zero Renton Prefect

How do I become
a Dreamland Fan?
I now pronounce you...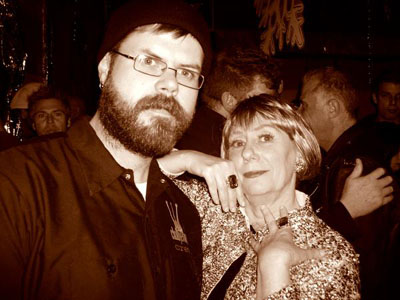 ... a Dreamland Fan!

Kevin Johnson tells us how his love affair with John Waters films led to the love of his life!

"I've been an adoring fan of Mr. Waters' movies for years. I met someone online a year ago and quoting dialogue was what first sparked our friendship. After talking for a month online and on the phone, we met in person to have a John Waters movie marathon night. We fell in love and have been together ever since.

For Christmas I took him to see John's UCLA Xmas show where we met another gay couple, Kevin and Mike. We said "wait, our names are Kevin & Mike." After chatting for a while we discovered they were apartment managers... long story short... we moved into the building they manage at the first of the year and on New Year's Eve went we went to see Mink Stole perform.

I can honestly say if it weren't for John Waters, Mink and the Dreamlanders, I probably wouldn't have found the love of my life who's every bit as sick and twisted as myself... and I certainly wouldn't be living in a legendary building in the heart of Hollywood.

GOD BLESS DREAMLAND and JOHN WATERS!"