DREAMLAND FANS

The latest fan is
Heather Jones

The whole gang:

Aili Alechnowicz
Alana Miller
Babs Johnson
Billy Franklinstine
Blondie Nation
Brooke Garr
Chakatreatment
Chie Kato
Chris Hilbert
Chris Wilembrecht
Curt Marcucci
Daniel Diamond
David Robert Crews
David Gouny
David Heulun Jones
David McNeil
David Robert Crews
Davide Scovazzo
Della Deluxe!
Devileen
Duncan Craig
Erik Weber
Eugene Schroeder
Eve Severe
Gretchen and Kevin
Grizelda
Guy Mazzaglia
Heather Jones
Hex and Dze
Hioni
Jackie Divine
Jacopo Coccia
Jim Hollenbaugh
Joanna Satana
Jeff Smith
Jerry Kochendoerfer
Jimmy Pio
Josh West
Julie Taylor
Kaleb Bronson
Karie Sprockethole
Kevin Johnson
LULU
Lurleen
Lynda L. Hinkle
Marko Sosic
Massimiliano d'Italia
Maxwell Drake
Michael Simmons
Mink Dagger
Mister OohLaLa
Orchidbau
Polyester
Polly [Esther] Styrene
Poshgrrrl
Rinaldo
Robert Geise
Sebastian
Shaboobie Boobarella
Simply Divine
Sky Rockford
Tom Korzeniowski
Trevor Robinson
Uvula Dangles
Vanamal Lucifer
Yakov Levi
Yong Kim
Zero Renton Prefect

How do I become
a Dreamland Fan?
Sky Rockford is a SCRAPE... part Square - part Drape!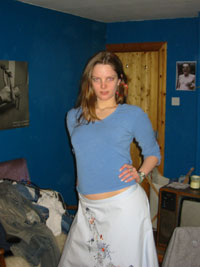 I'm am a third year student studying Visual Culture in England and I am writing my Dissertation on John Waters, (concentraiting on him and his fans).

My first encounter with John Waters was at 12 when I watched a late night screening of Cry Baby. The 1950's backdrop appealed to me, the women were curvy and then men had quiffs, less mainstream, more dangerous than Grease.

The cast was full of people I recognised like Iggy Pop, Johnny Depp and Rikki Lake. I was stuck in an all girls comprehensive in Kings Cross, London, dreaming of co-education and Cry Baby seemed to have all the answers.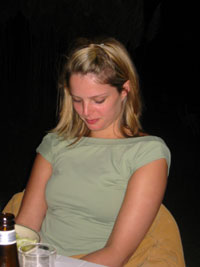 The character Alison Vernon Williams who transforms from boring, well behaved bourgeois girl to sexy Scrape - part Square, part Drape - really apealed to me. Here was somebody who was made better by constructing a character from the sum of her several parts instead of having to trade in one aspect of her character for another. She has her cake and eats it too and who wouldnt if Johnny Depp was involved!

I taped the film and watched it about 3 times a week until it got recorded over by a bored family member. Devastated I had to find out more: who made the film? What else had he made? It was amazing and sooo different from my school in North London. I loved the style, bad boys, bad girls, the make over and of course Johnny Depp. I desperately wanted to be a drape but unfortunately I think I'm a natural square. Oh well, you cant win them all.

Sky C Rockford