DREAMLAND FANS

The latest fan is
Heather Jones

The whole gang:

Aili Alechnowicz
Alana Miller
Babs Johnson
Billy Franklinstine
Blondie Nation
Brooke Garr
Chakatreatment
Chie Kato
Chris Hilbert
Chris Wilembrecht
Curt Marcucci
Daniel Diamond
David Robert Crews
David Gouny
David Heulun Jones
David McNeil
David Robert Crews
Davide Scovazzo
Della Deluxe!
Devileen
Duncan Craig
Erik Weber
Eugene Schroeder
Eve Severe
Gretchen and Kevin
Grizelda
Guy Mazzaglia
Heather Jones
Hex and Dze
Hioni
Jackie Divine
Jacopo Coccia
Jim Hollenbaugh
Joanna Satana
Jeff Smith
Jerry Kochendoerfer
Jimmy Pio
Josh West
Julie Taylor
Kaleb Bronson
Karie Sprockethole
Kevin Johnson
LULU
Lurleen
Lynda L. Hinkle
Marko Sosic
Massimiliano d'Italia
Maxwell Drake
Michael Simmons
Mink Dagger
Mister OohLaLa
Orchidbau
Polyester
Polly [Esther] Styrene
Poshgrrrl
Rinaldo
Robert Geise
Sebastian
Shaboobie Boobarella
Simply Divine
Sky Rockford
Tom Korzeniowski
Trevor Robinson
Uvula Dangles
Vanamal Lucifer
Yakov Levi
Yong Kim
Zero Renton Prefect

How do I become
a Dreamland Fan?
Doll Parts by Hioni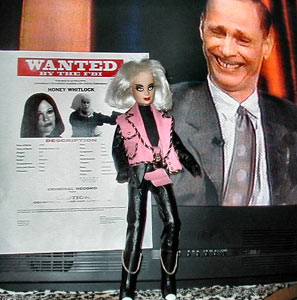 I've been a fan of Waters' work for about 15 years, but it wasn't until I saw Cecil B. Demented that I became inspired enough to do something about it -- create a "Honey Whitlock" fashion doll.

Modifying and customizing fashion dolls seems to have become quite a hobby among doll collectors lately, and seeing their work (regardless of the style or "quality") made me want to try it too. "Honey Whitlock," in her "cinema terrorist" gear, of course, appealed to me especially because Van Smith's designs are so fabulous. In addition, the very idea of a "Honey Whitlock: Cinema Terrorist" doll ran counter to the stereotypical customized fashion doll image -- which often reflects mainstream cinema -- while simultaneously conflicting, at least to some degree, with the anti-commercial message of Cecil and The Sprocket Holes.

All in all, that was just too much irony and satire for me to resist. I had to make one! When I heard that The Seattle International Film Festival would have, "An Evening with John Waters," I knew I'd have to make something to take along. After all, there's no better place to share such projects than in the company of other fans.

In order to have a doll who could strike "action" poses, I chose a "Roxy of the Misfits" from Hasbro's "Jem and the Holograms" line (made in the mid-1980s). "Roxy," who stands 12.5" tall, has a fully articulated body and platinum hair (no roots!) with bangs, so she was sacrificed "in the name of underground cinema."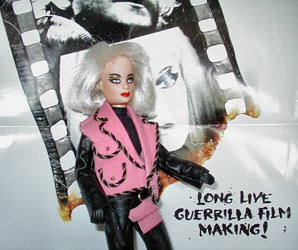 For basic costume elements, I used as many "ready-to-wear" doll clothes as I could find. Specialty items, like the jacket, belt, and holster, were created for me by my extremely talented mother, who also did the facial repaint -- using acrylic paint for the lips and eyes, and gold enamel for the eyeshadow. I didn't have time to really "finish" everything before attending the event (not even sealing the paint!), but I pronounced the doll "good enough for now," and took a few pictures.

It was my ultimate goal to find a sympathetic usher to slip some photos to, so John Waters might perhaps learn that such a doll had been made. Lucky for me, during the Q&A session, a few fans expressed their desire to share items with him, so, I raised my hand and hoped to be called on too. To my amazement, several people around me took it upon themselves to draw attention on my behalf. (My thanks to each of them!)

When I handed over my photos, he took the doll as well. After commenting favorably and holding her up for the audience to see, he said, "Are you giving this to me?" I was stunned. What else could I do but present her as a gift? He enthusiastically took it and assured me that it would eventually be part of the cinema archives at Wesleyan -- alongside such items as "Clint Eastwood's 'Dirty Harry' badge and Divine's 'cheater.'" What an honor!

She's where she truly belongs now, in John Waters' collection instead of mine!