DREAMLAND FANS

The latest fan is
Heather Jones

The whole gang:

Aili Alechnowicz
Alana Miller
Babs Johnson
Billy Franklinstine
Blondie Nation
Brooke Garr
Chakatreatment
Chie Kato
Chris Hilbert
Chris Wilembrecht
Curt Marcucci
Daniel Diamond
David Robert Crews
David Gouny
David Heulun Jones
David McNeil
David Robert Crews
Davide Scovazzo
Della Deluxe!
Devileen
Duncan Craig
Erik Weber
Eugene Schroeder
Eve Severe
Gretchen and Kevin
Grizelda
Guy Mazzaglia
Heather Jones
Hex and Dze
Hioni
Jackie Divine
Jacopo Coccia
Jim Hollenbaugh
Joanna Satana
Jeff Smith
Jerry Kochendoerfer
Jimmy Pio
Josh West
Julie Taylor
Kaleb Bronson
Karie Sprockethole
Kevin Johnson
LULU
Lurleen
Lynda L. Hinkle
Marko Sosic
Massimiliano d'Italia
Maxwell Drake
Michael Simmons
Mink Dagger
Mister OohLaLa
Orchidbau
Polyester
Polly [Esther] Styrene
Poshgrrrl
Rinaldo
Robert Geise
Sebastian
Shaboobie Boobarella
Simply Divine
Sky Rockford
Tom Korzeniowski
Trevor Robinson
Uvula Dangles
Vanamal Lucifer
Yakov Levi
Yong Kim
Zero Renton Prefect

How do I become
a Dreamland Fan?
Hex and Dze say Long Live Dreamlanders!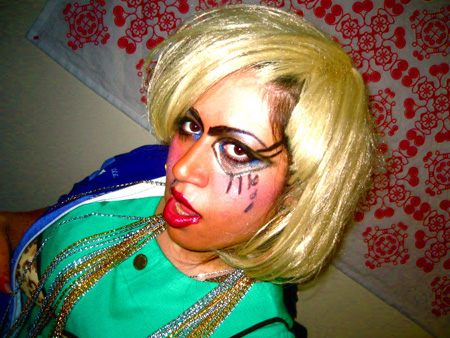 I'M OBSESSED WITH JOHN WATERS AND HIS KNACK FOR EXPOSING THE TRUE FILTH, GLAMOUR AND LIBERATED POINT OF VIEW BREWING IN THE HEART OF AMERICA VIA HIS AMAZING FILMS. IT SEEMS LIKE FOREVER AGO WHEN I FIRST GLANCED AT DESPERATE LIVING, POLYESTER, FEMALE TROUBLE AND PINK FLAMINGOS. CECIL B. DEMENTED CHANGED MY LIFE WHEN IT FIRST CAME OUT. PINK FLAMINGOS MADE ME RUN WILD DOWN STREETS AND WITHER IN SAND PITS OUT OF SHEER GLORY FOR LIFE ITSELF. DESPERATE LIVING, POLYESTER AND FEMALE TROUBLE HAD ME SINGING THE SOUNDTRACK FOR NEARLY A MONTH!

SINCE THEN, JOHN HAS INFLUENCED MY LIFE AS A VIDEO ARTIST TREMENDOUSLY. I HAVE MET LIKE MINDED INDIVIDUALS, NAMELY MY PARTNER IN CRIME IN THE ART WORLD. A MISFIT NAMED DZE JONES WHOM I HAVE FORMED A COLLECTIVE WITH BASED ON KITSCH, TRASH AND EXTREME LIFE DESIRES! WE HAVE COLLABORATED AND MADE MANY VIDEOS BASED ON THE CARNAL BASIS WITHIN US, INVOLVING VIOLENCE, SEX, AND SHEER ROCK N ROLL. CURRENTLY, BLINDMANS BUFF, A VIDEO MADE BY DZE BASED ON MARY BELL WAS INFLUENCED PRIMARILY BY JOHN WATERS EARLY WORK AND EXPERIMENTAL PROCESSES.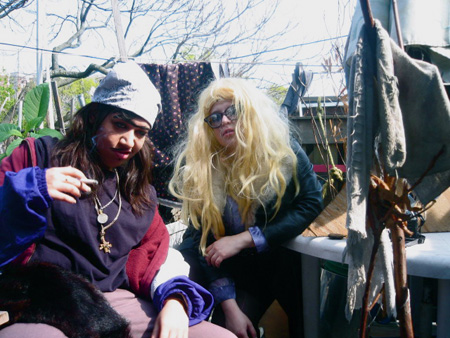 WITHOUT JOHN'S BRILLIANT VISIONS ON CELLULOID, WE WOULD HAVE NEVER FELT MORE INSPIRED TO LET LOOSE THE BEASTS WITHIN US. WE TOAST OUR CUPS OF WILD TURKEY TO DIVINE DAILY, WE LOVE MINK, WE LOVE MARY, DAVID, COOKIE....WE LOVE THEM ALL!

LONG LIVE DREAMLANDERS!