Yong Kim: A Tabloid Eye!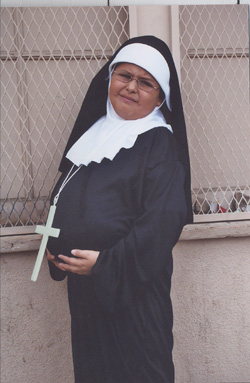 My name is Yong Kim.
I am a conceptual artist from Los Angeles.

I take sensationalistic photos around the world and place fake headline titles underneath them.

My work reflects on how Hollywood (and films of directors such as JOHN WATERS) has manipulated my perspective and transformed them into "A TABLOID EYE" (title of the series).

So I got your shots of a black lady drinking COLT 45 at a Mardi-Gras Indians celebration in New Orleans, greasers and leather Nazis in Tokyo, dwarves dressed as Santa in India, etc. My eye seeks for the John Waters-esque.

Left:
BOY NUN IMPREGNATED BY DEMON SEED!

Below:
THE REAL DARTH VADER COMES OUT OF RETIREMENT TO INSPIRE KIDS!