DREAMLAND FANS

The latest fan is
Heather Jones

The whole gang:

Aili Alechnowicz
Alana Miller
Babs Johnson
Billy Franklinstine
Blondie Nation
Brooke Garr
Chakatreatment
Chie Kato
Chris Hilbert
Chris Wilembrecht
Curt Marcucci
Daniel Diamond
David Robert Crews
David Gouny
David Heulun Jones
David McNeil
David Robert Crews
Davide Scovazzo
Della Deluxe!
Devileen
Duncan Craig
Erik Weber
Eugene Schroeder
Eve Severe
Gretchen and Kevin
Grizelda
Guy Mazzaglia
Heather Jones
Hex and Dze
Hioni
Jackie Divine
Jacopo Coccia
Jim Hollenbaugh
Joanna Satana
Jeff Smith
Jerry Kochendoerfer
Jimmy Pio
Josh West
Julie Taylor
Kaleb Bronson
Karie Sprockethole
Kevin Johnson
LULU
Lurleen
Lynda L. Hinkle
Marko Sosic
Massimiliano d'Italia
Maxwell Drake
Michael Simmons
Mink Dagger
Mister OohLaLa
Orchidbau
Polyester
Polly [Esther] Styrene
Poshgrrrl
Rinaldo
Robert Geise
Sebastian
Shaboobie Boobarella
Simply Divine
Sky Rockford
Tom Korzeniowski
Trevor Robinson
Uvula Dangles
Vanamal Lucifer
Yakov Levi
Yong Kim
Zero Renton Prefect

How do I become
a Dreamland Fan?
Mister OohLaLa is no Fauxny!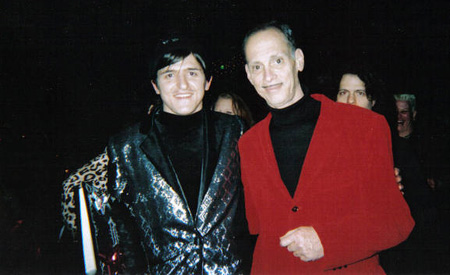 My name is Mister Ooh-La-La (yes I had it changed legally). I first became acquainted with the twisted visions of John Waters when a friend introduced me to Pink Flamingos on July 4, 1995, and I can honestly say that it turned out to truly be my Independence Day from any final vestiges of normalcy that I may have been clinging to. From that point on, I became obsessed with John's films, collecting them all, of course, and sharing them with anyone else I felt had the potential to become a disciple of Filth. When I was twenty, my first girlfriend's Dad, an honest-to-god hillbilly with missing teeth and a mullet that floated like a squirrel's tale when he walked gave me a really bad tattoo of a pair of pink flamingos crossing at the base with "FILTH" written underneath. The same lady and I went to see John speak when he came to the local university to do his usual stand-up routine. I was fortunate enough to meet John afterward, and while I had him sign my copy of "Director's Cut" I was too shy to engage him in any meaningful conversation, though he smiled when he saw me and complimented "Ooh, I like your look!"

A few years later, John came to Portland for the Christmas tour that he did in December 1999, and thankfully I felt much bolder this time around. He walked into the bar and did a little meet and greet, and I showed him my tattoo, and gave him a scrapbook that I had made for him that featured the press clippings of my great Aunt Jeannace Freeman, who was the first woman convicted to the death penalty in Oregon. Being a true crime buff, of course he loved the gift. After John's show, I noticed that he was sitting in the private V.I.P. area in a balcony above the main bar area. I asked the Bartender if she would allow me to go up there, and once she checked it out, she kindly let me up the stairs, where I introduced myself to John, and got the priviledge of sitting down with the master for over and hour (!), where we sipped red wine and spoke about subjects of mutual obsession, most notably Michael Jackson. He also noted that he thought I "looked like a Director", which delighted me since I've longed to make films that delved into the absurd since I was a young man.

This year, I finally made my dream come true, as I wrote, produced, and directed my own feature film, the horror comedy "Earth Day". One year after their leader, Pixie, is tragically killed at a tree sit, a group of ex eco-crusaders find themselves being brutally slaughtered by a mysterious assailant as Earth Day approaches. Detective Trent Torrance of the Emerald City Police suspects one man: Hassan, who grew up in the most extreme terrorist sect in all of Pakistan, only to be expelled for "going under the burga" and embracing the forbidden art of women's hair care. Together with Priscilla, Pixie's nihilistic twin sister, he tries to dodge the authorities while also avoiding Priscilla's insanely overprotective plastic surgeon father, Dr. Percival Peever, and his plastic surgery casualty of an assistant, Lenora. The film stars Daphne Danger, Adrian Salge, Gaylord Walker, Bruce Lundy, Christopher Anglin, Josef Gordon, Rebecca Teran, Elizabeth Myers, Zak Johnson, and Koi O'Eltressiah.

Here is the trailer.



Mister Ooh-La-La
Faux Show Productions